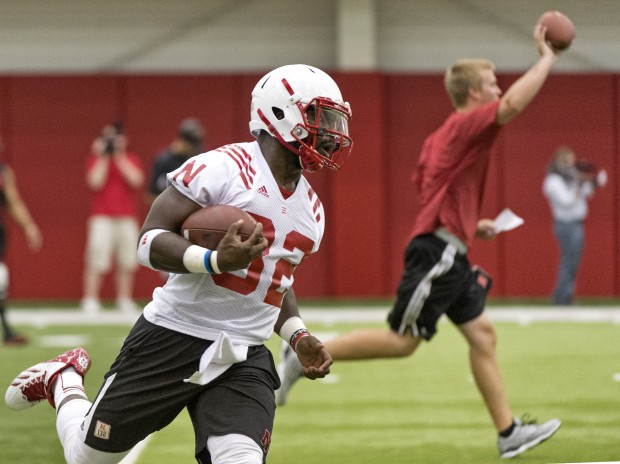 Nebraska running back Imani Cross is a powerful athlete who looks as if he could bench press the Hawks Championship Center or any other building on campus, if he chose to do so. He arrived in Lincoln in 2012 with a full beard and seemed much older than his 18 years.
The 6-foot-1, 225-pound Cross displayed his physical nature on the field as a freshman, rushing for 324 yards and 7 touchdowns — he averaged 5.9 yards per carry — backing up 1,000-yard rusher Ameer Abdullah and senior Rex Burkhead.
But Imani Cross is more than just a well-muscled running back.
"There are guys that have capacities to lead," Nebraska running back coach Ron Brown said, "and they need to."
Even though he is soft-spoken, Cross is a leader. Pretty much always has been. He has been anointed the unofficial captain of the incoming freshmen, an example the coaches point to when they want to show the youngsters how they should handle the college experience.
When Cross' career at Nebraska is over, those leadership skills may have proven to be even more valuable than his biceps and quads.
Robert Christmas is the football coach at North Hall High School in Gainesville, Ga. He had the good fortune of coaching Cross for three seasons.
"Imani was a big boy in the ninth grade," Christmas said. "He was very well-mannered and mature. He was an extremely hard-working young man."
Christmas thought Cross could be special and he was right. Cross rushed for more than 3,700 yards and 50 touchdowns in his career. But Christmas was even more impressed with what happened between Cross' sophomore and junior years.
You have free articles remaining.
"Imani has a very strong faith, and that was very evident to me during spring practice after his sophomore season," Christmas said. "He blows out his Achilles tendon, and for all practical purposes that should be about a year-long recovery. I really thought we'd be without him his junior year. The way he handled that and how quickly he came back, it was just incredible.
"Initially he was upset, but it didn't take him 24 hours to come to a totally different perspective on that injury. He realized there is a purpose for everything. He told himself he was going to make sure his life was aligned … the right way and trust the Lord with this process. He worked his butt off to get back and by the third or fourth game of the season of his junior year, he was back in the lineup."
Cross' hard work and attitude rubbed off on the rest of the team.
"When someone is a leader like Imani, that tends to raise everyone's level of play," Christmas said. "A leader like that who knows what he is, has a great work ethic and faith, and then ability on top of that, it instills confidence in his teammates. It makes everyone around him better. It's one of those intangibles. I like to talk about feeding off of a player, and I think players feed off of leaders like that.
"You run into an Imani Cross just a few times in your life. In 38 years of coaching, I can count on one hand the guys I've coached like Imani."
Cross said those leadership attributes came from his parents, Tim and Sharon, and were cultivated by example from his older brothers, Izaan and Isaiah.
"I learned it from my parents, the way they raised me and them putting me in the right places," Cross said. "I went to a couple of good schools where I learned about doing the right things and trying to be the best I can be. I use those traits at practice every day. It (leadership) comes with my faith as well."
Cross said he feels much more comfortable with the offensive system this season.
"I was going 100 miles an hour when I first got here. This year it's just all slowed down for me," Cross said. "When I hear a play called I don't just run the play, I look and I read things. I pay attention to detail and try to pound the little things into my head day in and day out. That's how I'm growing as a football player."
That growth includes accepting a leadership role, even if he isn't an official captain.
"It makes me feel good but very humble for it," Cross said. "Coming in as a freshman last year, the older guys led me. I'm just doing what the older guys did for me, but I just have the title and I'm grateful for it."