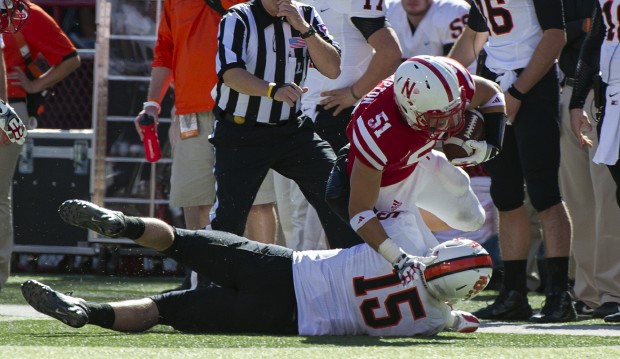 He's the quarterback of the defense, a senior linebacker who would like nothing more than a championship run during his final season as a Husker. During the journey, Will Compton will take some time each week with Husker beat writer Brian Christopherson to give his thoughts on whatever topics come to mind. This week, Compton tells us how Tony Romo let him down. But first, he explains his bond with senior linebackers Alonzo Whaley and Sean Fisher:
"They knew their opportunity was going to come. They just had to weather the storm with these spread offenses. And we hate it, especially in the linebacker room, coaching up one guy at a time in a week. Now we'll probably be coaching two and three guys a week from here on out. But I know they're going to be beyond excited. Their heads were never hanging. We're the same around each other, and there's never a bad moment with us. We always keep each other up.
"This is going to be a fun game. We're going to be ready to put the big-boy pads on. We'll get prepared. I plan on our defense executing well. It's now or never now that conference play is here. Hopefully we learned from what happened at UCLA. We're going to use that as a motivating factor every week, because we know what our defense can play like. We've played well these past couple weeks. We've got to keep playing well and rise to the occasion, and show what we've done all offseason."
You have free articles remaining.
"I don't like them because you've got to wait so long. Man, it's a long, drug-out process. You've got to sit there and watch other games on TV. Zo's my roommate. We flip (the channels) around. I'll probably read or something. It's just a long day. Try to take a nap if I can calm myself down enough."
"I hate recalling those memories. We came in as a team and didn't come out as a team. That's first and foremost what you don't want to see after a loss like that. I think it's going to be different this year. … Last year wasn't fun at all. It was one of the worst rides back."
"Man, I lost to Rex (Burkhead) over the weekend. And I had just changed my fantasy name to The Dream Team, because I've got Arian Foster, Darren McFadden, (Darren) Sproles, Percy Harvin, Antonio Brown, (Dennis) Pitta for my tight end. And David Akers. The Eagles defense sucked it up. They only got me 7. And then my quarterback? I'm going to tell you who's on my bench first. On my bench is Ben Roethlisberger, who put up 33. I played (Tony) Romo, who put up 4. So I lost to Rex. Ah, man.
"I have the team nobody wants to face … but Rex's team showed up. We have 10 in the league. Some guys on the team. We just play for bragging rights around the locker room. We got together for a draft on one of our days off during camp. Me, my brother, Rex, Kyler (Reed), Ben (Cotton), Ameer (Abdullah), Kenny Bell, Josh Mitchell, Daimion Stafford, Stanley Jean-Baptiste. Worst team? The worst team is Ameer's right now."