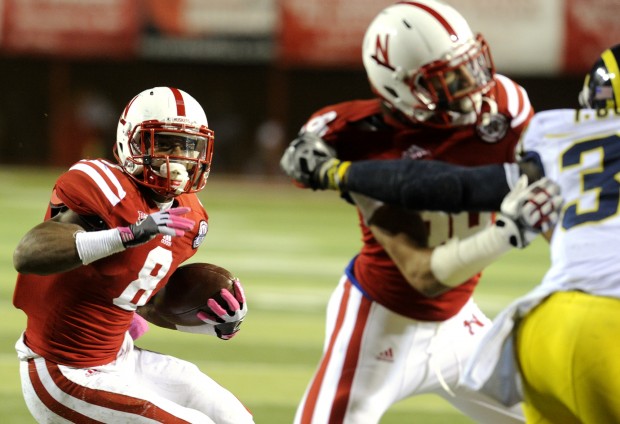 While many keep asking about another Husker running back this week — will he play or won't he? — Ameer Abdullah could achieve a pretty special milestone himself.
Abdullah is just 58 yards from cracking 1,000 for the season.
"It'd mean a lot, especially in my sophomore year," Abdullah said. "I wasn't expecting Rex to go down, but things do happen. It's always good to rush for 1,000."
Abdullah is coming off a 31-carry game against Penn State in which he netted 116 yards.
Husker coach Bo Pelini said he was surprised to see Abdullah had that many rushes after this past Saturday's game.
"Some of those carries you just get off track a little bit because we were going with a pretty quick tempo and we could run two, three, four tosses in a row a couple times," Pelini said. "And sometimes those carries can add up a little bit quicker and it doesn't seem like he is having as many carries as he had. But he came out of the game feeling great."
Abdullah is often his toughest critic. He said he's improved in his patience as a runner, but still could do better. He also said he'd like to improve his zone read game and his vision as a runner.
But it's hard to find fault with the toughness the 5-foot-9, 185-pound back has shown.
"I feel like I have proven myself that I'm just not a scatback or whatever they like to say," Abdullah said. "I feel like I can run in between the tackles."
* Maybe on Rex: The final word on Rex Burkhead heading into Saturday's game against Minnesota?
Same as earlier in the week. Maybe. Maybe not.
The encouraging sign for the running back is that he made it fine through a week of testing the knee out in practice.
"He's had a really good week, but we're going to play it by ear and see how he feels," Pelini said.
The coach also said senior wide receiver Tim Marlowe is a game-time decision.
You have free articles remaining.
While Burkhead said this week it'd mean a lot to play on Senior Day, he really wants to make sure he's healthy for a potential Big Ten championship game.
"That's the game that I really want to be good to go for," Burkhead said. "If I'm available Saturday, then I'd love to play, but as far as winning a championship, that's definitely more important."
* A new outlook: What's it been like for Burkhead watching all these close Husker games and not being able to help?
"It definitely makes you appreciate the game, no question about it," he said. "You always have love and passion for the game, but when you're not out there getting a taste of it then, it definitely makes you have a new outlook. When you get back out there, you just want to hit it full stride."
* Not discounting tears: Alonzo Whaley isn't the type to normally get emotional.
"But I don't want to count that out this Saturday," the senior linebacker said.
Whaley will be among the 29 Huskers honored on Senior Day. Among those attending: his mother, daughter, aunt, family friend and high school coaches.
"I'm not going to tell you I'm going to sit there and cry," he said. "It's a possibility, but who knows?"
* Keeping tabs on brother: Nebraska fullback C.J. Zimmerer was at the movie theater last Friday during a team activity, but his mind wasn't on the show: He was receiving text updates from the Omaha Gross Catholic-Elkhorn Class B semifinal football game.
Zimmerer, a Gross graduate, has a younger brother (Nate) on this year's Cougar team, which upended Elkhorn 14-7 on a last-minute kick return for a score.
"I was really excited for myself and the team on Saturday, but I was just as excited for Gross and my brother on Friday," Zimmerer said.
Gross plays Norris on Tuesday at Memorial Stadium for the state title.
"I haven't been able to see them in the playoffs and really only once or twice this year," Zimmerer said. "I'm lucky to be able to see them one more time."
-- Brian Christopherson and Darnell Dickson