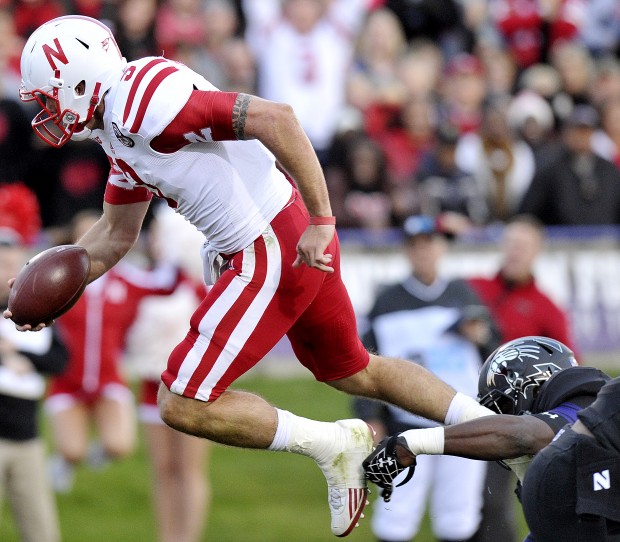 Taylor Martinez may not seem like the type who angers easily or raises his voice.
But teammates say the junior Husker quarterback was quite intense in the huddle while leading Nebraska to a comeback win against  Northwestern on Saturday.
"Taylor stepped up unbelievable like I've never seem him do before," said offensive tackle Jeremiah Sirles. "He stepped up and he was such a leader. He was vocal. He was demanding in the huddle. He demanded respect from people. He demanded people listen. I think he pulled us through there. I'll say that Taylor pulled us through this win."
Told of Sirles' comment, Martinez concurred that he did bring some added fire to the huddle, with his team trailing 28-16.
On his mind was the previous offensive series, when Nebraska converted a third-and-14 only to have a penalty wipe it out. Then a third-and-19 play. Another conversion. Another flag erasing it.
Martinez didn't go into detail about what was spoken, but said he did get in some people's faces.
"Yeah, I'd say just because I was (ticked) off."
He responded by completing 10 of 11 passes on two touchdown drives that provided Nebraska a dramatic 29-28 win.
After finishing with 342 yards passing, Martinez was named the Big Ten offensive player of the week. It's the third time this season (the Southern Miss and Wisconsin games) he's received the honor.
Martinez, however, was not one of 16 semifinalists announced Monday still in contention for the Davey O'Brien Award, which is given to the country's best quarterback. Ohio State's Braxton Miller and Michigan's Denard Robinson did make that list.
Be the first to know
Get local news delivered to your inbox!