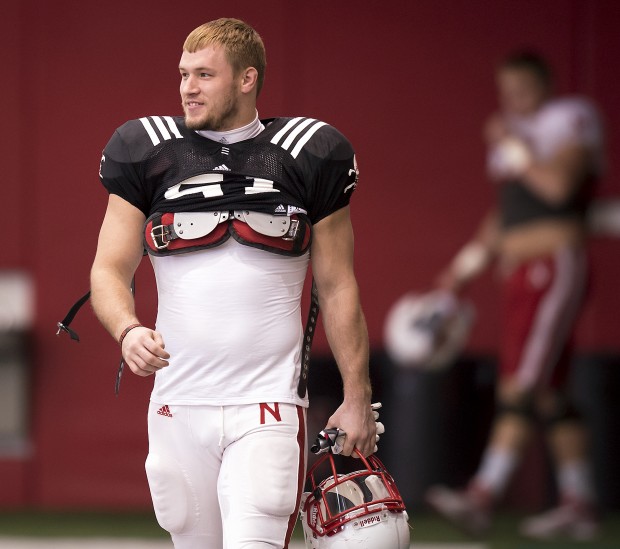 He's the quarterback of the defense, a senior linebacker who would like nothing more than a championship run during his final season as a Husker. During the journey, Will Compton will take some time each week with Husker beat writer Brian Christopherson to give his thoughts on whatever topics come to mind. We begin this week talking about Blackshirts, of course. Was Compton the lead voice in deciding not to take the practice jerseys until after the Michigan game?
"I don't want to take all the credit because guys were thinking it. But we were the first ones down there and we saw them hanging up. That was my initial thought. And I brought it up, everybody agreed, 'Yeah, let's not do it.'
"What I thought when I was saying let's not wear them yet was the year before we got them right after Michigan State when we held them to three points. We played well defensively and we got the shirts. But we had kind of a looser week at practice and we laid an egg against Northwestern. … We obviously didn't earn them. And this year, we just got beat by Ohio State. We got embarrassed, especially defensively. We played well against Northwestern, and they're a great offense, we did well, we did our part, the coaches were jacked. So I know it seemed like a long time from the Ohio State game, but again, all we did is play one game and they had the Blackshirts hanging. And my mind-set was, 'Let's do it another week.'
"P.J. (Smith) wanted to hang them on our lockers. They (equipment managers) ended up taking them, but he wanted to hang them to remind us every day that this is what we're going after this week.
You have free articles remaining.
"Now we have to keep playing to that standard. We can't do what we did last year. We've got to go in and take care of business this week.
"I like what Bo (Pelini) does (with the Blackshirts). But also I like them before the season as well. There's pros and cons to both. But Coach Bo's the boss, man. At the point in the season when you earn them, it's a great feeling. I'm sure it'd be an awesome feeling knowing you're a Blackshirt and get to wear them in the spring or at the end of fall camp. I'm sure that'd be awesome too. But the feeling of getting them when you play consistent and have good games and they (coaches) feel you're deserving of Blackshirts for Nebraska, it's a pretty special feeling."
(What's a Pelini pregame speech like?)
"There's some select words, putting our head under their chin. He's just kind of fired up, he's very passionate on just going out there together, let's do it arm-and-arm together. Just make a statement. Break their will, test their will, just attacking. And probably toward the end he always gets a little teary-eyed because he's so passionate about what he's saying.
"I like to try to cherish every moment, especially as a senior. I just try to live in the moment. And to me, listening to a future special guy one day, (Bo's) going to be named something one day, I'm listening to one of those great coaches speak. I get motivated by all that inspirational stuff. That's what I listen to before games. I listen to speeches and talking more than music. Ray Lewis, Will Smith, Al Pacino speech (from 'Any Given Sunday'), Mike Tyson stuff. Sometimes it's calm and stuff, or it's like Ray Lewis.
"These last two weeks mean nothing now. Coach Bo was just talking about it. They really mean absolutely nothing. They've put us in the position we're in, which is we get to make our own destiny. But that's all they're for. Now, it's Michigan State. If you look at our schedule, every game has become the biggest game of the year. Last week it was Michigan because we had all this on the line. … Now that we beat them we have the tiebreaker. If they win out, we have to win out. That's what's on the line. And with Michigan State, you've got this big challenge, because they're way better than what their record shows. … We have to win this one to still control and be in the same position. … We've got to win out. Every game. We can't hope Michigan loses to give us some cushion. We have to take advantage of these last few games."