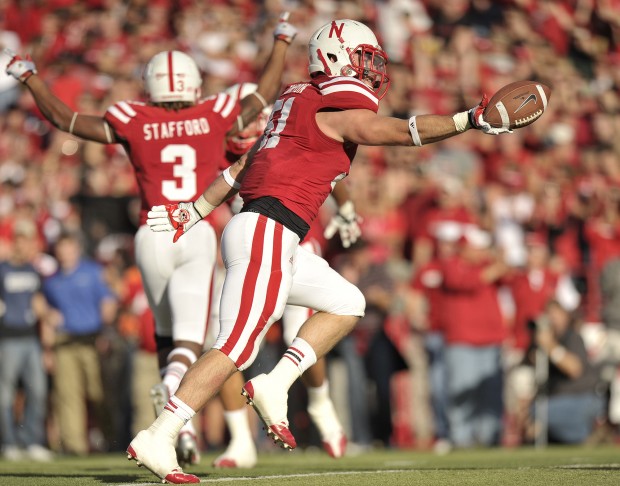 He's the quarterback of the defense, a senior linebacker who would like nothing more than a championship during his final season as a Husker. During the journey, Will Compton takes some time to give his thoughts on whatever topics come to mind. This week, we start with that pink locker room the Hawkeyes reserve for the visitors at Kinnick Stadium:
"Eric Martin made the comment that it's for breast-cancer awareness, so we'll just tell ourselves that. Coach (James) Dobson gave us the rundown of what to expect at Iowa. It comes down to taking care of ourselves and handling business and not looking ahead to Indianapolis or anything. It's about winning this game. If we win this game, then we get to go. We are in the driver's seat and we have to stay there."
(What's the impact of a short week?)
"Anytime you get 24 hours quicker to game time, you kind of feel it. The sense of urgency kind of rises on what's happening, so you're not out there questioning if you know this or that. But I don't mind them at all. Guys just have to know that we have to get things done mentally."
(On Nebraska's fourth-quarter comebacks this season)
"There was something about those fourth quarters where even if we played bad in a different quarter, when we've needed stuff we've come through. Getting the ball back in the hands of our offense is always a good thing when you've got guys like Taylor, Rex, Ameer, Kenny Bell, Kyler Reed, Ben Cotton and Quincy, and all those guys on that side of the ball. We have a good offense. We just need to give them the ball."
(You're a Dallas Cowboys fan. Thanksgiving and football go together with that team. What's it like for you to be playing football on this holiday weekend?)
"When I was younger, I always would go to my grandparents' and watch college football over Thanksgiving. Being a part of it now and getting to play on Friday, it's fun. You try to soak it in. But we've got to get a win on Friday to make it more fun.
"The team's excited. You don't want to think ahead. We're slow to bring up Indy, but we're excited. We want to start fast. We want to make a statement against this team. We want to get to that next week."