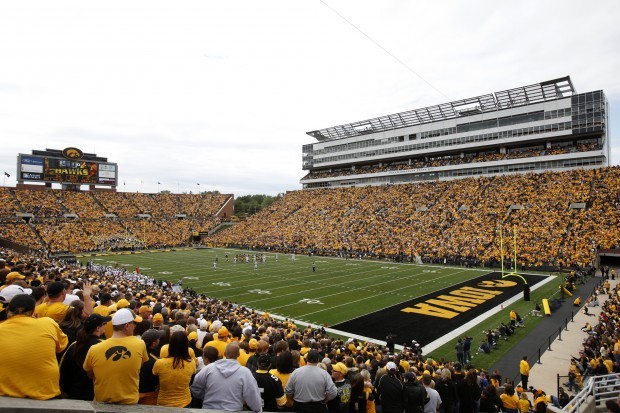 Question: Is the Nebraska-Iowa football game a rivalry game?
Answer: It depends who you ask, although Will Compton probably spoke for many folks west of the Missouri River when asked that very question this week.
"It feels like another game," the Nebraska linebacker said bluntly.
Let's answer the question this way:
Do ticket brokerage websites generally have 1,738 tickets available for purchase — cheaply — for rivalry games less than three days before kickoff?
And should the home team in a rivalry game have to worry about the opposing fans overtaking the stadium?
"We don't know yet how many Nebraska fans will show up in the stadium," Iowa athletic director Gary Barta told the Des Moines Register, "but our fans are great."
They're just suffering through Iowa's first losing season since 2000.
The Hawkeyes, 4-7 overall, have lost five in a row. Their first game against a ranked team this season didn't go well on Saturday — a 42-17 loss at Michigan — and folks in Iowa City apparently aren't expecting Friday's home game with No. 17 Nebraska to go much better.
The availability of so many tickets, so close to game time isn't only a sign of Iowa's struggles, it's the perfect storm for a Big Red invasion.
Remember at Northwestern, in October, when Nebraska fans made up at least half, probably more, of the Ryan Field crowd of 47,330?
"It's crazy," Compton said. "I'm sure this will be another one, just because it's not too far away, and our fans travel well, extremely well.`
"It really is crazy and awesome at the same time. We've got fans everywhere, and it's a good feeling knowing that everybody knows the Big Red. It's awesome."
Nebraskans, though, are known to pick and choose their big migrations, and it's possible Iowa City won't be the big target some anticipate.
For starters, a morning kickoff the day after a holiday isn't really conducive to travel plans. And while a Legends Division title is at stake, so is the potential for a Big Ten championship the following week in Indianapolis.
How many Nebraska fans would rather save for that trip, or for a Jan. 1 trip to Pasadena, or both?
Pocketbooks only run so deep, even for the most die-hard of fans.
"It's a great feeling to know that everybody's behind you no matter where you go," Nebraska linebacker Alonzo Whaley said. "I think when I really realized we have the best fans in America is when we went out to Washington (in 2010) and I looked up and saw red."
Whaley and the Blackshirts heard the support, too, at Northwestern, when the visiting team's fan noise was so loud that the home team's quarterback had to call time out in the fourth quarter.
Nobody's necessarily predicting that scenario at Kinnick Stadium (cap. 70,585) on Friday, but there might be enough red to question the "rivalry" label some have slapped on Nebraska-Iowa in its infancy.
Eventually, when both programs are at high levels, maybe.
For now, the Heroes Trophy is just too shiny.
"We're going to go into it like we need this game," Whaley said. "Yes, there's a trophy involved, but at the same time, you need that 'W' more than you need that trophy."