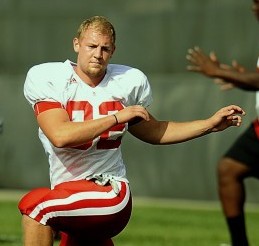 FIVE THINGS YOU SHOULD KNOW ABOUT …
(As told by Nebraska senior P.J. Mangieri)
1. Some long snappers seek the job, and others are the only option.
"I started (long snapping) in seventh grade. We started to snap to the punters and I volunteered to do it, and just kept volunteering. In high school, I could do it better than anyone else, so I just kept doing it. By chance one of my high school coaches told me I needed to go to a football camp of some kind, whether it was for offensive line, defensive line or special teams. My dad and me just chose to go to special teams. We went to a snapping and kicking camp and they told me I had a lot of potential. I came back two or three more times and by doing that I was No. 1 in their scholarship camp. They threw my name around to a bunch of college coaches and when it came decision time I had a few choices to make. I earned a scholarship (at Nebraska) after two years."
2. The technique of snapping begins quite simply.
"First you go to put your hands on the ball," Mangieri joked. "It's all kind of feel. You work with it. By failing, you excel at it. Once you figure out what you're doing wrong and perfect that, then you're going to perfect your snap and then your speed and accuracy just falls into place. The most important thing is the snap. Snap first and protection next. There's no reason to protect if the snap isn't there and goes over the punter's head. I like punt a little more than kicking, just because I have an opportunity to go down and make a tackle."
You have free articles remaining.
3. There is a saying that long snappers only get noticed if you mess up.
"I could care less if people know my name. I just go out there and do my job and try to do it to the best of my ability. I've been able to have a lot of good moments. Probably the one the stands out the most to me is playing Texas my freshman year in the Big 12 Championship Game, because they were No. 3 in the nation. It was an exhilarating game."
4. Kickers and long snappers are not afraid to admit that practice sometimes is not quite as strenuous as the rest of the team.
"All the specialists go out to practice 30 minutes before everyone else and get our work in, whether it's charting field goals, working on short snaps, long snaps, all that stuff. We get our work in early, and then depending on what the special-teams segment is during the practice, it could be punt, kickoff, kickoff return or punt return. On the side at practice, the big thing that (kicker/punter Brett Maher) and I do is we have this game where I try to get 10 perfect snaps on his right hip all consecutively. In our minds, that's the perfect snap."
5. A young football player could do worse than becoming a long snapper.
"A lot more long snappers are getting scholarships out of high school than when I was a freshman. I'd tell kids to pick your position wisely, because there are a lot more guys that aren't specialists that complain about practice than we do. We've got it pretty easy. We have a couple special-teams segments during practice, and then we're just perfecting our thing. But if you mess up, then here we go, here come the interviews."
Editor's note: Mangieri is from Peoria, Ill., started all 14 games as a freshman and has played a key role in the Huskers' special teams the past four seasons. During his time as long snapper, Nebraska has made 62 of 74 field goals and 151 of 152 PAT attempts. He also has three career tackles.