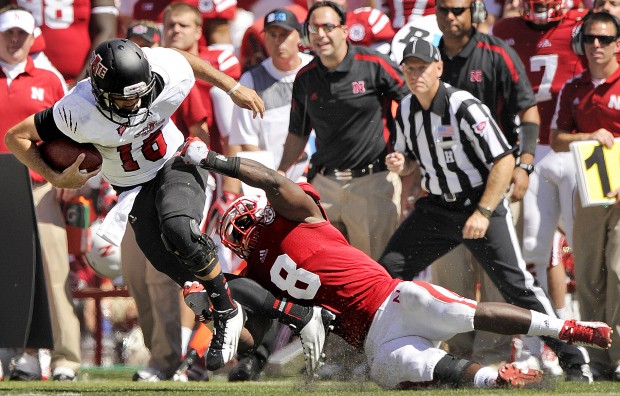 Zaire Anderson was preparing for position meetings and practice as usual on Tuesday when he learned the bad news.
An MRI taken that morning had revealed that the junior newcomer had a torn ACL.
Anderson said he actually suffered the injury at practice a week ago but did not realize the extent of it. He played with it on Saturday, making his first start at linebacker against Arkansas State, claiming three tackles in the 42-13 win.
"I really didn't notice it," said Anderson, wearing sweatpants and his practice jersey as he talked to reporters.
Husker coach Bo Pelini told reporters after Tuesday's practice the injury to the right knee was season-ending.
Anderson will have surgery later this week.
"Unfortunate for him," Pelini said. "He was really coming along, but it is what it is. He'll recover fully. It surprised all of us, but the kid's hurting."
The 5-foot-11, 220-pound Anderson has played in all three games — the first two on special teams — but Pelini is hopeful the junior linebacker can receive a medical redshirt season.
You have free articles remaining.
"We're investigating," Pelini said. "We think so."
Anderson would seem to have a favorable case.
According to the NCAA bylaw pertaining to medical redshirts, "the athlete must not have participated in more than three athletic contests or 30% of the team's contests, whichever is greater."
Defensive coordinator John Papuchis said it was disappointing news, especially considering how Anderson had started to come along at the position in recent weeks.
"It's hard to tell what the overall impact will be because he really only played in one game (at weakside linebacker), and David Santos has also progressed," Papuchis said. "I'm trying to keep it in perspective a little bit.
"Really I feel bad for Zaire, because I know how down he is. But he'll bounce back. We'll get David ready."
Papuchis said coaches would continue to evaluate true freshmen linebackers like Thomas Brown and Michael Rose, "but I don't know if we're ready to go down that road yet or not."
Anderson spoke with quiet disappointment about the setback, while also carrying some obvious resolve.
"Try to get stronger and recover fast and just keep studying, even though I'm not playing," he said. "Trying to learn the plays and try to get the system down as best I can. And come back here next year and be productive."