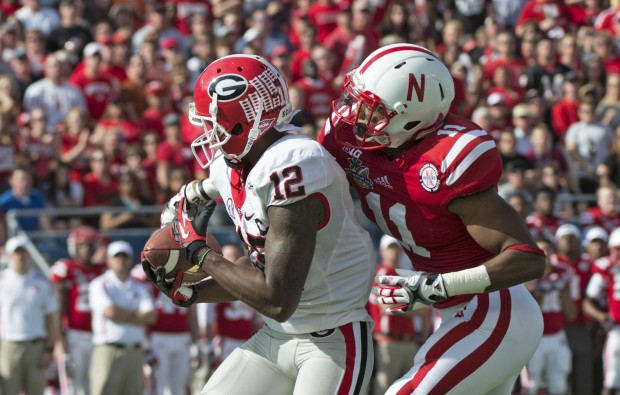 ORLANDO, Fla. — Ameer Abdullah had a pretty confident answer when asked if he thought he fumbled on a third-and-1 play at the Georgia 39-yard line in the third quarter of Nebraska's loss to Georgia on Tuesday.
"No, no," the Nebraska sophomore running back said.
But officials — from the Big 12 Conference, we might add — saw it otherwise, awarding Georgia possession of the football, thus thwarting a Nebraska drive that started at the NU 14.
The game was tied 31-31, and although Georgia didn't score off the turnover, it certainly shifted momentum in the Bulldogs' 45-31 victory in the Capital One Bowl.
"I thought that play hurt us," Nebraska coach Bo Pelini said. "He made the first down. He thought he was down. I couldn't see it."
And even if Abdullah did fumble, some teammates, quarterback Taylor Martinez included, thought offensive lineman Jake Cotton had recovered the ball.
"I wasn't even looking, because I didn't think it was a fumble," Abdullah said. "I was getting up. I was like, 'Cool, we got the first.' And the guy (referee) came running in from way the other sideline, talking about white ball or whatever.
"That's how it happened. I can't do nothing about it now."
There was an injury/television timeout after the play, but even with that extra time, replay officials didn't review the play.
"I was just shocked they didn't even review it," Abdullah said. "It felt like a lot of things weren't going our way at times, but it happened. Luckily, the defense got a stop the next drive. We just lost it at the end."
For Abdullah, it's the second year in a row he lost a fumble in the Capital One Bowl that shifted momentum. He lost a fumble deep in South Carolina territory last year in the Huskers' 30-13 loss.
* Secondary issues: It was a rough day for Nebraska's top-ranked pass defense, which was dinged for a Capital One Bowl record 427 yards by Georgia quarterback Aaron Murray.
Even when the Huskers appeared to have a play covered, as they did in the first quarter when Andrew Green was step-for-step with Georgia's Tavarres King, the Bulldogs seemed to make the play.
On that particular play, Green failed to bat the ball away, and King caught it in stride for a 75-yard TD to give Georgia a 16-14 advantage.
Ciante Evans also got beat on a 49-yard pass to Chris Conley that helped Georgia tie the game in the third quarter.
"Some of it was (Murray's) scrambling, but for the most part it was (us)," Pelini said. "Those are plays that we've made most of the year. When you're there — we were there to make plays — we had the opportunities. We didn't play the ball very well today, for whatever reason, and it's something we've got to get fixed."
The biggest damage came on an 87-yard touchdown in the fourth quarter, where Murray hit Conley with a screen pass to make it 45-31.
"He (Murray) was getting rid of the ball and buying himself some time, so we wanted to bring total pressure," defensive secondary coach Terry Joseph said. "So we were blitzing everybody and playing zero coverage. They ran a quick screen and a guy was able to block us on the pick route, kick us out, and we had nobody home."
* D-line grind: One of the big concerns for Nebraska coming into the game was how the defensive line — minus senior Baker Steinkuhler — would hold up against Georgia's running attack.
For the most part, Husker defensive line coach Rick Kaczenski thought his players (most of the snaps went to Thaddeus Randle, Chase Rome and Cameron Meredith on the interior) held up well.
The Bulldogs ended up with 162 rushing yards, averaging 4.3 yards a carry.
"I didn't think they knocked us off the ball," Kaczenski said. "A lot of the plays they made were because of the talented running backs they had. I'm just proud of the way the guys played. And they continued to come back even when the game was out of hand at the end. And I think you always build on that, and the younger guys are looking to the older guys on how to act."
* Turnover troubles: It was Nebraska who actually got the takeaways early, picking Murray off twice in the first quarter, including one by Will Compton that he returned 24 yards for a touchdown.
It was Compton's first career interception.
"That was a play they had shown throughout the course of the year in the formation they ran," Compton said. "And the back stepped up and I kind of sat there for a second, and I recognized the receiver coming to crack, and I just tried getting up out of the wash. I didn't think he (Murray) was going to throw it."
Fortunately for Compton and Nebraska, he did.
But after that, the turnover bug found Nebraska, something familiar this season.
There was Abdullah's fumble, but quarterback Taylor Martinez threw two interceptions — one in the second quarter, and another in the fourth as the Huskers attempted to rally. 
Senior tight end Ben Cotton said the turnovers are what is keeping a really good Husker offense from being a great one.
"Eliminate the shots in the foot," Cotton said. "Those things can be momentum-breakers, game-breakers, stuff that really can deflate a team."
* Grounding calls: There was some controversy late in the second quarter when the Huskers believed Murray had committed intentional grounding to avoid a sack.
The officials decided otherwise, saying the Georgia QB was outside of the pocket and free to throw the ball away.
One series later, Martinez faced a similar play, throwing the ball away to avoid a sack. A flag came out.
Pelini clearly did not agree.
"I find myself shaking my head," he said.
* This and that: The crowd was 59,712. Capacity is 70,229. … NU's third straight bowl loss dropped Nebraska to 24-25 all-time in bowl games. … Martinez made his school-record (for quarterbacks) 39th career start. With his two passing touchdowns, the junior has 33 this season, surpassing Gerry Gdowski's school record of 32 set in 1989. Martinez rushed for 46 yards, giving him 1,019 this season. He became just the fourth Husker quarterback to rush for 1,000 yards in a season. And with his 250 yards of total offense, Martinez set a school record for yards in a season (3,890). Joe Ganz held the record with 3,826 in 2008. 
-- Brian Christopherson and Brian Rosenthal