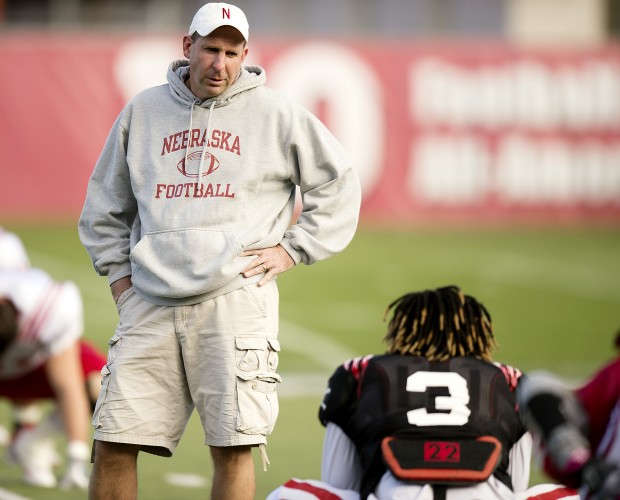 Slap some Band-Aids on those wounds and go.
Because that never-ending game known as recruiting does not pause for compassion, even if you just lost 70-31 and might not sleep for the next two weeks.
And so Husker coaches have been engaged in another pursuit that seems even more critical in lieu of last Saturday's debacle in the Big Ten Championship Game. It's the pursuit for difference-makers that they hope can make outcomes like that disappear.
Who are the main recruiting targets in the stretch run?
Look first at the defensive line, where help is most necessary. And if the help could come in and play right away, that's much preferred.
There's a reason Bo Pelini and his assistants are making a serious push for junior college defensive tackles Lavon Hooks (Northeast Mississippi Community College), Quincy Russell (Palestine Trinity Valley CC in Texas) and Kyle Peko (Cerritos Community College in California).
The 6-foot-4, 295-pound Hooks has visited Nebraska, Baylor, Arizona State and Mississippi, and will visit Miami this weekend before he makes a final decision.
It might mean something, it might mean nothing, but Hooks is planning to take his family to Miami, something he hasn't done at other schools.
But don't count Nebraska out. Hooks visited Lincoln for the Penn State game and told HuskerOnline.com his visit rated a "9.5."
A wide receiver in high school, Hooks said he gained weight during a year of military school in which he ate pretty much nothing but peanut butter. It's a great advertisement for peanut butter. Hooks had 16½ sacks this season.
Russell, meanwhile, has had Nebraska in his top five since he was a high school standout in San Antonio.
"Nothing has changed here," he told BigRedReport.com after visiting Lincoln for the Penn State game. "Everything is great. It's a great fit for me. I loved the trip. I have great chemistry with the staff and the team."
Peko doesn't come quite as highly rated as the four-star Hooks and Russell, but has offers from the likes of Michigan State and Boise State.
While the defensive tackle position may stick out as the biggest need -- considering Baker Steinkuhler is graduating and depth was lacking enough that Cameron Meredith was forced to move inside from his natural end position during the season -- Husker coaches are also looking to plug other gaps.
Pelini's first visit of the week was with four-star junior college tight end Beau Sandland, who also has Oklahoma, Miami, Texas Tech and Arizona State on his short list.
Given the fact Nebraska loses Kyler Reed and Ben Cotton to graduation, a recruit such as the 6-6, 250-pound Sandland could be a crucial piece.
Given that Sandland hopes to enroll in school in January, a decision could come sooner rather than later.
Pelini also made in-home visits this week to four-star defensive back Priest Willis of Tempe, Ariz.
While LSU, Arizona State and Florida State coaches have also visited Willis, Nebraska is believed to still be very much in the thick of that recruiting battle.
Running backs coach Ron Brown and wide receivers coach Rich Fisher also made a trip this week to the home of running back Terrell Newby in West Hills, Calif. Newby is rated by Rivals.com among the top 100 players nationally.
While Nebraska's ugly performance last weekend did not escape Newby's notice, he said it didn't change his opinion on anything regarding the school, either.
"To me, it's not going to really change my look on them at all," Newby told HuskerOnline. "It's just a part of the game."
On the offensive line, tackles such as David Knevel (Ontario, Canada) and Aaron Cochran (Atwater, Calif.) are names to keep on the radar.
Wide receiver Dominique Walker, who is 6-2 and 195 pounds, is another player to watch. He's from Orlando, Fla., where Nebraska will play in the Capital One Bowl, and is expected to receive a visit from Husker coaches Thursday.
Once committed to Vanderbilt, Walker visited Lincoln in late September for a game.
Nebraska has 15 commitments two months before signing day.
While last Saturday's result wasn't what Husker coaches envisioned as they headed into recruits' living rooms, offensive coordinator Tim Beck was still optimistic about the recruiting success Nebraska could have.
"Hopefully we're recruiting the kind of kids that have enough character that they want to come to the university, they want to be around the coaches, they love the culture that we're building," Beck said.
"If you've ever played a game or coached this game long enough, you're going to have a game like this. You're going to run into one of these games somewhere in your career somewhere as a player or coach."