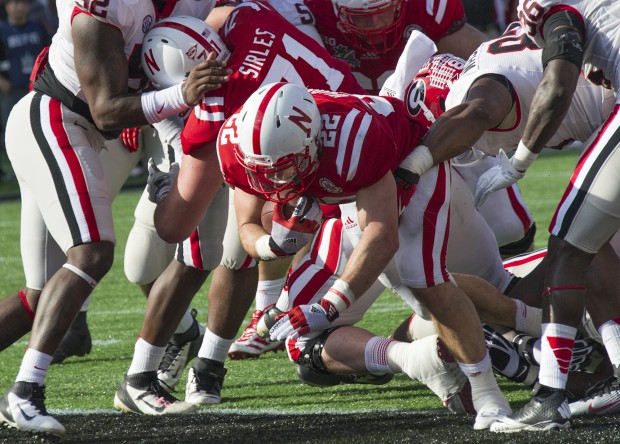 ORLANDO, Fla. — Rex Burkhead's career with Nebraska is finished.
The legacy he created, though, will last for years.
"When you think of Nebraska, you think of Rex Burkhead — his attitude, his toughness," said sophomore running back Ameer Abdullah, who will fill the starting spot vacated by Burkhead next season.
"It's really inspired me. I thought he was at his best today. He played hard, never gave up. That's the kind of spirit I want to carry on with this program. I love Rex, man. He's like my brother."
Burkhead ran for a season-high 140 yards on 24 carries in Nebraska's 45-31 loss to Georgia in Tuesday's Capital One Bowl, pushing his career mark to 3,329 rushing yards, good for fifth on Nebraska's all-time list.
His 357 yards in four career bowl games are a Nebraska record. The previous mark was 349, held by Dan Alexander.
"I thought Rex played like he always plays, like he did for four years, with passion," Nebraska coach Bo Pelini said. "He is who he is. He's a tremendous football player and tremendous human being."
Burkhead, who missed six games with a sprained knee ligament, was at full strength Tuesday, and it showed against one of the top defenses in the Southeastern Conference.
"He was healthy, strong and energetic," Nebraska running backs coach Ron Brown said. "He played with the same vitality and passion and durability that we know of Rex from a year ago. He had his timing down, and played like a warrior."
Burkhead didn't touch the ball on Nebraska's first series, but had runs of 2 and 22 yards on Nebraska's next possession, and also darted 22 yards after catching a Taylor Martinez shovel pass.
"I just love the guy. We're going to miss him. I'm going to miss him, personally," Nebraska offensive coordinator Tim Beck said. "He played his heart out today. I'm really proud of the way he played."
Three straight Burkhead runs of 5, 6 and 2 yards set up his 16-yard touchdown reception that gave Nebraska a 24-23 lead before halftime. His longest run of the day, 28 yards, came in the third quarter, although that series ended in an Abdullah fumble.
"I felt good out there," Burkhead said. "I think the time off helped my knee get a little more stable and stronger. It was good. (The) offensive line did a tremendous job opening up holes for us in the run game.
"I'm going to miss those guys, running behind them, the relationships I've built with them. They're going to be good next year."
Burkhead said he's also confident that Abdullah, sophomore Braylon Heard and freshman Imani Cross will develop and showcase their skills next season as Nebraska prepares for life without Burkhead.
"Just make the most of their opportunities," Burkhead said. "I'm done playing at Nebraska, and it goes quick. Just make sure they make the most of every single day. If they want to be great, they have to make football important to them by just blocking out distractions and focusing in on what needs to be accomplished."
Brown said Burkhead has done "a world of good" for the young running backs who've learned a lot about work ethic.
"We'll miss him a lot, because he gets on everybody," Brown said. "His stuff rubs off on so many others, and he does it without a loud voice. He's a pretty soft-spoken guy. He's not very boisterous and doesn't demand attention, doesn't demand a followership. People just follow, because he's the right kind of kind.
"I don't know if there's ever been a more intense, harder worker. It's close. There are a lot of guys out there who could probably come close, but Rex Burkhead was the epitome of hard work."