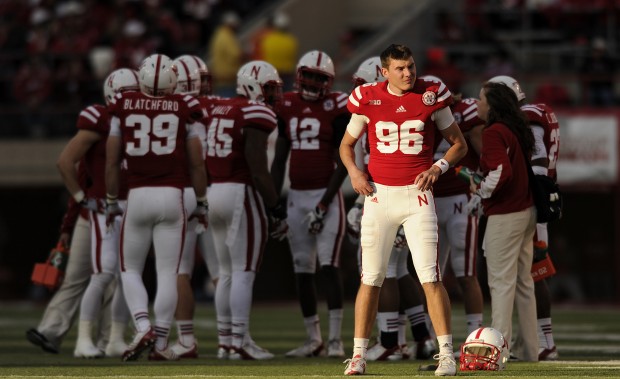 Nebraska's run of outstanding kickers has produced a lot of points and highlights, but Brett Maher is in a league of his own.
That's because Maher — not Kris Brown, not Josh Brown, not even Alex Henery — handled kickoffs, place-kicking and punting all in the same season.
And he's done it two years in a row.
It's pretty rare for a college team to have one player take on all three duties. At Nebraska, it almost never happens. A quick look at the past 17 years shows nobody else had that responsibility. Henery was both the punter and place-kicker for the Huskers in 2009-10 but kickoffs were done by Adi Kunalic.
This isn't to disparage Henery, the most-accurate kicker in college football history. But Maher, a senior, has been very good at all three disciplines for the past two seasons. He plays his last game for the Huskers in the Capital One Bowl on Jan. 1.
The first player to get a chance to step into Maher's role is Mauro Bondi, a 6-foot, 200-pound redshirt sophomore from Boca Raton, Fla.
"It's definitely been nice having Brett here to help me out," Bondi said. "My experience, two years being here, that's definitely going to help me come spring ball. All the spots are open as of now; no one has a spot for the first game next year."
Bondi played in 2011, kicking off four times and making one extra point before Maher solidified his hold on the starting job. Bondi said he's spent his redshirt year in 2012 fine-tuning his abilities and approach to the game.
"I've learned how to manage myself, learned how to not overuse my leg and how to do things right," Bondi said. "Watching from the sideline has shown me that special teams is an important part of winning. Without Brett in some games we would have lost."
Bondi will have a challenge living up to the standards set by Maher. In two seasons, the senior from Kearney is 38-of-48 on field goals and 98-of-99 on PATs. He's averaged 43 yards per punt, with 40 of his 117 punts ending up inside the opponents' 20-yard line. He's kicked 74 of his 161 kickoffs for touchbacks.
Beyond the statistics, Nebraska defensive coordinator John Papuchis has another measure for the effectiveness of special teams.
"Special teams have to gain or create momentum in a football game and have to control field position," Papuchis said. "We can't give up scores. You want to outscore your opponent special teams every week."
Papuchis said the coaches didn't foresee Maher winning all three jobs in 2011, but doing so allowed them to redshirt Bondo this season. Besides Maher, Nebraska also loses long snapper P.J. Mangieri and holder Jase Dean to graduation.
"We have been blessed with good kicking here and I thought Brett had a good year again," Papuchis said. "We obviously have a plan, that's why we recruited a long snapper (Gabriel Miller) coming into the year. We have Mauro Bondi on the team and he's very capable. We were lucky to redshirt him this season and save him a year."
Bondi said his strength is in kickoffs and field goals, and added that his holder in practice, former Grand Island standout and walk-on Sam Foltz, will compete for the punter job.
"I've been trying to prove myself all season to the coaches," Bondi said. "That's really where it lies, in their hands. I'm just waiting for my chance in spring ball."