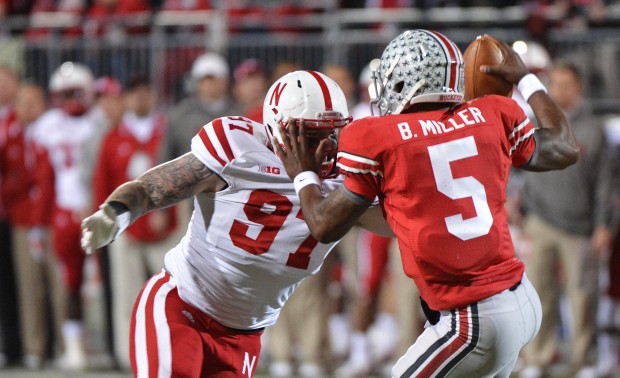 Forget facing a formidable opponent or the media.
Try standing before your peers when you know you were wrong.
Nebraska sophomore defensive tackle Chase Rome found himself in that uncomfortable situation earlier this season, and he survived.
He says he's stronger for it.
Rome will be a key factor in Saturday's Big Ten Championship Game against Wisconsin, especially since stalwart senior defensive tackle Baker Steinkuhler is sidelined with an ACL injury.
For a time, Rome wasn't in the Huskers' plans at all.
Rome left the team following the loss to UCLA on Sept. 8, with Nebraska coach Bo Pelini telling reporters that the lineman's "personal goals and personal perception of where he should be on this football team doesn't match the team goals."
A week later, Rome had a change of heart and wanted to return to the team. In order to do so, he had to explain himself before the players' Unity Council, comprised of team leaders.
"I think it was just a weird phase and you end up growing through it," Rome said. "It sucked and it wasn't right of me, but at the same time if that's what it took for me to grow maturationwise to where I am, so be it. God has a plan for everything. It's all water under the bridge, and I'm thankful for that."
Rome did admit that some teammates took a little longer to come around and accept his return.
"Some people adjust to it differently, and I respect that," he said. "I brought it on myself."
That pragmatic approach will help Rome and his teammates in preparing for their second meeting with Wisconsin. The Huskers dominated the Badgers run game in Lincoln, holding Montee Ball to 93 yards on 31 carries (2.8 yards per carry). In total, Nebraska held Wisconsin to just 56 rushing yards on 41 attempts, with a season-high 12 tackles for loss and three sacks.
"I would just say we were all on same page," said senior defensive end Jason Ankrah. "We had a great week of practice. We were all on the same page filmwise, call-checkwise, everything."
The Huskers also had Steinkuhler, who posted five tackles (two for loss) and a key quarterback hurry in one of his best games. But a knee injury sustained in the Iowa game last Friday has moved the Huskers' most consistent defensive lineman off the field.
"I've been watching film with Baker, just trying to learn to do the best of my ability so there's not a drop-off," Rome said. "I've been so fortunate with that, coming in when I did. First there was Pierre Allen, then Jared Crick, then Terrence Moore and now Baker. I've had these guys to tell me what they see and that's been a blessing. Nothing can re-create game experience, but that is as close as you can get."
The difference between high school star and college star, Rome said, comes from experience and humility.
"When you first get here as a freshman, you're used to shooting gaps and running upfield and being told to wreak havoc," he said. "If you try and do that here, you get wheeled upfield and the ball's gashing for 10 or 12 yards. It's just something they beat into you early. It's different in college. It's a different system. If you're just out there trying to glorify yourself, you're just screwing everybody else."
Rome said he likes to diagram opponents' plays to get a better understanding of his responsibilities.
"I'm a big chalkboard guy, I love the X's and O's. I always have," Rome said. "I dig that stuff, then I watch it on film. There are certain things you can see on the field, but I like watching it in the film room, too."
Defensive line coach Rick Kaczenski said he feels his group will be ready to face Wisconsin's improved offensive line and running game.
"They always prepare that they're a play away from going into the game, and when they go in expectations don't drop," he said. "We're expecting the same results from whoever is in there. We lose some leadership (without Steinkuhler), a real anchor. His loss is an unfortunate part of the game. He was the first guy in the locker room congratulating the team when they were coming up the tunnel after the Iowa game."
"It just means that people have to step up," Ankrah said. "Cam (Meredith) has played inside and outside, I've done some inside and outside. Thad (Randle), (Aaron) Curry, Kevin (Williams), Chase, all of us need to step up. Losing Baker is a big loss. He's a senior, a great leader, and we're going to miss him, but we still have a championship to go win."