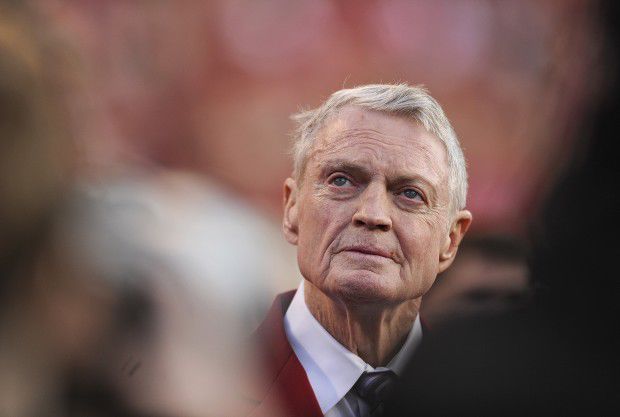 OMAHA — You know, the last time he showed up at one of these deals there were so many people they ran out of eggs.
That was in the days just after Tom Osborne had been named Nebraska's interim athletic director.
Now, as he prepares to leave the AD post, Osborne made one more appearance at the Big Red Breakfast on Friday.
Again, a full room. Again, a standing ovation.
"Thank you. Appreciate it. Thank you. Thank you," Osborne said, waiting out the applause.
And, finally, with his usual dry wit: "It's not good for you to jump up this early in the morning."
Osborne's appearance brought with it some nostalgia. There was a time when he used to attend the breakfast routinely as Nebraska's head coach, answering questions from fans, reviewing film.
The crowd was much smaller in those days.
On this day, Osborne couldn't help but recall where these breakfast talks started.
"Anybody here today that was at Johnny's Café?" he asked.
"Geez," Osborne said, and everyone laughed. "You guys (have) got to be about 100 years old."
Seasoned speaker he is, Osborne understood one more icebreaker was perhaps necessary.
You have free articles remaining.
"Sometimes people ask about coaching and whether I miss it. Yeah, I do," Osborne said. "I miss the players -- but not always."
If the crowd might oblige him for one quick story to make his point, he'd appreciate it.
And so began a joke about a supposed hunting trip he had with former Nebraska running back Tony Davis.
"Tony was kind of a free spirit. He kind of did things his way. We had a few run-ins, and I thought, well, maybe I'll try to get a little closer to him and I asked him if he wanted to go hunting with me."
The "Tecumseh Tornado" agreed. Coach and player found a spot not far from Lincoln. Pulled into a barnyard.
"I said, 'You just wait here in the car Tony, and I'll go up and ask the guy whether we can hunt or not.' And so I went up there and talked to the farmer and he said, 'Yeah, it's OK.'
"But he said, 'I got this old mule I've had for about 30 years now. He's blind now and he's got all kind of things wrong with him. The veterinarian says he has to be put down, but I've grown so close to this mule over the years that I can't bring myself to do it. Would you do it for me now that you're here?'
"I said, well, yeah, I would. So I went back to the car, and got to thinking about Tony and some of the things he caused me to have some grief over.
"So I said, 'Tony, this guy says we can't hunt here. He said I was a lousy coach. He said you were one of the worst I-backs he's ever seen.' I said, 'I'm not going to take this laying down. You see that old mule standing over in that barnyard?' He said, yeah, he did. So I rolled down the window and pulled out my shotgun from the backseat and pow! I just nailed him in one shot. He dropped.
"In a second, I heard, bang, bang, bang from Tony's side of the car. He said, 'Let's get out of here, Coach. I got three cows.'"
He told the crowd it was kind of an old story.
A good old yarn is to be treasured.