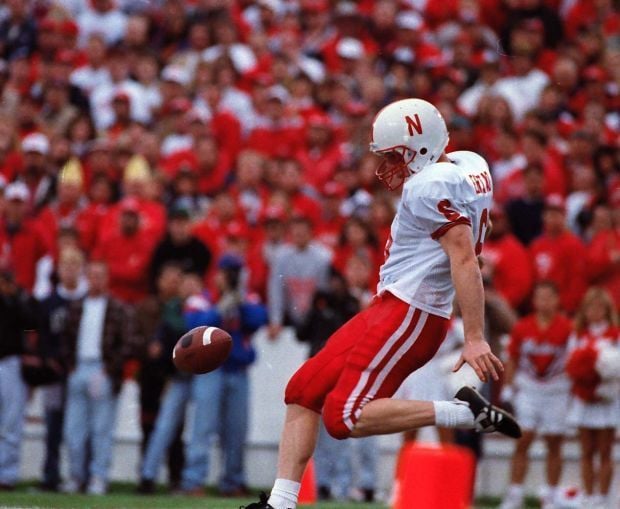 Nebraska and Colorado were ranked Nos. 2 and 3 in the two major college polls. Rashaan Salaam of Colorado was on his way to the Heisman Trophy, and CU quarterback Kordell Stewart was a top Heisman choice before the game, too.
Injuries forced Nebraska to piece together an offensive backfield behind one of the best lines in school history. The Husker defense was getting better every game.
The Huskers won in a breeze, 24-7, and quarterback Brook Berringer had one of his best games, while the NU defense didn't allow a touchdown until after building a 24-0 lead.
Still, in Salaam's mind, the key was Nebraska's little-known punter, Darin Erstad.
"Darin Erstad kept us pinned deep in our territory early," Salaam told the Los Angeles Times. "We opened with three consecutive three-and-outs, starting from our 2-, 25- and 16-yard lines. That was the first time we had been shut out in the first half."
Erstad, now the Nebraska baseball coach, was a key player on the 1994 national championship team. He was "recruited" out of Cook Pavilion, where the Husker baseball team played indoor football as part of winter conditioning.
"Word got out that I could kick pretty good," said Erstad, who was a standout hockey, baseball, football and track star in Jamestown, North Dakota. "I loved to kick. Because of NCAA rules, the football coaches couldn't watch me kick, so I had some friends shoot videos of me punting and place-kicking. We sent the tapes to the football offices.
"I think it was just after the 1994 Orange Bowl, when we almost beat Florida State, Coach (Tom) Osborne asked me to come to his office," said Erstad, who eventually became the No. 1 draft pick in the 1995 Major League Baseball draft, and is on the ballot for the Baseball Hall of Fame for his stellar 14-year career.
"I thought, Coach Tom Osborne asked if I would like to punt and kick for his team," Erstad said. "I could only think 'Wow.' I had no clue about punting at that level, but Coach Dan Young worked with me on my footwork and we got things figured out. As for place-kicks, I just kicked the heck out of the ball and hoped it was OK.
"Other Husker kickers — Tom Sieler, Jesse Kosch and Ted Retzlaff — all helped whenever I asked. John Sanders (then-NU baseball coach) was all for it. Heck, he had even brought up the chance of playing football when he recruited me to play baseball," Erstad said.
He had to sign on as a football scholarship player because he couldn't be on a baseball scholarship and play football, too.
It didn't hurt Erstad's baseball chances at all. He was an All-American and went on to a stellar career in the major leagues, with All-Star Game appearances, three Gold Gloves (at two different positions) and a world championship.
The football experiment worked well, too. Erstad punted three times for a 48.3-yard average in the 1994 season opener in the Kickoff Classic. He kept the job and helped Nebraska become the No. 2 net-punting team that season. He had a 68-yard punt against Iowa State and boomed one 73 yards against Oklahoma. He kicked three field goals as the 40-yards-plus specialist, hitting from 48 and 46 yards, and connected on all 10 of his extra-point attempts.
"I was in awe of that team," Erstad said of the 1994 Huskers. "To be a part of that group, my family in a way, was something very special. Those guys were all so focused and all so intense, it felt good to just be around them. As for my punting, remember, I had Damon Benning and Clinton Childs running down there to down the ball or blow up the returner. I could nub a punt and there'd be no return because of those guys." Opponents averaged 2.9 yards per return and Erstad averaged 42.6 yards per punt.
"A lot of people asked about playing on that team, and being on a winning World Series team (Angels) meant being able to look guys in the eye and knowing you competed with the best," he said. "I even relished playing on the scout teams in scrimmages as a defensive back and quarterback. Let me say this, the competition in the scrimmages was so intense, nobody was very friendly during those workouts. I just tried to hold my own with them.
"As for my other football skills, well, I thought I had the UCLA returner all lined up in my sights, I mean, zeroed in on him. I hit him and bounced off like it was nothing."
Erstad did have four tackles that season.
He was offered another full ride in football for 1995, but turned it down to play pro baseball.