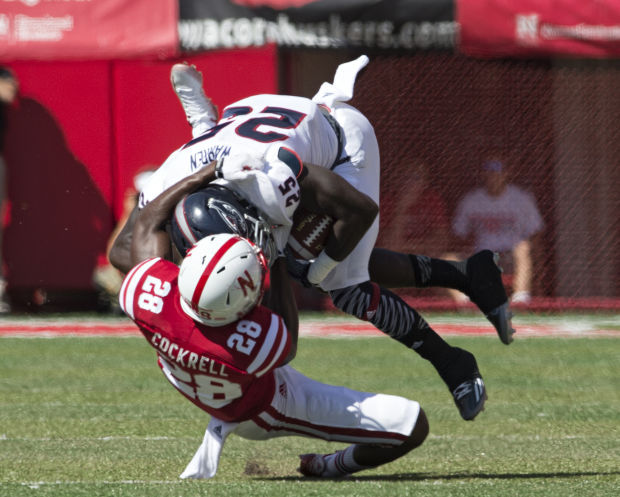 It is a sort of gift to be a new guy who doesn't seem new at all.
Byerson Cockrell, apparently, possesses this quality. He's been on the Nebraska football team for a little more than eight months, yet it seems so much longer to teammates.
"It feels like I've been here since like last year," Cockrell said after the Huskers' season-opening 55-7 win over Florida Atlantic on Saturday. "Some of them think I played in the last game or something like that, and I'm like, 'Nah, I haven't played against anybody yet.' But we've been going against each other since January, it just feels like I've been here for the longest."
So it can be easy to forget that, yes, Saturday was the first time he has played football in front of about 92,000 people.
He knew there'd be that many in the stands, "but it still was surreal" when he stepped onto the field for the first time, Nebraska's starting nickel back, finally playing big-time college football like he always wanted.
The junior came to NU by way of East Mississippi Community College, which he came to by way of Columbus, Mississippi. Ask him the biggest crowd he's ever played a football game in front of before Saturday.
"Probably like 1,000? Maybe 2,000? Probably not that many. Probably 1,000. It was like a high school stadium," he said. "They show love out there too, but it's nothing like Nebraska, like 90-some thousand."
And, OK, there were a few moments in his first game as a Husker when Cockrell did indeed feel a little new.
He finished the game with three tackles and a pass breakup, though the latter was helped by a floated pass that allowed him time to cover lost ground and disrupt the play just in time to stop it from being a potential touchdown.
"Overall I did OK, but I busted a couple assignments, though," Cockrell said. "That's something I just have to work on from here on out. … You're always going to have those first jitters coming out. But as the game went along, I felt I could do it now."
While coaches worked Cockrell at three different positions this offseason — nickel, safety and corner — he downplayed the difficulty of picking up the intricacies of the nickel position in Bo Pelini's defense.
There are challenges at times, but, "Honestly it's not that hard," he said.
Granted, Cockrell didn't exactly expect when he arrived in January that he'd be in a starting position already by the opener. After some practices, though, his mindset began to change.
"Over the last eight months, it was like, 'I'm ready to play.'"
* NEWBY SHOWS OFF POTENTIAL: When Ameer Abdullah ripped off a 47-yard touchdown run, with a nifty cutback, that left a Florida Atlantic defensive back hugging air, it only added further inspiration to sophomore running back Terrell Newby.
Not that he needed much more.
"We all want a long run. I wanted to get a long run in there. He always breaks those long runs and stuff, so it just motivates us and the whole team," Newby said.
Newby got his later, showing off his speed, and the ability to run through a tackle, on a 43-yard jaunt in the third quarter.
"Yeah, I was trying to take that one to the house," Newby said of the third-quarter play, which ended with him being tackled on the FAU 16-yard line. "He did have a little bit of an angle, but pretty good play."
And a pretty good day. In fact, it was Newby's best day as a Husker: 16 carries, 107 yards, two touchdowns.
He may be only in his second year in the program, but Newby knows where to butter his bread when it comes to days like that.
"It starts with the offensive line, so big ups to those guys up front," he said.
26: That's how many games Nebraska had gone without having a turnover-free day until Saturday, when the Huskers had a clean slate. The last Husker performance without a turnover was the 2012 season opener against Southern Mississippi.
"Obviously I'm more of a defensive guy. This offense puts some stress on you. It's not easy to defend. It's hard to figure out all the different facets of them. We showed a little bit of it today, but we didn't open up all the different things of what this offense can be." — Bo Pelini
"I just know that I think he's going to do even more. He'll do something even better." — Byerson Cockrell on Jordan Westerkamp's behind-the-back catch
"We want to be the red storm. We want to be more on the side of lightning because when it touches down it, crashes; people are afraid of lightning. Thunder, they hear, but you don't see anything. Our offense wants to be fast and physical and run the ball down the other team's throats." — quarterback Tommy Armstrong