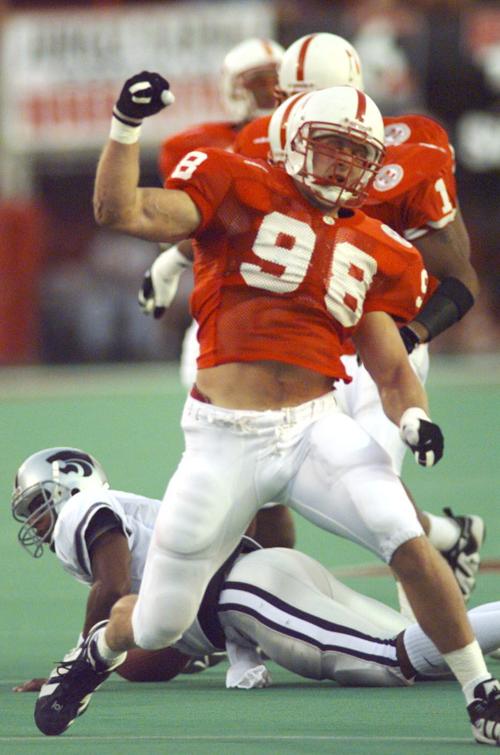 Two pioneers in Husker athletics will be among those inducted into the Nebraska Athletic Hall of Fame in August.
Ed Weir, the first two-time football All-American at Nebraska and a track standout, and Carol Frost, one of the first female varsity coaches at NU, were announced Thursday as 2019 inductees. They'll enter the hall in the Nebraska Pioneer category.
Frost and Weir will be joined by legendary gymnastics coach Francis Allen, Grant Wistrom (football), Greichaly Cepero (volleyball and basketball), Rhonda Blanford-Green (women's track and field) and Wes Suter (men's gymnastics).
Frost, Scott Frost's mother, did not compete in athletics when she attended Nebraska because women's sports had not reached varsity status yet. Frost became the first female Olympian from the school, and she later coached the track and cross country teams from 1976-80. In 2004, Frost was presented with an honorary letter for her outstanding contributions to women's athletics.
Weir, one of Nebraska's top two-way players, returned to coach two sports while serving as an assistant athletic director in the 1920s and '30s.
He was inducted into the College Football Hall of Fame in 1951, and was a four-time conference champion in track. Weir was part of five conference championship teams in track and one conference championship team in football before playing three seasons in the NFL.
Weir served as Nebraska's track coach from 1929-38, leading NU to 10 conference championships. The Huskers' track is named after him.
You have free articles remaining.
Allen will be the third coach inducted into Nebraska's hall of fame, joining Tom Osborne and Bob Devaney. Allen led the Huskers to eight national championships, including five straight from 1979-83. His gymnasts won 42 individual national titles and claimed 171 All-America awards. Allen coached multiple gymnasts who went on to compete at the Olympic level.
Wistrom said Nebraska coach Scott Frost called Wednesday and left a message for Wistrom, who was getting a haircut.
"That was a pretty neat way to find out about it," Wistrom said on Husker Sports Nightly. "I listened to it (and) it kind of floored me a little bit."
Wistrom etched his place as one of the top defensive players in Blackshirt history. He helped lead the Huskers to national titles in 1995 and 1997 and was a two-time first-team All-American. He totaled 206 career tackles and 26½ sacks.
Cepero made her biggest impact on the volleyball court, but she also played basketball at NU. The three-time All-American and two-time Big 12 player of the year helped lead the Huskers to the 2000 national championship.
Blanford-Green was a track standout at NU from 1982-85. She was a member of three national championship teams and totaled four individual national titles. Blanford-Green currently holds school records in the 50- and 55-meter hurdles and the 60-yard hurdles.
Suter had a big career from 1983-86, but his biggest season came his junior year when he won three individual national championships, including the all-around title. He later competed for Team USA at the 1988 Olympics.