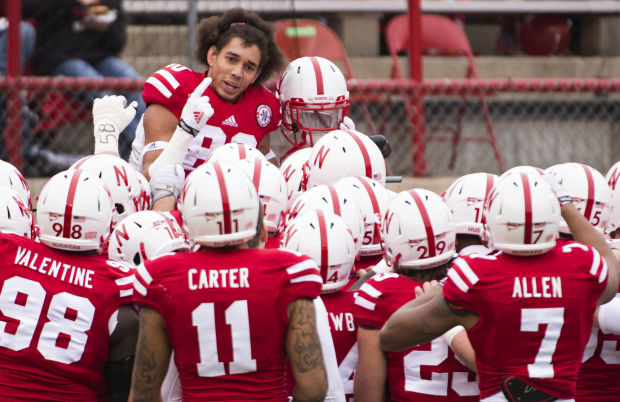 Headphones on. Eyes straight ahead. Like Colin Kaepernick paying his critics no attention in some 30-second TV spot.
It's easier done in a commercial than real life.
In a short week that probably feels like a long week, where every person on every street corner seems to have a hot take about the state of Husker football, and the coaches in charge, and what athletic director Shawn Eichorst should say, and when he should say it, NU players are trying their best to not hear any of it.
Trying, we say. Because it figures as challenging this week as tackling Melvin Gordon in an open field.
"Myself, I don't read the newspaper or get on (recruiting sites) or things like that," said Husker junior cornerback Daniel Davie. "I'm just focused on things I can do to help the team win, and focus on myself. And I know a lot of guys are the same way. We're just watching film and coming to practice and working hard. We don't think too much about that. We just think about getting the 'W.'"
Headphones on. Block out the noise. If you can.
It has to be hard thinking only about Iowa at a time when everybody around you is talking about anything but the game.
Following a 28-24 loss to Minnesota, which followed a 59-24 loss to Wisconsin, which followed the promise of an 8-1 start, the conversation is the same one that was being had a year ago, as people openly speculate about the status of Bo Pelini's job even while Eichorst has given no hint as to what he's thinking.
The national headlines haven't been kind this week, either, with USA Today placing Nebraska as the No. 1 team on its "Misery Index" under a story titled "Lost in Lincoln."
And there was SI's Andy Staples, who weighed in after NU's loss to Minnesota, saying it was time for Nebraska to re-evaluate its program.
"What do you want your program to be?" Staples said. "Because, here's the thing right now: Nebraska's program is not great, it is not terrible, it just is. And I don't think anybody who has followed Nebraska for decades is happy with 'just is.'"
It is just one of the many opinions floated this week, just as former Husker Eric Crouch had his own while appearing on CampusInsiders.com.
Crouch expressed support for Pelini, saying, "There's been some things that have happened with Coach, the tape and all this that was said. But I believe he's the right guy for the position. I think he can continue to build this program. But he's got to do it in a fast way, because I think the people of Nebraska, the program in general, has been waiting a long time to get back on top."
Amid all this chatter, a bunch of college guys aged 18-23 are attempting to get their minds right to avoid Nebraska suffering a three-game losing skid for the first time since 2008.
Sounds like a tall task, maybe? NU senior linebacker Trevor Roach believes it can be done.
"I think it's more of just an inner thing with us," he said. "You just have to stay positive and keep rolling. If you feel sorry for yourself, that's not going to do any good. That's just going to make it worse, to be honest with you."
Continued Roach: "There is a lot of pressure, but at the same time, that's what we're here for. A lot of people like that. … Everyone's different. I really don't worry about stuff. Things happen. The only thing you can control is yourself. You have to prepare the best you can and you have, hopefully the things will go the right way."
Sophomore quarterback Tommy Armstrong, who often has to have as thick a skin as a head coach or coordinator, said he hasn't been paying attention to any outside talk either.
"Our coaches, they're our coaches for a reason," he said. "Whatever is said out in social media and stuff like that about whether this is going on or that is going on, at the end of the day, those are the guys that are out there with us. We support them. They're our coaches for a reason. We don't pay it no mind. We're just going to come out here and play football."
It's a tough spot to be in, however.
A Black Friday game that, back in August, Husker players hoped would be a day that clinched a trip to Indianapolis instead comes with the same speculation that existed last time Nebraska met Iowa.
Even the most expensive headphones can't block it all out. But Davie said there is motivation that comes with that noise, too.
"We're behind Coach Bo," Davie said. "Personally, he recruited me, he gave me a chance when a lot of programs didn't, so I have something special for Coach Bo. I'm going to play my hardest for him."