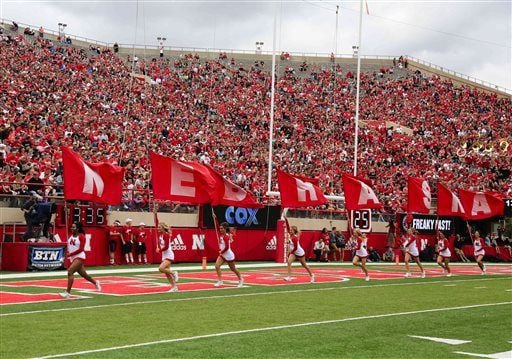 Behind the microphone overlooking Athletic Park, a crumbling bowl of a stadium built a century ago in downtown Beatrice, Nate Rohr — the booming voice over the loudspeaker — could be heard blocks away.
"Touch…down Orange…men!" rattled windows in downtown Beatrice.
That same voice will soon be bouncing between the stone buildings in downtown Lincoln.
"Touch…down Corn…husk…ers!"
On Wednesday, Nebraska Athletics named Rohr the new public-address announcer for Memorial Stadium, where he will be "looking live" as he likes to say, for home games beginning Sept. 3.
It's been a surreal few weeks for Rohr, 31, who has been dreaming about being an announcer for nearly as long as he can remember.
"Starting out, I wanted to be an athlete like pretty much everyone else," he said. "When I was about 7, we were riding along on the way home from a game and my parents told me I should look into being a writer or a broadcaster."
As a diehard Husker and Kansas City Royals fan growing up, Rohr said sports radio and broadcasting were a ubiquitous presence in his life. His parents' suggestion struck a chord, one that has come to define him.
"I haven't had a better career idea since," he said.
As a sophomore at Beatrice High School, Rohr and a friend convinced the athletic director to let him read the starting lineups for a boys basketball game early in the season.
"There was nobody else around who wanted to do it," said John Jarosh, the person in charge of lining up the public-address announcers for Beatrice games. "We gave him a shot and he did an awesome job — it's not normally a high school kid who does that."
Rohr caught the ear of then-girls basketball coach Steve Hartman, who asked him if he could announce the girls' home games, too.
Hartman had experienced Rohr's passion for announcing first-hand. Teaching Sunday school in Beatrice alongside then-superintendent Steve Joel, Hartman said Rohr was tapped to narrate the Christmas program one year.
"That was the first time I really understood how much passion he had for that sort of thing," Hartman said.
Soon Rohr was announcing American Legion baseball games in the summer and volleyball in the fall before he was asked to become the voice of Orangemen football as a senior.
Each of those experiences has been a confidence-builder, he said, while also shaping his style as an announcer.
Rohr said he hopes to be as enthusiastic as he is accurate without being a "homer on the mic."
"That was something that was important to me when I was a sophomore in high school," he said. "It's something that's important to me now."
After graduating from Beatrice in 2003, Rohr found an opportunity announcing Husker softball games on the Husker Sports Network.
It's there some of his fondest memories tied to sports have occurred: the double play to wrap up the NCAA Super Regional in 2013, a Taylor Edwards walk-off home run against Washington in 2014 and a game against Missouri in the regional finals.
Nebraska Athletics has given Rohr the opportunity to grow, too, asking him to be the voice announcing soccer, swimming, gymnastics, and as needed, men's and women's basketball.
He hopes to continue growing this fall as he eyes the action from high above the turf at Memorial Stadium. Rohr said he hopes to add to the fan experience.
"The fans aren't there to hear me, but I hope I can amplify the good things the players do on the field," he said.
Rohr said he had an epiphany a few weeks ago about just how real his dream is about to become.
Meeting with assistant athletic director Jason Rathe in North Stadium to talk about the position, Rohr said he stopped to admire the oversize scoreboard and speakers mounted high above the Sea of Red.
"Looking at those, I thought 'My voice is going to be coming out the other end,'" he said. "That's when it hit me how cool this is."
Not to be outdone by the biggest career move of his life, Rohr also asked girlfriend Ellie Schunk for her hand in marriage.
"I don't know if I'll be able to match this week anytime soon."