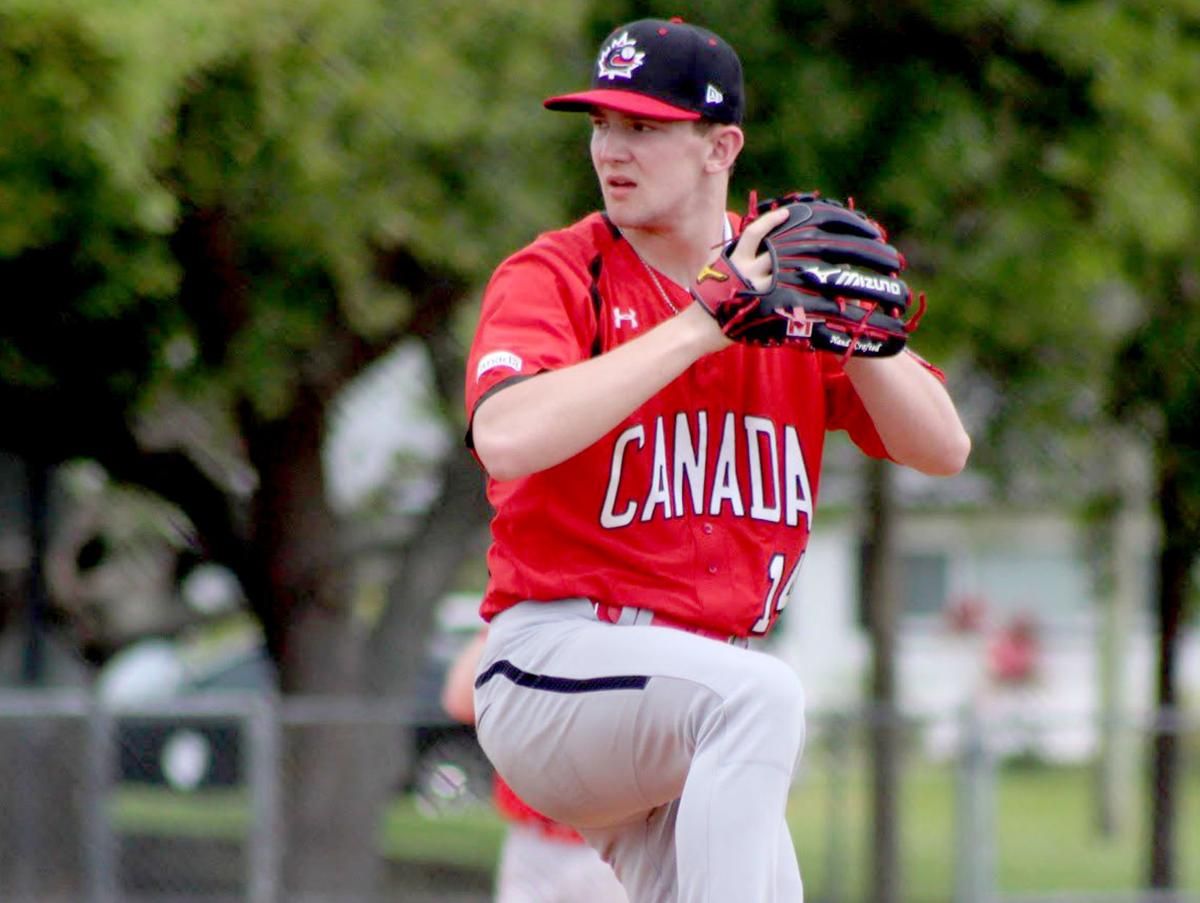 Whenever the Nebraska baseball team lands a commitment, assistant coach Lance Harvell likes to tweet out a GIF of The Dude, the character from the popular movie "The Big Lebowski."
On Wednesday, Nebraska landed the top dude from Canada.
A couple of months after earning a scholarship offer, Caleb Clark, a hard-throwing left-handed pitcher and first baseman, called Harvell and told him he wanted to be a Husker. Clark is ranked the top 2022 recruit in Canada, according to Perfect Game.
Harvell, of course, revealed his excitement with his tweet of The Dude on Thursday morning.
Clark was pretty excited, too.
"I'm over the moon right now," the Orillia, Ontario, native said Friday. "I think this is the best decision for me for sure. I really have no words to describe how I'm feeling."
Clark said Nebraska began recruiting him six or seven months ago as a hurler. A strikeout pitcher, his fastball reaches 90 mph on the gun. Clark also throws a slider and change-up. But after watching video of Clark hit, the Husker coaches were "fully on board with the two-way process," the 6-foot-2, 187-pounder said.
Clark learned of Nebraska baseball through Core Jackson, a 2021 Husker signee who played in the same travel program, the Great Lake Canadians, as Clark. Another Husker connection helped in the process, too.
Clark's travel ball coach is Adam Stern, a former Husker standout who played with Will Bolt and was part of the Huskers' rise in baseball under Dave Van Horn.
"He was actually a big part (of the recruiting process) but also not a big part because he said this is your decision," Clark said. "He told me about how great the facilities are and he told me that if you go to that place, everybody is going to love you there."
Because of travel and recruiting restrictions, Clark has yet to set foot in Nebraska. He plans on doing so once the NCAA dead period is lifted and travel across the border is allowed.
Though Orilla is nearly 1,100 miles away, Clark has grown comfortable with Nebraska. He said it reminds him of his hometown, which is less than two hours north of Toronto. He also developed a strong relationship with Harvell.
"I started building a connection with him," Clark said. "We both talked about our Christian backgrounds and we kind of bonded over that."
Clark also liked what he heard from Bolt, who is in his second year at the helm.
"I think it's the winning mentality," he said. "I wanted a team that was hungry to win and wasn't there just to have fun. I think they want to compete, and it's time to go get Nebraska back to Omaha and I want to help the team do that."
Clark grew up in hockey country, but his dad turned him loose on baseball when he was 3, and he has loved the sport ever since. Clark's Great Lakes Canadians team plays about 25-30 regular-season games a year, plus postseason play. The team also plays in three or four tournaments in the United States each year.
"It's very competitive here," said Clark, who has dreams of playing major-league baseball. "A lot of people don't know how good the baseball is here. I think when we go to the U.S. tournaments we kind of shock a lot of people."
Clark joins a 2022 Husker class that includes outfielder Hayden Lewis (Yutan), infielder/pitcher Brandon Lundquist (Millard North), pitcher Nate Moquin (Millard South) and pitcher Sam Novotny (Millard West).