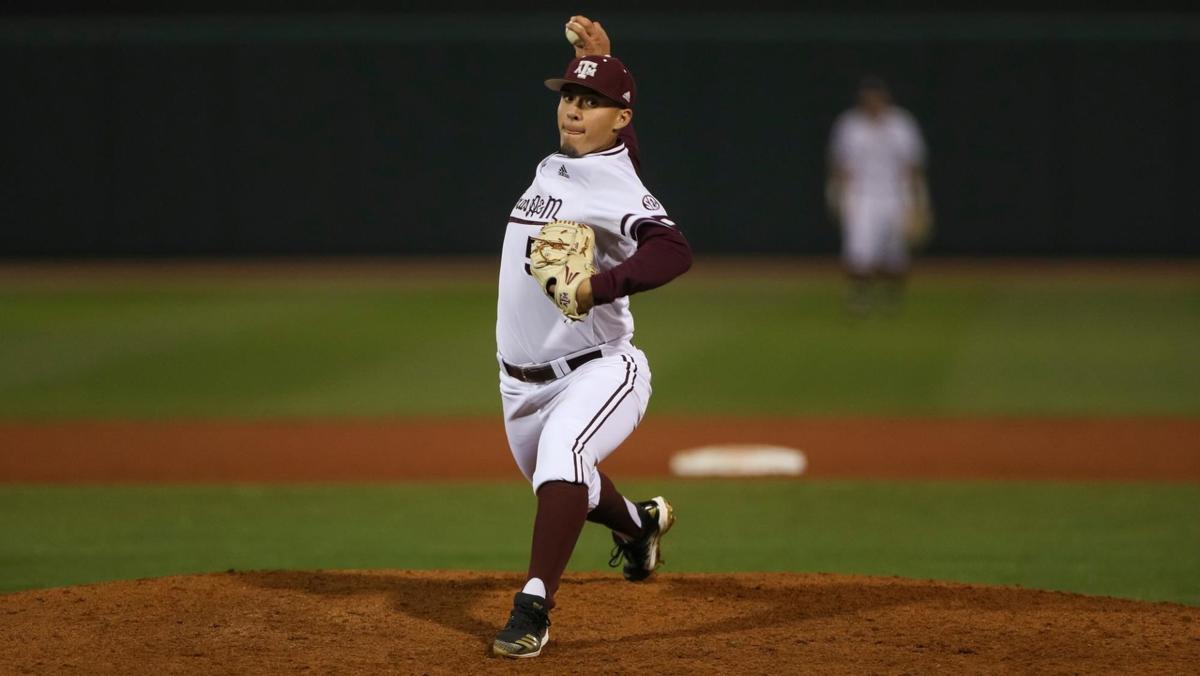 A good situation turned sour and plenty of connections led the Nebraska baseball team to its latest addition.
Pitcher Mason Ornelas, who spent the first two seasons of his college career at Texas A&M, announced Tuesday he was transferring to Nebraska.
Ornelas said Tuesday night he originally had no plans to ever leave College Station. He was on track to graduate next spring. He was happy with the program and his spot in it. He had recently ordered his Aggie ring, a cherished possession among A&M students and alumni.
But after Rob Childress' contract wasn't renewed and the school hired former TCU coach Jim Schlossnagle, things went south. 
"I would text him and try to meet him just to introduce myself one-on-one, get to know him. But I never got a text back, never got a call back. He kept blowing me off," Ornelas said. "That happened for a couple weeks. Then I finally got a text message to meet him.
"Had a meeting with him, and he was just very blunt. Said he was pulling my scholarship, didn't give me a reason why."
The news came as a "gut punch" for Ornelas and his family, he said. There was little other option than to enter the transfer portal.
That's where the 6-foot, 210-pounder's connections to Nebraska paid off for NU.
Husker head coach Will Bolt had recruited Ornelas out of high school when Bolt was an assistant to Childress at A&M.
Ornelas' twin brother, Mitchell, was a manager for the NU baseball team this year and has a spot lined up with Nebraska's social media team this fall. His parents, Michael and Vanessa, were both athletes down the road at the University of Nebraska-Kearney — Michael in baseball and Vanessa in women's basketball.
"Love the guy to death," Ornelas said. "He wants to make you a great human being, a great father, a great son. He wants the future bright. Whether it's baseball or not, he just wants you to be successful. And that's a guy I want to play for and be around."
Ornelas even took an unofficial visit of sorts, traveling to Lincoln with his parents to watch the Nebraska-Michigan series one week after A&M's season ended against LSU.
"I was really impressed with what I saw. Just the atmosphere, the amount of red across that stadium — they really fill up the stadium, and that's awesome," Ornelas said. 
"Just being a part of a team that can make a run to Omaha, and have goals like that, hopefully win back-to-back Big Ten championships, that's a team I want to be a part of."
A right-hander, Ornelas struck out 42 and walked 12 out of the bullpen in the recently completed season for the Aggies, allowing 21 earned runs in 37 innings pitched for a 5.11 ERA. His 18 appearances were tied for the fourth-most on A&M's staff.
As a freshman in the pandemic-shortened 2020 season, Ornelas made five appearances and threw 6⅓ innings, striking out nine and walking one with a 1.42 ERA, and was named a freshman All-American by Collegiate Baseball.
Ornelas has three seasons of eligibility remaining.
The transfer is the first major public move for Nebraska as it begins restocking its pitching staff after closer Spencer Schwellenbach, starter Cade Povich, and reliever Cam Wynne were all picked in the MLB Draft. Schwellenbach and Wynne are off to the pros, while Povich will almost certainly go that direction as well.
Ornelas hopes to earn a starting job when he arrives in Lincoln.
"I'm not coming in expecting to be a Friday night guy. But I think of course that's any pitcher's goal, just to be that guy, or a go-to guy out of the pen," Ornelas said. "I'm going to be a new guy. What I did at A&M, that's in the past. I'm going to be the new guy on the team, just work hard and develop myself, and work toward a starting spot on this team and just be a great teammate, a great leader."
The centerpiece: The stories that have highlighted the Journal Star's sports sections in July
The big headline. The big photo. The centerpiece. We've collected the stories that have stood out the most this month.