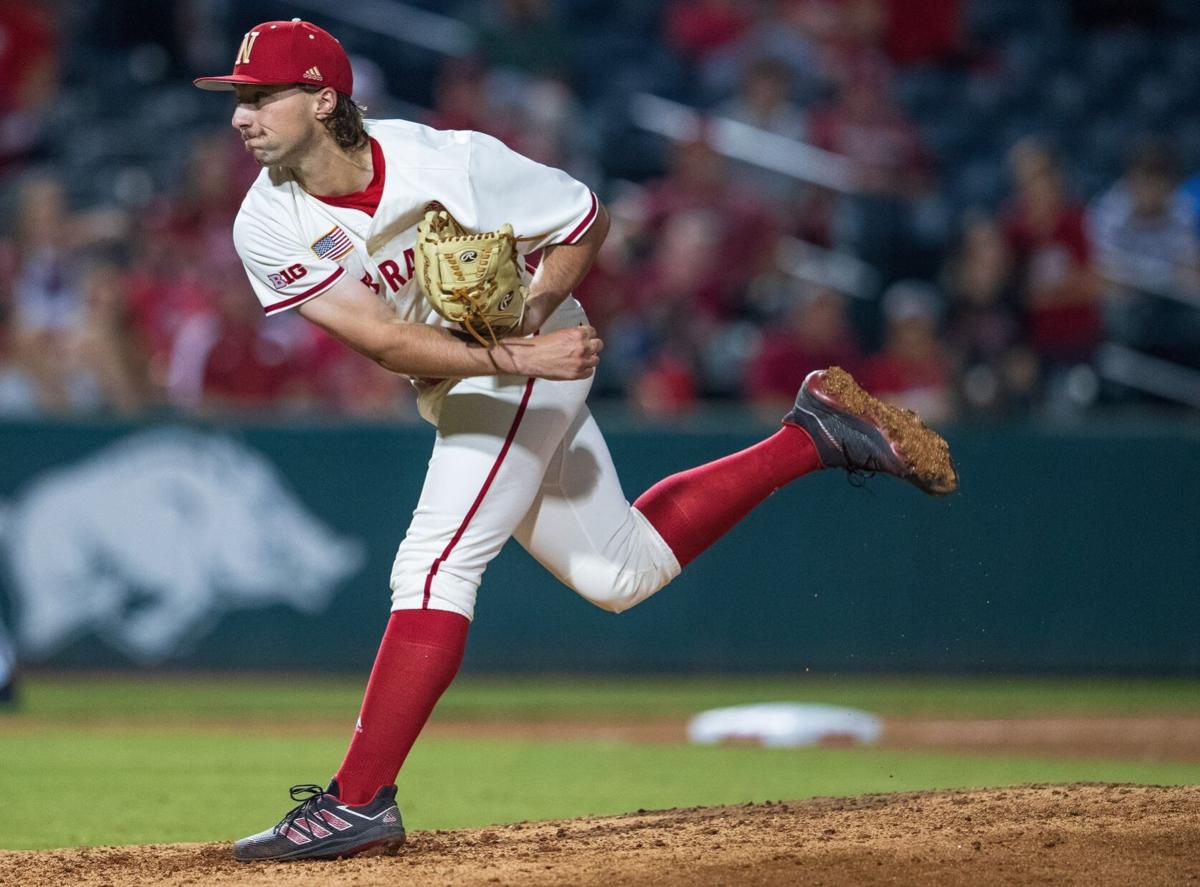 FAYETTEVILLE, Ark. — Koty Frank didn't necessarily expect to be pitching for Nebraska in the fourth inning of Friday night's game against Northeastern at the Fayetteville Regional.
But one of the beautiful things about baseball is the unexpected. Unexpected that Frank was in the game. Unexpected that the junior college transfer retired the first 11 hitters he faced in NU's NCAA Tournament-opening 8-6 victory. And maybe even unexpected that a guy from a tiny map dot in Oklahoma would be the steadying hand the Huskers needed.
"For me, it's just one of those things where you always have to be ready no matter what the circumstance is, because baseball's a funny game," Frank said Friday night. "Po (Cade Povich), he's our ace, and tonight just didn't really have his stuff. And that's the moment I always have to be ready for."
It's the kind of moment Frank craved when he transferred to Nebraska from Eastern Oklahoma Community College. And why he ended up at EOCC out of high school. 
Frank's hometown of Tushka, Oklahoma, has maybe 400 people living there. Frank was a star on a dominant high school team, but recruiters weren't exactly beating a path to a rural community halfway between Oklahoma City and Dallas.
So Frank went the juco route, turned himself into a star, and landed in Lincoln. And Friday, found himself in the most critical moments of Nebraska's season, where he came through with flying colors.
"All that matters to me is that we got that first 'W.' As long as I could keep us in the game and we could come out with a win, I'm perfectly fine with it," Frank said. "Whether I did as good as I did tonight, or it was just an inning and we pass it on to the next guy, as long as we got that win, that's all that matters to me."
Frank's funky release and ability to make the ball move stifled a Northeastern offense that came out red hot. But it was nothing the Huskers haven't seen all season in practice.
"No ball is straight. You don't get that fastball where it's a little straighter. Has a little tilt to it; everything's moving. You've got to be on your 'A' game," NU's Cam Chick said of facing Frank. "He can throw you off and take you out of your rhythm pretty easily with his stuff."
Team meeting turns tide: Nebraska coach Will Bolt called the Huskers together for a team meeting before NU batted in the bottom of the third inning. And while NU didn't score in that frame, the bottom of the order produced a couple of hits.
Over the next four innings, Nebraska scored all eight of its runs.
It wasn't the first time Bolt has called such a meeting this season, and not the first time NU has responded afterward.
"I think it's very helpful, especially in times like the third inning, being down four runs," Chick said of the gathering. "It's still a baseball game. It's another game. Try not to make it more than it is. So he was really able to sit us down and make us realize, it's another baseball game, have fun, loosen up, because the tighter you are, the worse you play. So just get back to playing our style of baseball was huge."
Bolt usually isn't animated when he speaks to his team in those settings, choosing instead to clearly articulate what he wants and how he wants his players to get it done.
"I didn't really like the way that we started the game. I felt like we were a little bit on our heels, especially offensively," Bolt said. "So I was just reminding them, let's not get caught up in the score here and let our emotions get the best of us and hit the panic button. Let's start putting together better at-bats by being more aggressive."