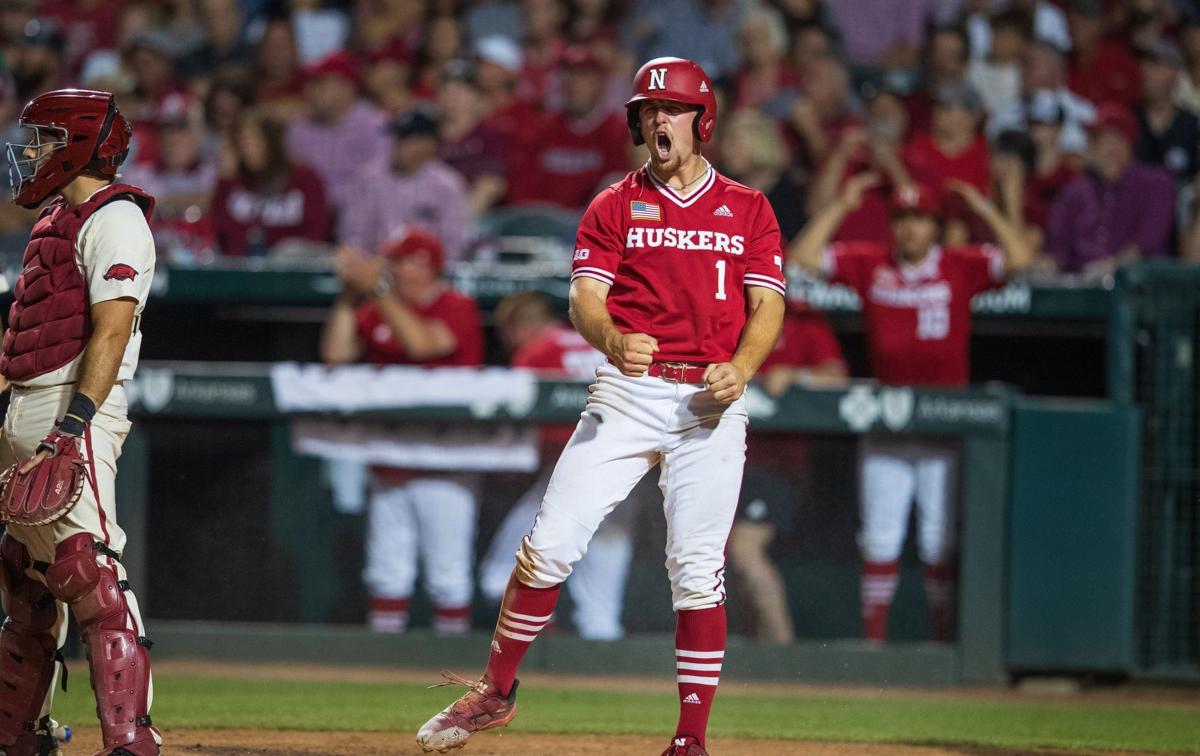 FAYETTEVILLE, Ark. — Only three times since 1999 has the No. 1 national seed not won its own regional in the NCAA baseball tournament.
Monday night, Nebraska tries to make it four.
The Huskers, less than 24 hours after knocking off No. 1 Arkansas in an exhilarating 5-3 game that dripped with tension until the final pitch, will take on the Razorbacks at 6 p.m. at Baum Stadium, with the winner advancing to a super regional series against North Carolina State.
Both Nebraska and Arkansas are chasing history. The Huskers seek their first super regional appearance since 2005. The Razorbacks look to fulfill a season-long destiny, first as one of the favorites, then the clear favorite to win the national title after winning the SEC's regular-season and tournament championships.
"The message (to the team) is, we're going to keep coming," NU coach Will Bolt said Sunday night. "Just show up again tomorrow. Just like I ask them to do all year."
Bolt, in his first full season at NU, has a chance to best his mentor and former coach Dave Van Horn in getting the Huskers to a super regional. Van Horn did it in his third season at Nebraska. Bolt will try to do it in two.
The NCAA Tournament expanded to 64 teams in 1999. It took until 2007 for a No. 1 national seed not to win its regional. That year another Big Ten school, Michigan, upset Vanderbilt. It was seven more years before UC Irvine stunned No. 1 Oregon State in 2014. The next year, 2015, Maryland knocked out top seed UCLA.
Now, the Huskers stand on the edge of history after winning two elimination games Sunday.
"It's the same message as (Saturday) after our game: lose and go home," Nebraska shortstop and pitcher Spencer Schwellenbach said. "So we're fighting for our lives right now, and don't want this season to end. I love this team too much, love the coaches too much for this season to go by."
How the teams go about Monday night's game from a lineup perspective remains to be seen.
Nebraska will start ace Cade Povich after the left-hander threw just 64 pitches in his Friday start against Northeastern.
After the Huskers got through Sunday perfectly from a pitching standpoint, using only five arms over 18 innings, only Schwellenbach, Kyle Perry, and Shay Schanaman will likely not be available.
"We're going to pick up the pieces here after this one and figure out what we have lined up," Bolt said. "Having several guys that didn't throw today at all, with only throwing five guys in a doubleheader, that's pretty rare.
"So we're going to have a lot of fresh arms, a lot of guys that are ready to pitch."
Van Horn was also mum on who might get the ball to start Monday's game. But there is a sizable name waiting if needed.
Should Arkansas have a lead, the Hogs will almost certainly send All-American Kevin Kopps to the mound for as long as he can go.
Even after throwing 95 pitches across more than six innings in Arkansas' first two regional games, there was Kopps, a Golden Spikes Award candidate, jogging down to the bullpen Sunday night, just in case he was needed.
He didn't enter, meaning a rare day of rest for the best pitcher in college baseball.
For Nebraska, it doesn't seem to matter who takes the mound. The Huskers say they will fall back on the "don't care" mantra that has carried them to Monday night's moment.
"I think that showed today at the highest level. This is an electric atmosphere. Fans were on their feet, do-or-die game for us. So I think all the preparation that we've had leading up to this really showed tonight," NU catcher Griffin Everitt said. "Just do what we did today. Come out with no fear, ready to attack the moment, and make the most of it."