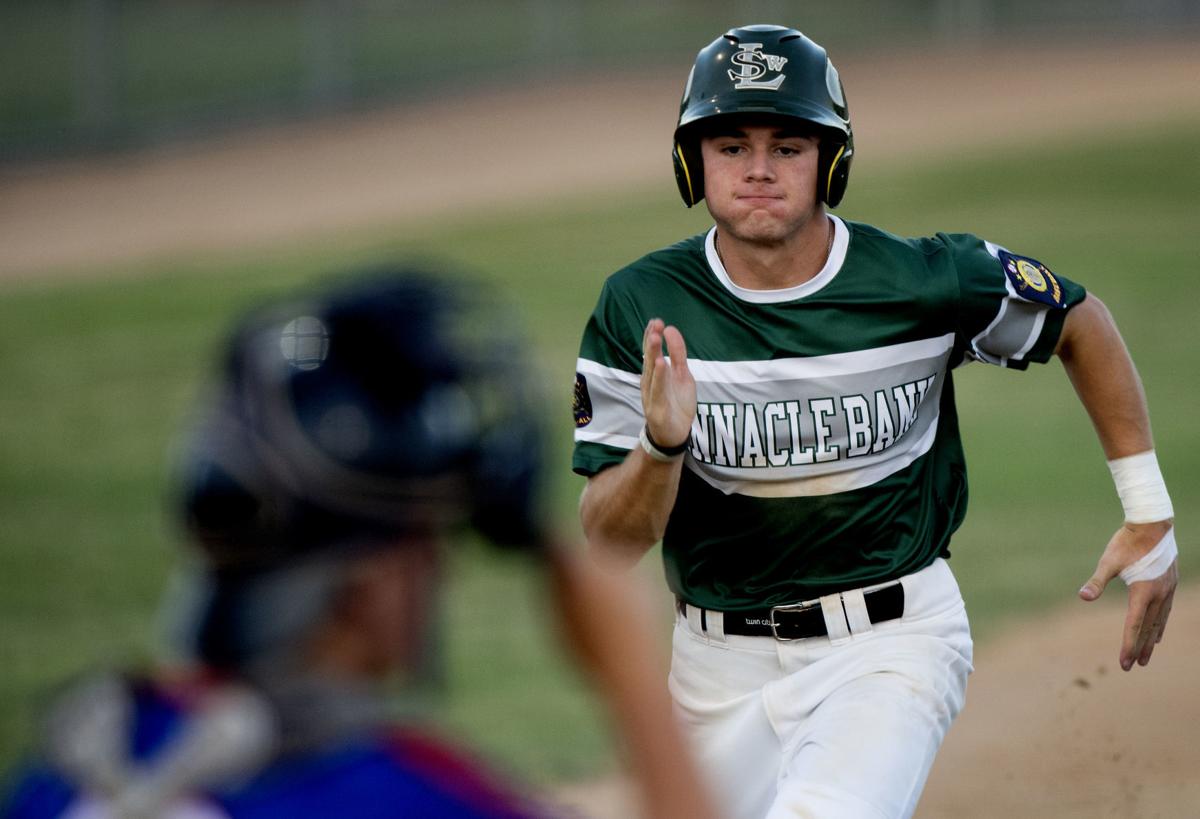 The first call from the coach came in the spring.
At the time, Will Bolt told Luke Sartori, who was coming off an abbreviated season at Hutchinson (Kansas) Community College, that he wanted to see Sartori in Husker red someday.
"Right away, I was like, 'Wow,'" Sartori said. "Playing at Nebraska is a dream. I always pictured myself as a little kid at the plate in a Nebraska uniform."
Bolt buzzed Sartori's phone again less than two weeks ago. The Lincoln Southwest graduate figured the coach was just checking in again — maybe to see how the summer was going.
Well, something like that. Bolt did have one request.
"'Hey, Luke, we want you to come (to Nebraska) right now,'" Sartori recalls hearing.
Sartori put the finishing touches on realizing his childhood dream Saturday morning. That's when the 6-foot, 190-pound outfielder called Bolt to tell him he was taking the Huskers up on their offer to join the program immediately. He'll be at NU in the fall.
After spending one season at Hutchinson (Kansas) Community College, Luke Sartori announced his commitment to the Nebraska baseball program Saturday.
Sunday morning was one to remember, as the now former Husker fielded calls from five different teams in a 20-minute span. 
"I was not expecting that at all," Sartori said. "(It was) just talking back and forth, and when he asked me that, it was boom; I was shocked. I didn't know what to say.
"(Bolt) wants me to come in and be an impact player for their program and be the guy in the outfield, and make this team better, too, to get to Omaha, and I believe that I can do that. The coaching staff at Nebraska, they're extremely qualified and they're great coaches and I believe they can do that for me and the whole team."
For Sartori, it's been a fast ride back to Lincoln.
He was a late bloomer on the diamond, partly because he played only one varsity season in high school. Sartori's junior high school season was erased after he broke his elbow in tryouts.
"I dove for a ball and it was on the glove side and I dove like a dummy," he said. "My arm got caught under my body and it snapped. I knew right away once I landed and heard a huge snap that I broke something."
Sartori came back strong, finishing with second-team Super-State honors as a senior. He only had one college offer, and that was to Hutchinson Community College.
Sartori was looking forward to the opportunity to grow his game at the Kansas junior college. This was the same program known to produce big-time prospects, including Michael Helman (Lincoln Pius X), Nolan Hoffman (Lincoln Southeast) and Luke's older brother Logan, who is currently at Texas A&M.
At Hutchinson, Sartori said he got stronger, and he credits the coaching staff to helping him change his approach at the plate, which led to a fast start to his freshman season. Batting second or third in the lineup, he hit .455 with four homers and 18 RBIs before the coronavirus stopped the season.
Sartori came back to Lincoln. The season was over, but baseball remained a big part of his spring.
"I still had that drive in me to keep playing baseball even though the season was canceled, so when I got home I kept swinging, kept growing, kept working out because I really didn't want to accept, 'Hey Luke, you're done playing baseball for the year,'" Sartori said. "From the whole season to now, you just have to look back and be like, 'Wow this is happening.' I just believe that it's God's plan for all of this to happen and go to the University of Nebraska."
Sartori said he was considering a couple of other offers, as well as a return to Hutchinson for his sophomore season. But how could he pass up playing for the team he envisioned suiting up for while taking swings in the garage as a kid?
Sartori is currently playing summer ball for the Hutchinson Monarchs. He'll wrap up the season by early August and return to Lincoln to begin his next chapter.
"Oh, I want to go back so badly," he said. "I want to get into that (Nebraska) uniform."
Be the first to know
Get local news delivered to your inbox!