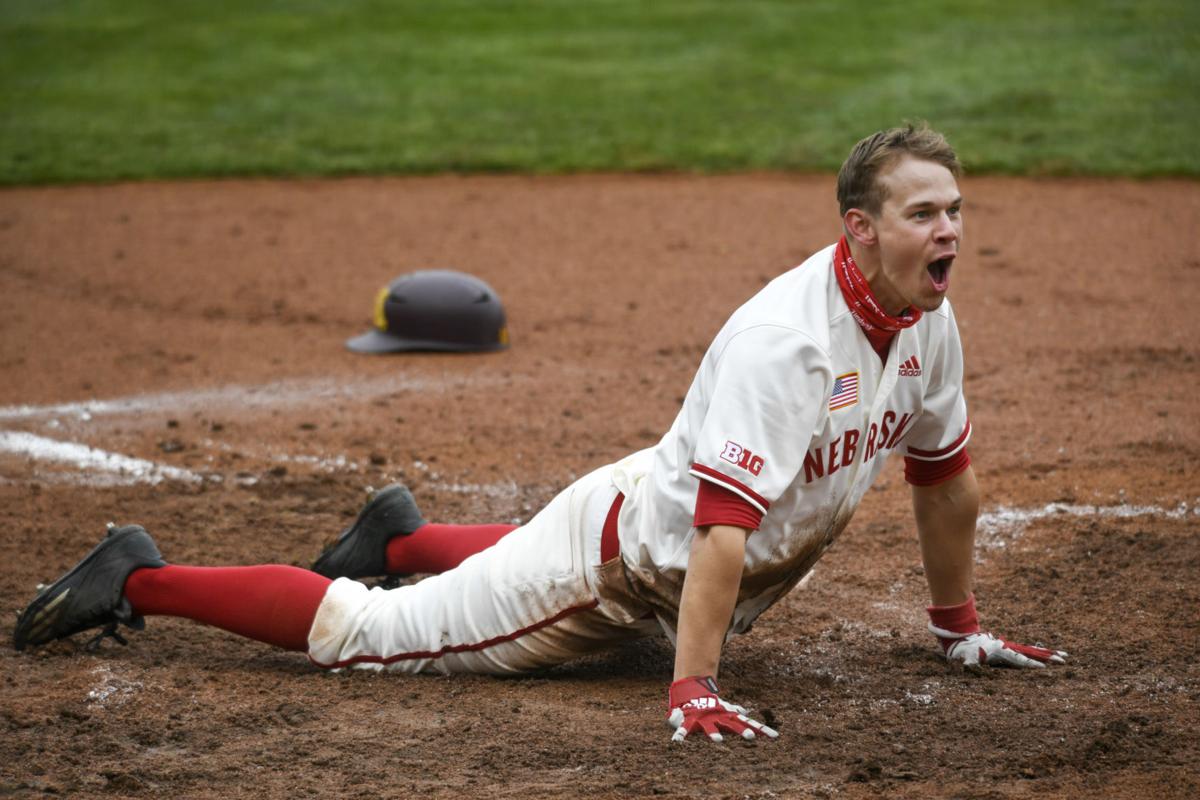 If this season ends up going the way the Nebraska baseball team wants it to go, the saying the Huskers have stuck to during their hot start is going to take on a life of its own.
"We always talk about, gritty beats pretty — and that's a saying we've been using a lot this year," senior leadoff hitter Joe Acker said. "And I think it's come to fruition and we've had some success."
Nebraska's 11-4 start, which has it tied for second in the Big Ten more than a quarter of the way through the season, certainly is pretty. But the gritty way the Huskers have got there — grinding out at-bats, doing whatever it takes to get on base, wearing down opposing pitching staffs — has been the key.
And Acker has been one of the catalysts in that grind-it-out style that has led NU to its six-game winning streak. Since moving Acker into the leadoff spot in Nebraska's batting order, the Huskers are 6-1 and averaging 8.9 runs per game. 
Acker, meanwhile, has been on base in every one of those seven games, whether it's working walks (10 in seven games) or using his bat.
Nebraska will look for more of that grittiness this weekend when the Huskers head to Illinois for a three-game series against the Illini (7-8). First pitch Friday is set for 6 p.m. at Illinois Field.
"We've got a good blend of the guys that are just going to get it done, which are the ballplayers, which is a Joe Acker — he's just finding a way to get on base at a really high clip," NU coach Will Bolt said. "Acker has very much just sold out to being the ballplayer where, whatever (he's) got to do to get on base and to move the offense, and that's what (he's) going to do.
"He's in a 3-2 count just about every at-bat it, feels like, and just really competitive for us — whether it be the leadoff spot, the nine-hole, had some really big hits for us."
Nebraska's offense has shown it can get the job done in multiple ways, leading the Big Ten in runs scored, walks and sacrifice bunts while ranking second in RBIs, third in hits, third in slugging percentage, and fourth in home runs.
Acker is tied for third in the league with 12 walks, one off the league lead. He led off two of Nebraska's four wins over Minnesota last weekend with walks.
And while the competition from here on out will take a step up — eight of Nebraska's first 15 games have come against the bottom two teams in the conference in Purdue and Minnesota — the Huskers believe they have a plan that allows them to keep pace at the top of the standings.
NU has a board in its dugout to keep track of "grit plays," as Bolt called them — the things that might not show up in a box score that still help a team win games.
So far, Acker and his teammates have kept that board filled with things like hit by pitches, winning 3-2 counts, two-out RBIs, bunt base hits, going first to third, and the like.
"Even if we may not get 10 or 11 hits, we feel like if we can fill up that board with some of those things that we've had the type of offensive day that are going to help us win," Bolt said. "Those type of things where you're taking the extra bases, you're competitive in spots where they mean the most — that's what we're trying to find is the perfect combination of guys that are going to be the grittiest day in and day out."
If any of the Huskers need a reminder, they just need to look at the guy digging in at the plate to start the game.
"I think definitely guys have embraced it, and I think it helps guys stop thinking about themselves and being internal, and really just caring about doing whatever it takes to win," Acker said of NU's grit plays. "Because in baseball that's what you need to do, is whatever it takes. And as a team if we can one through nine not care so much about ourselves but just about being gritty."
Diederich in transfer portal: Sophomore pitcher Sayer Diederich is in the transfer portal, a source told the Journal Star.
The Elkhorn South product had made three appearances for NU this season, throwing two total innings. He allowed two total runs on one hit with two walks and two strikeouts.
Diederich was not listed on Nebraska's online roster as of Thursday.
A 6-foot, 185-pound left-hander, Diederich also made three appearances during the shortened 2020 season. He threw 3 2/3 innings last season, allowing two runs on three hits with two strikeouts.
His last appearance for NU came March 20 at Iowa, when he allowed two runs.