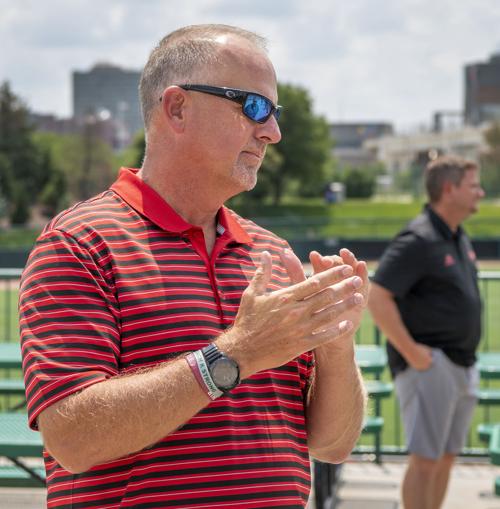 If you were a time traveler from a couple of decades ago, you probably wouldn't think much has changed around the Nebraska baseball offices.
There's Renee Brinkman, the long-time team secretary, running the ship from the team headquarters at Haymarket Park. Will Bolt, Jeff Christy and Curtis Ledbetter are still running around.
And Rob Childress, a Husker assistant coach from 1998-2002 and associate head coach from 2003-2005, is here, too.
While the names are the same, the times are different. Tuesday marked Childress' first day in his new role as director of player development for the Huskers.
"For me, my sole focus is the here and now, and being here with Will and Jeff and Lance (Harvell), and doing my best to help these guys in every facet I can," Childress said.
He won't have a hands-on coaching role with NU. But Childress, who spent the last 16 seasons as the head coach at Texas A&M, will still be in the middle of how Nebraska operates its program. There will be a role for him in on-campus recruiting, developing scouting reports, scheduling and all the other day-to-day responsibilities that come with trying to lift the Huskers back to the national stage.
To that end, Childress and Bolt have already discussed what Nebraska needs from an operational standpoint to help the program keep pace with the national powers.
For example, Childress for the time being, is sharing a desk with Brinkman. The Huskers need more office space to accommodate everyone. Bolt also expressed a desire to have off-the-field amenities such as the team's trainer and strength coach under one roof and having nutrition options available as well.
It probably wouldn't be on the scale of, say, the Hendricks Training Facility that houses NU's men's and women's basketball teams. But there's plenty of room not far from where Bolt and Childress stood Tuesday on the left field concourse to make those kinds of expansions.
"We've got everything we need here. I think it's just always, you're upgrading things continuously. It's hard to believe it's been 20 years (since Haymarket opened)," Bolt said. "We've got plenty of space over here to do some things.
"I'm not a very good artist, but I've sketched a few things out after the season."
Hallmark still undecided: Bolt said senior outfielder Jaxon Hallmark has yet to make a decision on whether he will turn professional or return for one more season with NU.
Hallmark, who locked down center field for the Huskers this season and led the team in batting average, home runs and steals, wasn't picked in last week's Major League Baseball Draft. The 22-year-old could still sign a free-agent deal and has until Aug. 1 to make that decision.
Hallmark has an extra year of eligibility thanks to the COVID-19 pandemic but also graduated this spring.
The other Huskers in similar situations, pitchers Max Schreiber and Trey Kissack, and catcher Gunner Hellstrom, will all move on from playing, Bolt said. Hellstrom could join Nebraska this fall as a student assistant, and possibly have that role in the spring as well.
Anderson an all-star: Infielder Max Anderson was was named a Cape Cod League all-star as a third baseman Tuesday.
The freshman infielder out of Millard West is hitting .313 with five doubles, a home run and seven RBIs in 15 games for the Bourne Braves.
Anderson has at least one hit in 12 of the 15 games he's played for Bourne, including seven multi-hit games. He started his summer with seven hits in his first four games after coming off a hamstring injury suffered in the Fayetteville Regional.
Anderson, the Big Ten freshman of the year, hit .332 with seven home runs in his debut college season.
Bourne is far and way the Cape's best team, with an 18-2-3 record. Of the 24 Cape players named all-stars, nine are on the Braves.