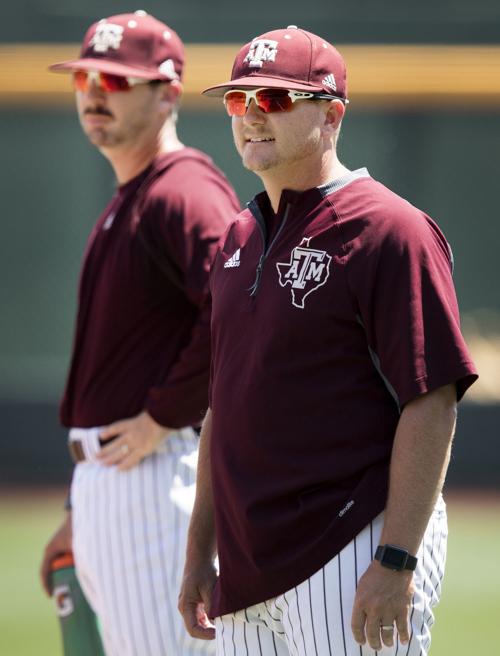 Bill Moos interviewed one man, offered that man the job, then wouldn't let him accept it. 
"He was very humbled and appreciative," Nebraska's athletic director said of Will Bolt's reaction to being offered the Nebraska baseball job. "I said, 'You take this offer home and talk to your family.' This is a family decision, and it should be. Having been in this profession for a long, long time, it's about families, and being part of a family. And Will and his family will fit in well with the Husker family."
If it wasn't already clear, Moos values relationships when vetting potential coaching candidates. Bolt fit the bill, Moos said, both in talks with those who know college baseball and in a long conversation with the former Husker infielder and Texas A&M assistant.
That vibe was something Bolt picked up on right away.
You have free articles remaining.
"Bill is absolutely amazing. His mentality, the words he uses, the type of transparency he has, it's incredibly refreshing," Bolt said Friday night during a radio interview on Husker Sports Nightly. "He seems like a throwback, and in fact I think I told him that in our conversation. And he sees himself that way too. Just a guy that is going to support his coaches, going to let them do their work and provide things for them that are going to be successful."
For a guy that played for one of the all-time great Nebraska coaching hires in Dave Van Horn and coached under one of the most popular Huskers ever in Darin Erstad, Bolt's ability to trust his new boss played a large role in accepting the position.
Bolt watched Moos as he first hired Scott Frost and then Fred Hoiberg. Then he had the chance to talk to him face-to-face.
"And trust is an understatement. I mean, to see what he's been able to help do, and kind of lay that foundation for the culture of Husker athletics with the hires of Coach Frost, who's obviously amazing, and Coach Hoiberg, those were two big hires that he made that I was watching from afar," Bolt said. "To be able to sit in the room with him and visit with him and just pick his brain a little bit. And just see what kind of tenacious attitude he has about making the Huskers great, it really kind of gave me chills and got me fired up."
Moos said at the outset of the coaching search he preferred someone with Power Five head coaching experience. He didn't get that. But what he learned about Bolt along the way was evidently plenty to influence his decision.
"He also was a head coach for a period of time at Texarkana College, and I like to see that in the people we bring on board. That have sat in that chair. And it doesn't matter what level. I think it does matter that they're at the college level, but Will lined the field, made the coffee, he was his own secretary, drove the bus, not just got on the bus, but drove the bus," Moos said. "And there's a part of that this old cowboy likes to hear. You look at a lot of my coaching hires, and they've done that kind of thing and really appreciated when they can be at a place like the University of Nebraska."