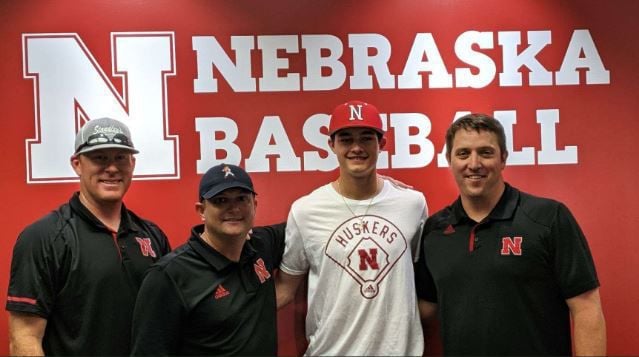 Cade Povich, after meeting Will Bolt and his staff, went out to lunch with his parents Friday to discuss a scholarship offer to play baseball at Nebraska.
In Povich's mind, it was quite clear. He wanted to don a Husker cap next year.
"After lunch we went back and let the coaches know," said Povich, a 2018 Bellevue West graduate.
After spending one season pitching at South Mountain Community College in Arizona, Povich is coming home. On Friday, he became the first player to commit to Bolt at NU, and called it a "dream come true."
"(The coaches) were pretty excited, obviously being the first one is huge ... being the first commit of a new era of Husker baseball," Povich said.
Bolt made it clear when he was hired on June 14: The Huskers were going to be aggressive in pursuing recruits from Nebraska.
You have free articles remaining.
After a strong career in high school (he went 6-2 with an 0.55 earned-run average as a prep senior), Povich went to South Mountain with hopes of developing into a Division I-caliber pitcher. In his only season with the program, the 6-foot-2 left-hander started 15 games, going 10-1 with a salty 1.58 earned-run average. He struck out 82 batters in 79 2/3 innings while walking 18.
Those numbers likely appealed to a Husker coaching staff that needs to replace three weekend starting pitchers in Matt Waldron, Nate Fisher and Reece Eddins.
Povich, who returned to Omaha for the summer, had his sights set on a second season at South Mountain. But immediately after Bolt was named coach, assistant Lance Harvell reached out to Povich, who was surprised by the call.
"I was set 100% to go back to South for my sophomore year," Povich said. "Obviously, if something good came along and it was a good offer and it was a place I wanted to be, I was going to leave before my second year. Nebraska came and I went on a visit and it just felt like a perfect fit for me. I was excited to be home."
Friday's visit was Povich's first chance to sit and talk with Bolt, Harvell and pitching coach Jeff Christy.
On Bolt: "The way he interacted with me," Povich said. "He was very friendly, and he also was really to a point. He said that we're going to be pushed as players, (but) at the end of the day they're there to love us and make us better and push us as best they can to make us, not only the best players we can be, but the best person we can be off the field, as well."
On Christy: "His plan. He had a plan for what he wanted to do and the throwing program. One of the big things is he doesn't want to change guys. If something's working for them, he doesn't necessarily say no completely to that, which I think is big in a pitching coach."
Povich -- who throws fastball, curveball, change-up and slider -- said he's excited to get to work in Lincoln. He grew up driving to Haymarket Park to watch games, and now he gets an opportunity to help usher in a new era.
"Obviously things moved quick," Povich said. "The last couple of weeks have been crazy, but I wouldn't change it for anything."