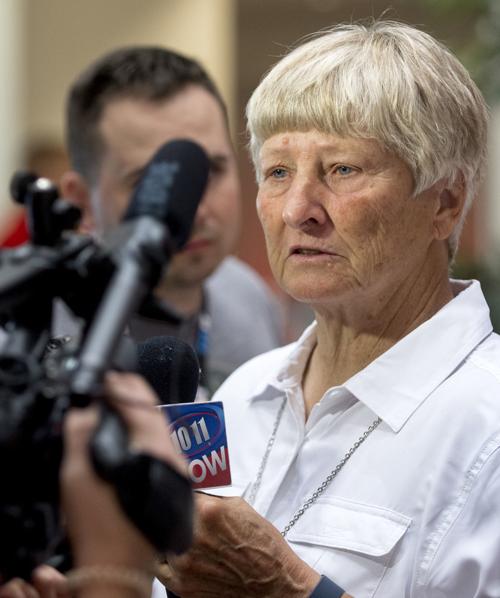 Carol Frost has two athletics-related memories that immediately come to mind from a lifetime that features a wealth of them.
"One is the Olympic opening ceremonies. You can't top that as an athlete; it was an awesome experience," said the newly minted Nebraska Athletics Hall of Famer and the mother of Husker football coach Scott Frost. "Nebraska fans will understand, sitting in the end zone when Scott scored two touchdowns at Washington and the monkey was off his back.
"Those are probably two of my proudest moments."
The first came in 1968 when Carol qualified for the Olympics in the discus — second, behind a Czech woman named Olga (Fikotova) Connolly, who grew up "behind the Iron Curtain," Frost says, but married U.S. athlete Hank Connolly and became a citizen — and competed in Mexico City. The second came in 1997, a 27-14 victory for No. 7 NU over No. 2 Washington that, as she alludes to, helped solidify Scott's status among fans on an eventual national championship team.
Such is the depth of experience over a remarkable career in athletics. Carol, a Cedar Rapids, Nebraska, native, said she grew up playing organized volleyball and softball — the only girls sports in Cedar Rapids — loved basketball and only started in track when an English teacher in town created the program.
"I don't know, how do you instill the love of sports?" she said. "I can't count the thousands of times I threw a softball off of the base of our house or shot baskets in the corn crib and wiped the manure off. You just love it."
She went to the junior Olympics in Los Angeles to run the hurdles and the 800 and didn't fare well in either, but she finished second in the shot put.
"And should have won the discus but it went out of bounds," she added. "From then on, I decided, you know, I might be kind of good at this."
She met her eventual husband, Larry, while throwing the javelin at Malcolm High while she was in college because training places were hard to come by, Scott Frost told the Journal Star this spring.
You have free articles remaining.
"Dad started throwing it back to her and then when he got to the university they started dating and everything went from there," Scott said.
When Scott and his brother Steve were little, "They grew up on the track and on the dummies."
They always hung around track practice because, Carol says, they couldn't afford a babysitter. Her former athletes still refer to Scott and Steve, respectively, as "Zip and Zap."
"Mom's the best athlete in the family. She might be the best coach in the family," Scott Frost said this week. "You can tell I'm a little proud of her and Dad. She deserves every accolade she gets. When she was doing the things she did, there weren't opportunities for women in sports. There were even some people that frowned upon it.
"So she really had to do everything on her own and independently, and for what she accomplished under those circumstances is amazing. So I'm proud of her."
Carol is still throwing — she won a Masters world championships in France in the 70-year-old division in javelin and discus and was second in the shot put, and she's aiming to compete again next summer in Toronto. She and Larry regularly watch NU practice, and Carol says she still watches at least somewhat like a coach, taking as much interest in drills as in a game and noticing right away if somebody is missing due to injury.
As they watch, their son is down there, running the program that both he and Larry played for, the alma mater of all three.
"I don't know that proud is the word. It's almost unbelievable," she said. "When he was playing YMCA basketball in McCook, who would have thunk it?"
By that time, Carol Frost had already built a Hall of Fame career herself. On Friday, she stood in the lobby of the Osborne Athletic Complex talking with reporters just before her induction ceremony, almost exactly one floor below her son's office.
"Larry played for (Bob) Devaney, of all people, (Scott) played for Osborne, and then to think that Scott has fallen into the same position, it's just unbelievable for our family," she said.