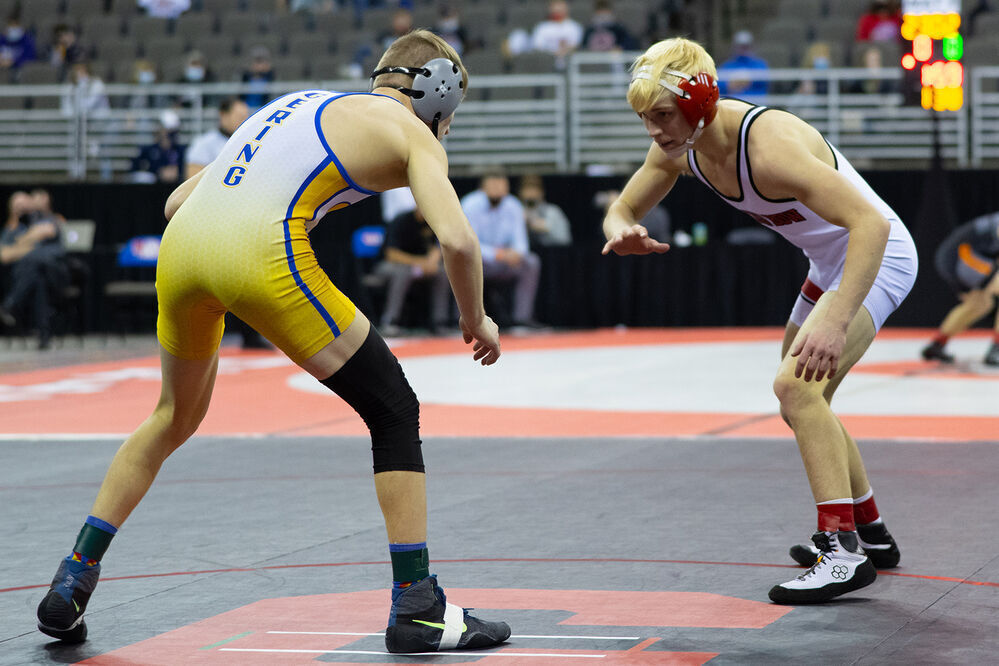 More than two weeks after the State Wrestling Championships, the family of Gering wrestler Paul Ruff is expecting some answers this week. The NSAA will address their grievances about the Class B 126-pound title match.
Paul Ruff, who is deaf, lost 1-0 to Scottsbluff's Paul Garcia after Garcia was given a point on a second caution for the way Ruff was lining up on a restart.
The family continues pursuing options, Paul's father, Scott Ruff said, to be advocates for other students with disabilities to have an even playing field.
Paul Ruff wears a cochlear implant but has to take it out to wrestle. Paul Ruff cited a number of things he and his coach said occurred during the match. Ruff said he did not know what was going on during the match because he could not hear the referee's directions or read his lips because the referee wore a mask. It was only after the match was over that his coach, Jarred Berger, explained to him what had happened.
Paul Ruff and his family remain frustrated because they say easy accommodations could have been made in the match that have been made in the past to account for Ruff's deafness.
As a result, the family aired their grievances during a meeting Feb. 26 with NSAA assistant director Ron Higdon.
The family had four requests for the NSAA, according to an email from Susan Whitaker, an advocacy specialist with the Nebraska Commission for the Deaf and Hard of Hearing.
The first request was for a student advisory committee, which would include Ruff, to be established to review all policies related to students with disabilities.
The second was for the referee of the match to undergo sensitivity training in order to referee next year.
In an interview with the Star-Herald, Scott Ruff said Higdon seemed receptive to this request.
"He said it was a very good idea," Scott Ruff said. "In fact, he said he, he'd be the first one to go through it. He said it was a no-brainer on their part. He said several times, 'We have to do better.' In regards to the referee, I think that's probably doable so we have some sort of awareness so it doesn't happen again."
John Wyvill, executive director for the Commission for the Deaf and Hard of Hearing, said he urged the Nebraska State Board of Education last week to make the training statewide. 
"I think all school-sanctioned activities and extracurricular activities (could benefit from) cultural competency training and not just for students with disabilities," Wyvill said. "The Department of Education and the NSAA are also addressing issues such as what happened in Norfolk where there was a racial slur uttered at a game."
Scott Ruff said training could help referees in future matches that involve wrestlers with a disability. Scott Ruff said he knows that there are a lot of referees already who know how to handle these matches because he has seen referees take the time to make sure Paul Ruff was aware of situations that arise in matches.
"In his quarterfinals match, he was on an opponent's ankle for one second too long. The ref cautioned him and he took five seconds to show him what he did wrong. Paul gave him the thumbs up that he wouldn't do it again. That's just an example of what should be done, and what should have been done with Paul's match in the finals. It's not out of their realm," he said.
"It's not that we're asking for anything big. It's basically more a little bit of awareness of what you're doing when you're refereeing out there with a kid with disabilities or who can't hear."
Scott Ruff said the training would go a long way in making sure all referees know how to handle those kinds of matches.
Along with that, the Ruff family asked that the referee not be allowed to referee a district or state tournament match for five years.
During an interview with the Star-Herald, Whitaker floated the idea of a rematch between Ruff and Garcia.
However, Scott Ruff said they quickly decided against that because it wasn't fair to Garcia. The family did ask to have both wrestlers named co-champions.
"I talked to Paul (Ruff) about that. In the spirit of competition, if you have a rematch, you're basically taking it away from Paul (Garcia) and demanding him to prove himself again.
"We have nothing against him (Paul Garcia) at all. It's an unfortunate situation. … (If Paul Ruff won), Paul Ruff would be elevated and Paul Garcia deflated. You don't want to win like that. We would just be right back in another situation where it's not going to heal anything. We thought the best thing to do is to just call the match null and void. Let's just do a co-championship. That just seemed like the best solution."
Scott Ruff wants to be clear that their grievances have nothing to do with Garcia.
"It's an unfortunate situation for both these kids and they're both great, great competitors," Scott Ruff said. "I hope (Garcia and his family) understand it's not about him at all. It's bigger than that. It's about bringing an awareness for kids with disabilities. That's really the only reason we moved forward with it."
Wyvill echoed Scott Ruff's comments.
"I also want to point out that we have nothing but the kindest things to say about Paul Garcia," he said. "Both (Garcia and Ruff) are extraordinary young men."
Scott Ruff said it comes down to having to advocate for his son and other young wrestlers with disabilities. He said he's always had to fight just to give his son the same opportunity to wrestle as any other kid.
"We've had to battle for him for our life. We almost had to have a lawyer involved so he could wrestle when he was a freshman, because we homeschooled him," Ruff said. "It's been a battle, and that's what it's about. We're just an advocate for our son and other kids with disabilities.
"Hopefully, other parents learn from it, and the whole wrestling community, really. There are a lot of other kids out there with disabilities that could wrestle or want to wrestle and hopefully that inspires them."
PHOTOS: 2020 STATE WRESTLING