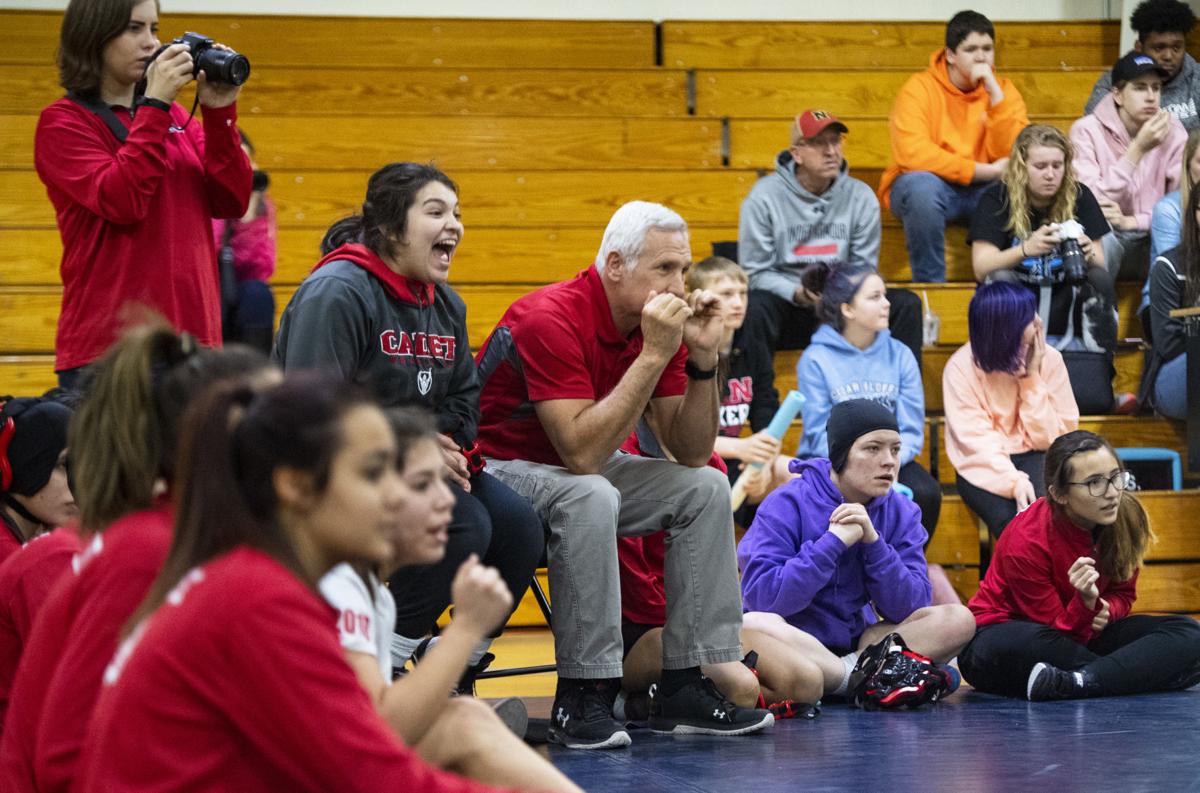 Six years ago, Les Painter had a girl who liked wrestling but didn't want to compete against boys, so he went to the Nebraska Scholastic Wrestling Coaches Association board members with an idea.
"We decided at that point it was time to get girls their own shot," the Pierce coach said.
Interest in girls wrestling in Nebraska gained steam, and so did support. But not everyone was on board. A proposal to pass girls wrestling as an NSAA-sanctioned sport fell by one vote two years ago. It didn't pass again last year either, though it was declared an emerging sport by the NSAA.
It was an 8-0 vote. A technical-fall victory.
"It was just joy," Painter said of his immediate reaction. "Finally these girls have the same opportunity as the boys. That's what we have been fighting for the past six years.
"To be able to win an NSAA championship just put a humongous smile on my face."
Painter was receiving texts from girls, parents and others throughout Wednesday, and he wasn't the only one.
"Girls were coming down to my office all day long, knocking on the door, excited, high-fives," said West Point-Beemer's Ray Maxwell, another coach at the forefront of the girls wrestling movement in Nebraska. "It was a lot of excitement."
What pushed the sport over the edge this time?
The participation numbers have soared. The NSWCA sponsored the first-ever girls state tournament in 2019. Thirty-seven schools and 115 girls were there. Those numbers jumped to 64 schools and 178 participants in 2020, and that was during a pandemic. At Weeping Water, there were more girls out for wrestling than boys.
According to national high federation statistics, girls wrestling is the fastest-growing high school sport nationwide on a per-capita basis.
There also was pressure on the NSAA board to get it passed. Surrounding states Colorado, Kansas, Missouri, Iowa and South Dakota have sanctioned girls wrestling. Minnesota recently joined them.
Nationally, more than half of the states have sanctioned girls wrestling.
"Nothing against there being a little bit of pressure, but with three or four states passing it here in the last couple weeks, I felt like Nebraska doesn't want to be last," said Painter, who is the NWSCA board president. "If we didn't pass it this year, instead of being 33rd, we have a chance of being 51st of 50. We wanted to make sure that we were up there."
Maxwell said he hoped the decision to sanction the sport would come sooner. The West Point-Beemer coach thought his roster numbers were affected this past season because it wasn't under the NSAA umbrella.
After Wednesday's announcement, 19 girls at West Point-Beemer, in addition to the others who wrestled last year, have expressed interest in wrestling next year.
"A lot of girls were not going out because it wasn't legit or sanctioned by the NSAA," Maxwell said. "I expect our (state) numbers are really going to jump. Double, if not triple."
Said Painter, "You're going to see more opportunities. Now that it is NSAA-sanctioned, I believe you're going to see a lot of schools jump on board and allow this, and what you're also going to see, you can have teams co-op now."
Following Wednesday's vote, Lincoln East's wrestling team tweeted a post reaching out to girls interested in competing for the Spartans. "BE A TRAILBLAZER," the post read.
Painter and others began putting together the groundwork six years ago. They worked with longtime wrestling coach Norm Manstedt on an NSAA proposal in the fourth year of the process, but it lost by one vote.
The NSWCA kept things going despite it falling in district voting last year. Painter said he was sending out emails to schools and activities directors. Maxwell was working with others from around the country in developing literature on how to start a girls wrestling program and how to conduct practices.
There was more dialogue and information. The quality of wrestling helped, too, Painter says.
A Nebraska AAU team won a big national meet three and four years ago. A team placed fourth out of 32 teams in a competitive Iowa tournament.
"The product we're putting out there is a very good product," Painter said.