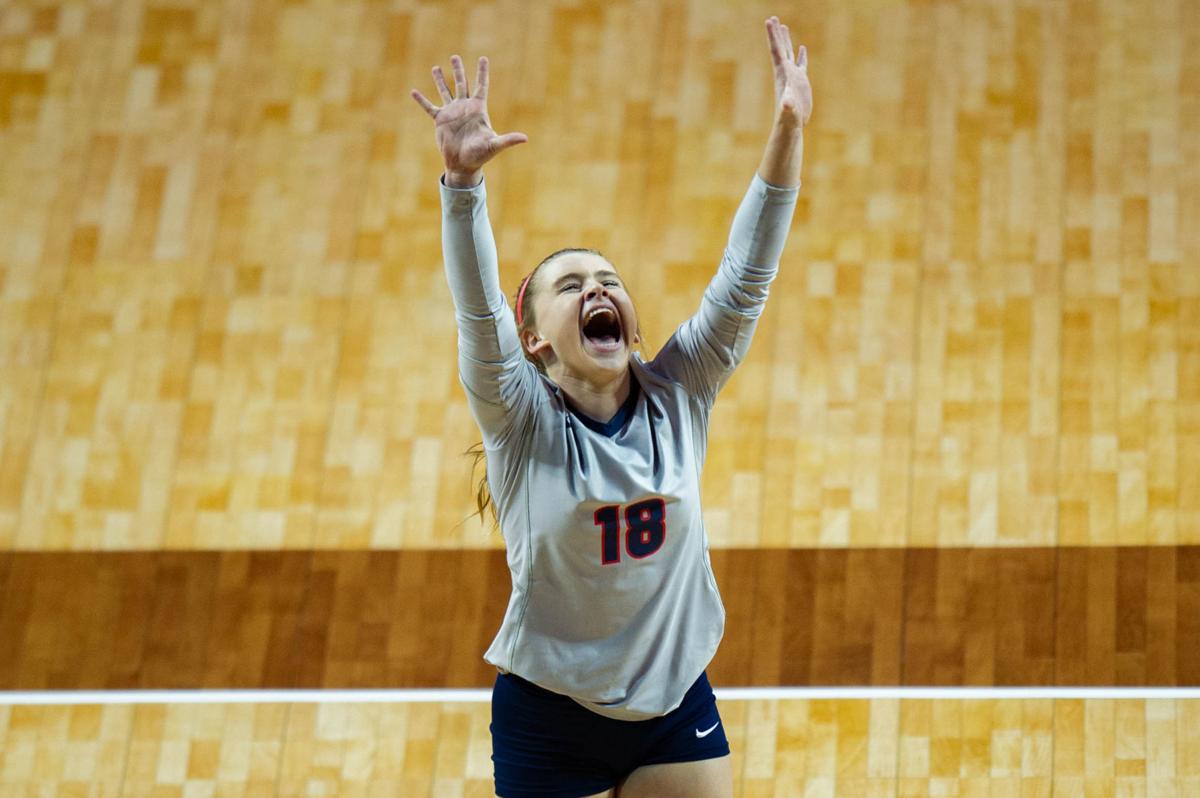 Molly Ramsey doesn't mind going outside her comfort zone.
When an injury sidelined one of Norris' hitters early in the season, Titans volleyball coach Christina Boesiger had her defensive star, Ramsey, slide over to outside hitter.
Norris' 5-foot-3 libero, a three-year starter at the position, was now in attack mode.
"That tells you what type of kid she is," Boesiger said. "She's 5-3 and she's been an outside hitter for us the past six games and has done a fantastic job."
Ramsey's versatility and athleticism allows the Titans to make such a seamless change. The junior is a three-sport athlete, running point guard for the basketball team and playing forward for the soccer team.
But there's another trait that makes Ramsey thrive on the court.
"Her attitude and outlook, she just wants to win," Boesiger said. "It doesn't matter what she's doing, she's super-determined and competitive. For her to be very unselfish and give up that libero role says a lot about her character. Not everyone would do that."
Norris was back to full health for a match Tuesday, and Ramsey was back to doing what she does best — keeping the ball from the hitting the ground and frustrating opposing hitters with her speed.
For Ramsey, there is a thrill that comes with controlling the back row.
You have free articles remaining.
"I think it gives teams so much energy and motivation when someone makes a great play on the ball and another teammate does, and I love seeing the court from the back row," Ramsey said. "Just every piece in front of me and you just go make plays."
Ramsey's talents led to a big weekend last week. She took an official visit to Kansas State.
There may have been some hollering and high-fives at the Lone Star Steakhouse in Manhattan, Kansas, on Saturday evening when Ramsey delivered the news to the K-State coaches over supper. She was committing to the Wildcats.
"I went to a (Kansas State) camp this (past) summer and the culture out there is a family atmosphere," Ramsey said. "It's really something special. I know everyone talks about it, but it's really crazy how much you feel you're at home there even when you're not going to college there."
It was that feeling that drew Ramsey out of another comfort zone.
She fell in love with the ocean after visiting Hawaii and had her mind set on finding a college near a coast line. Schools on both coasts, from UCLA to Coastal Carolina, were interested in Ramsey, too.
In the end, Ramsey's heart remained in the Midwest.
With a commitment out of the way, Ramsey can turn her focus to helping Norris, which is unbeaten at 7-0 and ranked third in Class B.
Boesiger said Ramsey, who averaged 4.7 digs per set as a sophomore, has a great knowledge of the game, and her fundamentals are very sharp. And then there is Ramsey's speed.
"She just puts herself in position to dig tough balls and I think she's super-frustrating for other players because she finds a way to get balls up, she scrambles, she reads very well," Boesiger said. "And if she doesn't make the right read, she's so dang fast that she can recover and get a ball up. There are balls that we think are going down, and she'll just fly in from nowhere."
Norris lost several seniors from last year's state tournament team, but the Titans returned a lot of talent around Ramsey, including outside hitters Paige Wilkinson and Ella Waters, middle blocker Kalli Kroeker, setter Maisie Boesiger and Brianna Stai, another one of the many multi-sport stars at Norris.