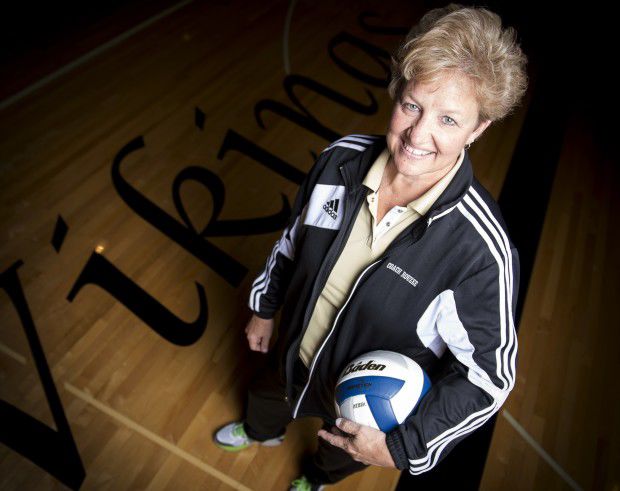 Northwest volleyball coach Diane Rouzee is the 2013 Lincoln Journal Star Girls High School Coach of the Year.
If there were an award for Volleyball Family of the Year, the Rouzee's would be strong candidates.
Her mother-in-law is Billie Rouzee, the North Platte St. Pat's volleyball coach for 32 seasons. Diane's husband, Dave, coaches the GI Vikes' high school club teams, still plays volleyball himself and has been an important partner during her 25 years as Northwest's head coach and 29 total years in the program.
Their oldest daughter, Lyndi, played volleyball for her mother at Northwest and later at Hastings College. She was a first-year assistant for the Class B state champion Vikings this past season as her mother's team broke a string of five straight state runner-up finishes.
The younger daughter, Jenna, just finished an All-America career at Nebraska-Kearney, where she played setter/right side. Jenna, a Super-State player for her mother at Northwest, is moving to Denver, where she'll help coach volleyball at Regis University in the fall.
Even their son, Zach, is involved in the game. Zach, who graduated from Northwest this spring, used his 6-foot-5 frame to be the school's starting quarterback last fall and a starter on the basketball team. But his height also is an asset when he plays sand volleyball with his sisters.
Diane's sister-in-law, Kelly Kasselder, also coaches high school volleyball, most recently at Chambers/Wheeler Central.
A lot of quality family time is spent at the court, whether it's in the gym or outdoors in the sand. That family bond is so strong, in fact, that Diane and her husband traveled to Hawaii early in volleyball season this past fall to watch Jenna play in a tournament there, meaning Diane was not on the bench for Northwest's season-opener against Crete and the two-day Beatrice Invitational.
"I'm passionate about volleyball and I'm fortunate that my family feels the same way about it," Diane Rouzee said.
Diane (Davidson), a Kearney native, met her husband while she was a two-sport athlete at Kearney State, playing setter/right side in volleyball in the fall and first base and outfield in softball in the spring. Dave grew up around volleyball, making many bus trips as a young boy with his mom's team.
The two operate as a team when it comes to the Vikings volleyball program. With Dave, the general manager of the Coca-Cola/Dr. Pepper Co. in Kearney, being able to handle the high school club team in the offseason, Diane can coach the younger teams and develop the future talent in the program.
"He's played volleyball, he's been around it his whole life, so from a coaching standpoint, he's a great resource to have," Diane said about her husband. "He's always critiquing me after matches. He tells me 'I would've called timeout there,' or ask me, 'What was up with that substitution?' And then I critique him during the club season."
Dave was often the sounding board the day after Northwest's five straight state final appearances from 2007 to 2011, when the Vikings fell just short. He compares his wife's coaching style to Tom Osborne's -- process and attention to detail are prominent in her approach.
That's why his wife, a business teacher at the school, has never had a Northwest team finish with a losing record, compiling a 604-160 career record and guiding the Grand Island school to 18 state tournament appearances.
After the five straight state final losses, "She'd always ask, 'What did I do wrong?' and, 'Was there something I could've done better?'" Dave said. "The fact was they lost to great (Lincoln) Pius X and (Omaha) Gross teams those years, and things finally came together for them this past season."
Even after guiding Northwest to its third state title during her tenure, there was no time to relax and celebrate the day after in November, according to her husband.
"Every year, the day after the state tournament, she goes through the state volleyball program to see who's coming back," Dave said. "She's already putting together scouting reports for next season."
This past season as a member of her mother's coaching staff, Lyndi saw Northwest volleyball from a different perspective that gave her a new appreciation of what's been built.
"The biggest thing I noticed was how she built relationships with players," said Lyndi, a kindergarten teacher. "The little things she does, like the goodie bags she puts together and the motivational quotes, they make a big difference for the players. They realize how much extra time she puts in and they, in turn, work harder, too."
Three characteristics seem to carry over from team to team at Northwest: balanced offense from every position at the net, strong defense and setter/right side players in a 6-2 attack who can affect the game in multiple ways.
"Our goal is to play pin-to-pin and force teams to have to defend the entire court," said Diane, whose team had five players who totaled between 150 and 250 kills last season. "We just try to do the simple things very well and keep teams off-balanced by not being predictable. We want to make sure that we're fundamentally sound so we win the majority of long rallies."
Although the 2012 season produced a championship, there were challenges along the way. Three transfers — Morgan Westphal (Scottsbluff), Erin Sorahan (Grand Island Central Catholic) and Kennadi Keezer (Grand Island Senior High) — had to be worked into a system that normally develops players within the program.
"I felt a little uncomfortable about it because I'm used to having kids that I know who have come through our program, and I didn't know these three kids at all," Diane said. "We did a lot of things for them to get to know each other, and the chemistry on this team ended up being very good."
The team also suffered heartbreak early in the season. Chris Lenz, the husband of assistant coach Haley Lenz, died in late August and the father of a freshman player also passed away about the same time.
"Both of those things were very hard for our players to deal with," Diane said.
Diane and her team create a theme for each season. A year ago, the Vikings used a jungle theme in which the team took a retreat to the Henry Doorly Zoo before the season started, made up T-shirts and decorated their locker room like a jungle.
This coming fall, the theme will be based on the yet-to-be-released movie "The Hunger Games: Catching Fire," a play off Northwest's quest to defend its title this fall. They will take their retreat to Timberlake Ranch Camp where there's an obstacle course they will attack.
"I'm more of a player's coach," she said. "I'm very flexible and I'm willing to change. We work hard, but we also want to make it fun for them, too."