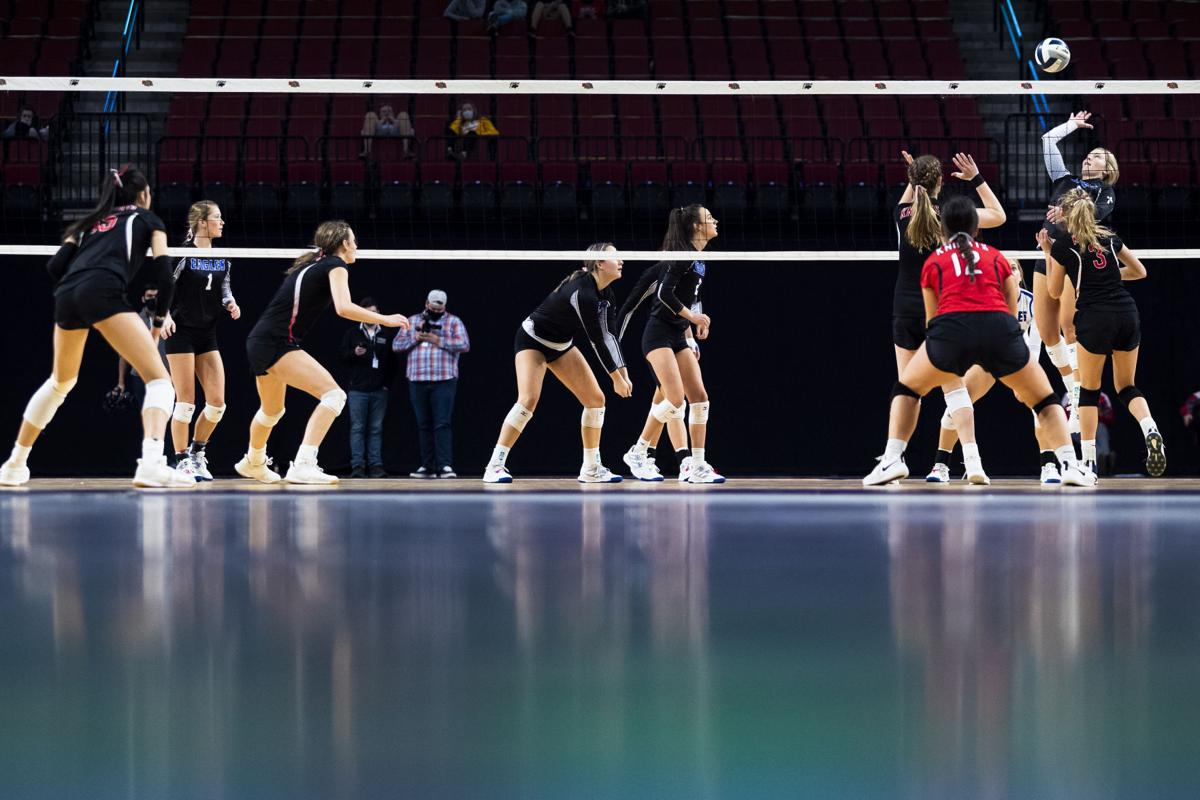 Forced to be the comeback kids for one of the only times this season, the Lutheran Northeast volleyball was up to the challenge in dominating fashion.
Trailing 0-2 to start the match, the top-ranked Eagles rallied for a 19-25, 25-27, 25-19, 25-18, 15-4 victory against No. 3 Norfolk Catholic in the Class C-2 championship match Saturday at Pinnacle Bank Arena.
Lutheran Northeast overwhelmed Norfolk Catholic in the clinching set. The Eagles had 11 kills in the set with a .417 hitting percentage, and forced a sideout on all five opportunities. Norfolk Catholic had just two kills on 22 attempts in the final set.
"That was amazing," said Lutheran Northeast coach Kathy Gebhardt. "We started off and just got it rolling. I was a little surprised myself. The girls were just on fire. They were in the groove, and I don't really know if we've been in our groove down here until the end of the match today."
Senior outside hitter Rebecca Gebhardt had 31 kills to lead Lutheran Northeast in the comeback win, including five in the final set.
Lutheran Northeast won 36 of its 37 matches this season, was undefeated in Class C-2 and ended the year on a nine-match winning streak. The Eagles won five-set matches in both the state semifinals and finals.
"It means so much," said senior Chloe Spence. "To be able to go out there and prove that you can be the best, and you are the best, and beat great teams here. The competition here is so good, and it just feels so good to walk out with the win."
This is the third state title for Lutheran Northeast, most recently in 2011.
Lauren Buhrman added 12 kills for the Eagles, and Spence had 10. Halle Berner had 40 digs and Grace Bitney had eight blocks as Lutheran Northeast held the Knights to a .089 hitting percentage.
Both schools are located in Norfolk, so they regularly play each other. Lutheran Northeast beat Norfolk Catholic all four times this season, but this was the first that went five sets.
This time Norfolk Catholic stunned Lutheran Northeast by winning the first two sets. The Knights made a big comeback in the first set and also rallied at the finish in winning the second set 27-25.
But in the final three sets Norfolk Catholic wasn't aggressive, Knights coach Michaela Bellar said.
"We kept tipping, and they just kept feeding it right back at us," Bellar said.
And when Lutheran Northeast could get the ball to Gebhardt on a good set, the team was tough to stop.
"Gebhardt is a good player," Bellar said. "She's got a lot of different angles. Our girls were able to adjust to her in the first two sets, and then we were second-guessing everything in the third, fourth and fifth set, and that ended up hurting us."
Channatee Robles had 19 kills to lead Norfolk Catholic in its first finals appearance.
Lutheran Northeast didn't let Norfolk Catholic reach 20 points in either the third or fourth sets, and then left no doubt in the fifth set.
The plan after falling behind by two sets was just to keep pushing until the match was over, Rebecca Gebhardt said.
"Let's sweep them in these next three (sets), I guess," she said.