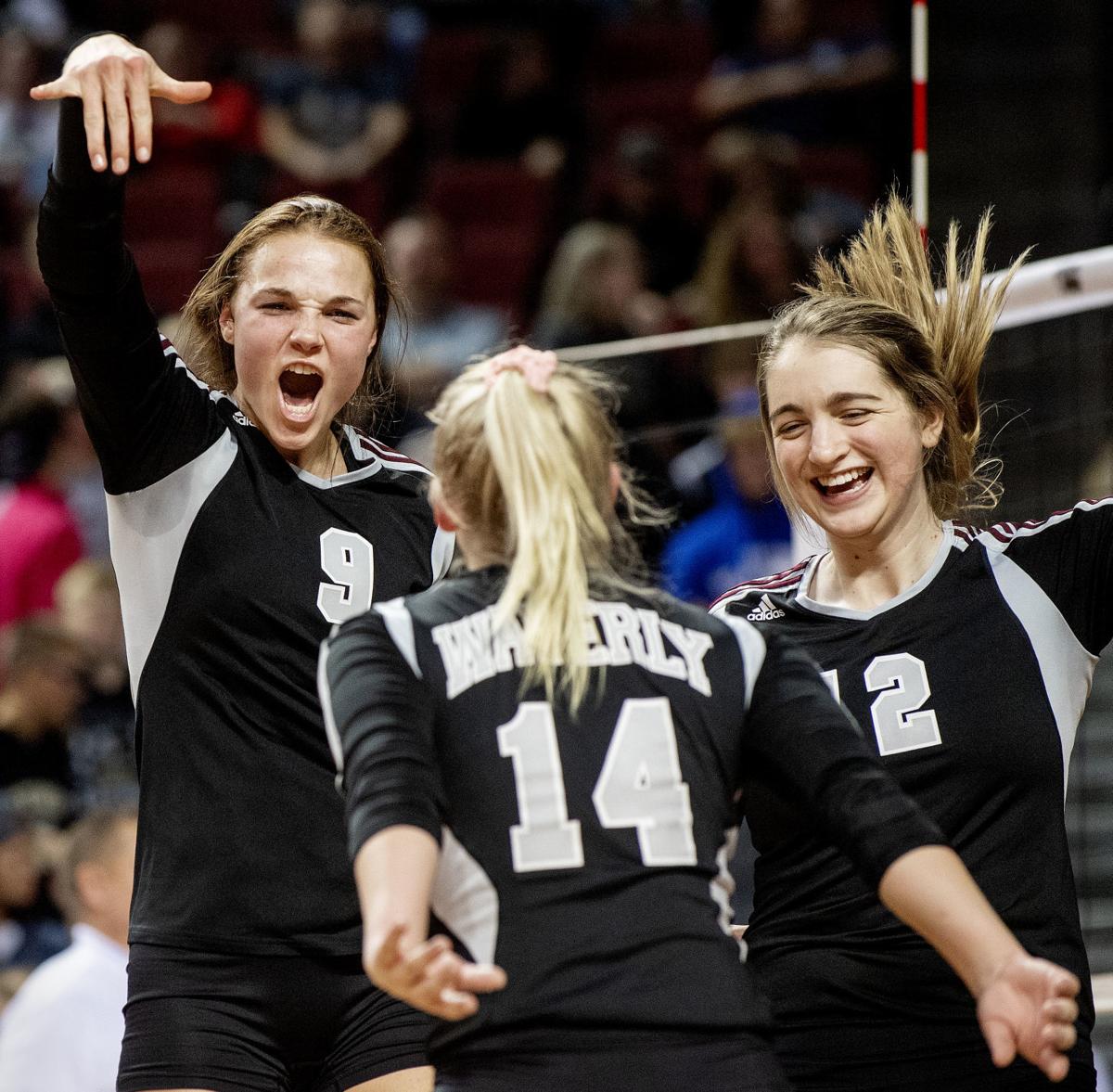 A minor bump in the road wasn't enough to slow down a determined Waverly team.
Led by junior Whitney Lauenstein's match-high 28 kills, the Class B No. 2 Vikings stormed back after dropping the first set to Northwest to earn a 23-25, 25-8, 25-17, 25-7 win in the first round of the Class B state volleyball tournament Thursday night at Pinnacle Bank Arena.
The Vikings (29-3) move on to a 7 p.m. Friday semifinal against Omaha Duchesne — a team they defeated in five sets on Oct. 15.
"We have a few players that haven't played here before, like Atley (Carey) and Abby (Plouzek), so I feel like getting them used to PBA … all the crowd and stuff; we just had to get the jitters out," Lauenstein said.
The Vikings did that and more, winning the final three sets in dominating fashion.
They stormed to a 4-0 lead on four Lauenstein kills in the second set, and senior right side hitter Mollie Grosshans pounded home back-to-back kills to end the frame.
Lauenstein was locked in during a strong fourth set. She tallied eight kills including three straight to open the frame.
"She was disappointed in her play that first set," Waverly coach Terri Neujahr said. "She came out and started ripping it. We changed her finish just a little bit and she got more balls in."
With Lauenstein stressing the eighth-ranked Northwest defense and blocking game, it opened things up for seniors Grosshans and Carey and junior outside hitter Bailey Jeffers.
Jeffers and Grosshans each pounded home nine kills, while Carey added eight from her middle hitter spot.
Senior setter and Husker commit, Annika Evans chipped in 53 set assists, and her kill on a dump closed out the match in the fourth set.
Waverly returns to the semifinals for a second consecutive year. Last year, the Vikings were dominated by Elkhorn South. Is this year's team ready to take the next step?
"Yes," Lauenstein said. "We want to see what's past that second round."
Sixth-ranked Omaha Duchesne (22-17) made quick work of Sidney in the final Class B match of the day as the Cardinals cruised to a 25-12, 25-18, 25-19 win over the fourth-ranked Red Raiders.
Duchesne coach Andrew Wehrli credited his team's beefed-up schedule, which included 22 matches against Class A schools, and experience as key factors.
"Be consistent, is what we've stressed all year," he said. "Our tougher schedule has forced us to be more consistent. We're playing our best volleyball right now."
Duchesne has lost just twice to teams in Class B. With the chance to avenge one of those losses (Waverly) on Friday, the Cardinals will be ready.
"It's two teams that know each other well," Wehrli said. "I expect another highly competitive match that will come down to the small things."