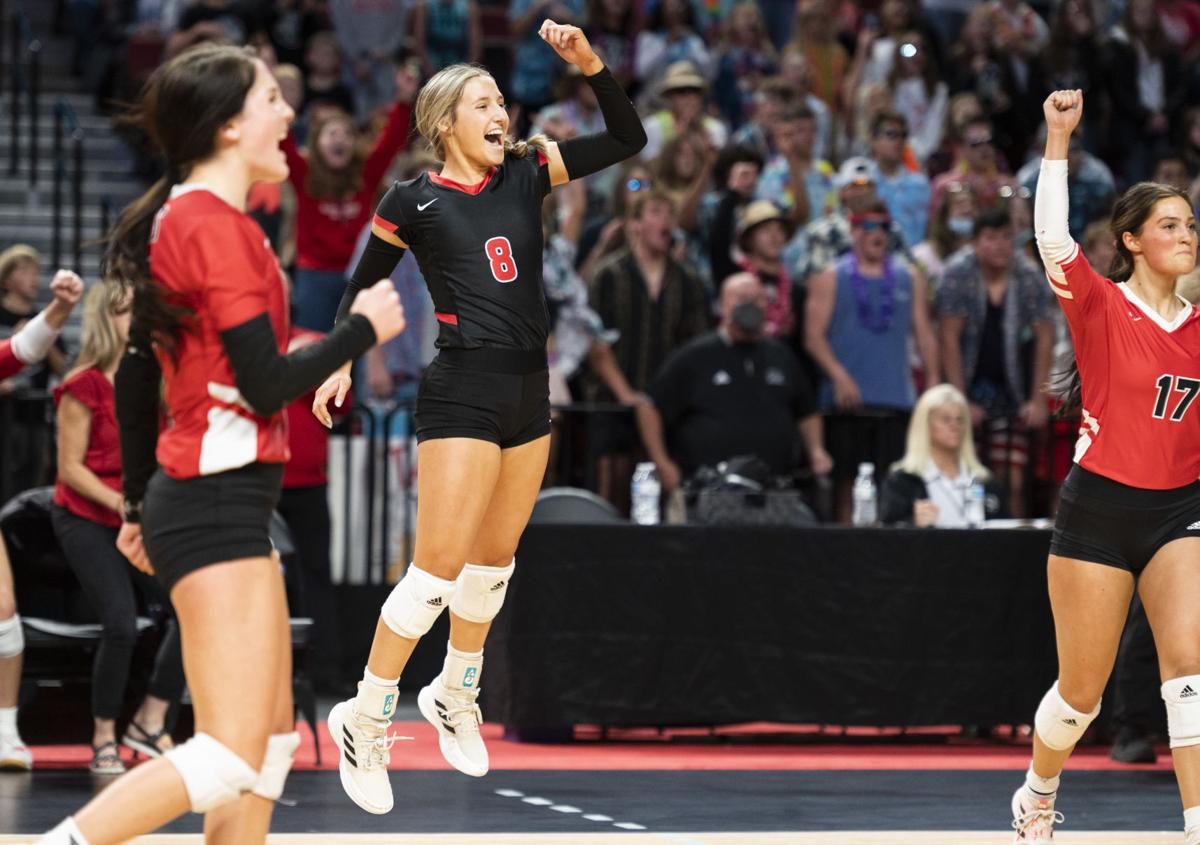 Day 2 of the state high school volleyball tournament is in the books. Here's a look at the highlights:
Match of the day
We're going to nudge here a little bit. Why? Because there were five five-setters! There were two in Class C-2 (Sutton over Clarkson/Leigh and Superior over Amherst) and two in D-2 (Humphrey St. Francis over Anselmo-Merna and Wynot over Stuart).
Upset of the day
Elmwood-Murdock 3, Mead 2: Mead had a team capable of winning a state title, but the Knights jumped to 2-0 advantage and then held on for a five-set win in Class D-1 (25-21, 25-22, 20-25, 25-27, 15-12).
Standouts
Kate Griess, Sutton: The senior setter crushed the stat sheet (44 assists, 15 digs, four blocks, two kills and two aces) against Clarkson/Leigh in C-2.
Brenna Schmidt, Elmwood-Murdock: The senior middle and Kansas State recruit had 30 kills and four blocks against Mead in Class D-1.
Lilly Swanson, Diller-Odell: The sophomore moved from middle blocker to outside hitter after an injury to Karli Heidemann and had 27 kills and 12 digs against Maywood-Hayes Center in Class D-2.
Rebecca Baker, Archbishop Bergan: The junior setter had 29 assists, 19 digs and six kills against Cambridge in Class D-1.
Jaide Chandler, Anselmo-Merna: The senior middle had 32 kills against Humphrey St. Francis in Class D-2.
Shoutouts
* Oakland-Craig: The Knights haven't been to state since 1992, and they start three freshmen. They looked like a veteran team in a dominating sweep of Hastings St. Cecilia in C-2.
* Elmwood-Murdock: The Knights were swept by No. 2 Mead earlier in the season. They avenged that loss and more with a five-set win Thursday, winning the program's first state tourney win.
* Archbishop Bergan: The Knights are 8-2 in their past 10 state tournament matches following a sweep of Cambridge.
* Student section dress-up themes: From construction workers (Falls City Sacred Heart), to hot dogs (Diller-Odell) to beach day (Sutton), many schools brought their 'A' game Thursday.
Friday's semifinals
Papillion-La Vista South (37-0) vs. Elkhorn South (28-7), 5 p.m.
Millard West (27-7) vs. Omaha Westside (26-11), 7 p.m.
Norris (34-2) vs. Elkhorn North (22-11), 5 p.m.
Omaha Skutt (31-8) vs. Waverly (24-11), 7 p.m.
Kearney Catholic (32-4) vs. Columbus Lakeview (31-4), 1 p.m.
Grand Island CC (31-1) vs. Lincoln Lutheran (36-2), 3 p.m.
Oakland-Craig (29-6) vs. Superior/Amherst winner, 1 p.m.
Wisner-Pilger (28-6) vs. Clarkson/Leigh-Sutton winner, 3 p.m.
Howells-Dodge (29-3) vs. Nebraska Christian (29-3), 9 a.m.
Elmwood-Murdock (23-9) vs. Archbishop Bergan (26-10), 11 a.m.
Falls City SH (33-2) vs. Wynot (22-9), 9 a.m.
Humphrey SF (24-5) vs. Maywood-Hayes Center (27-2), 11 a.m.