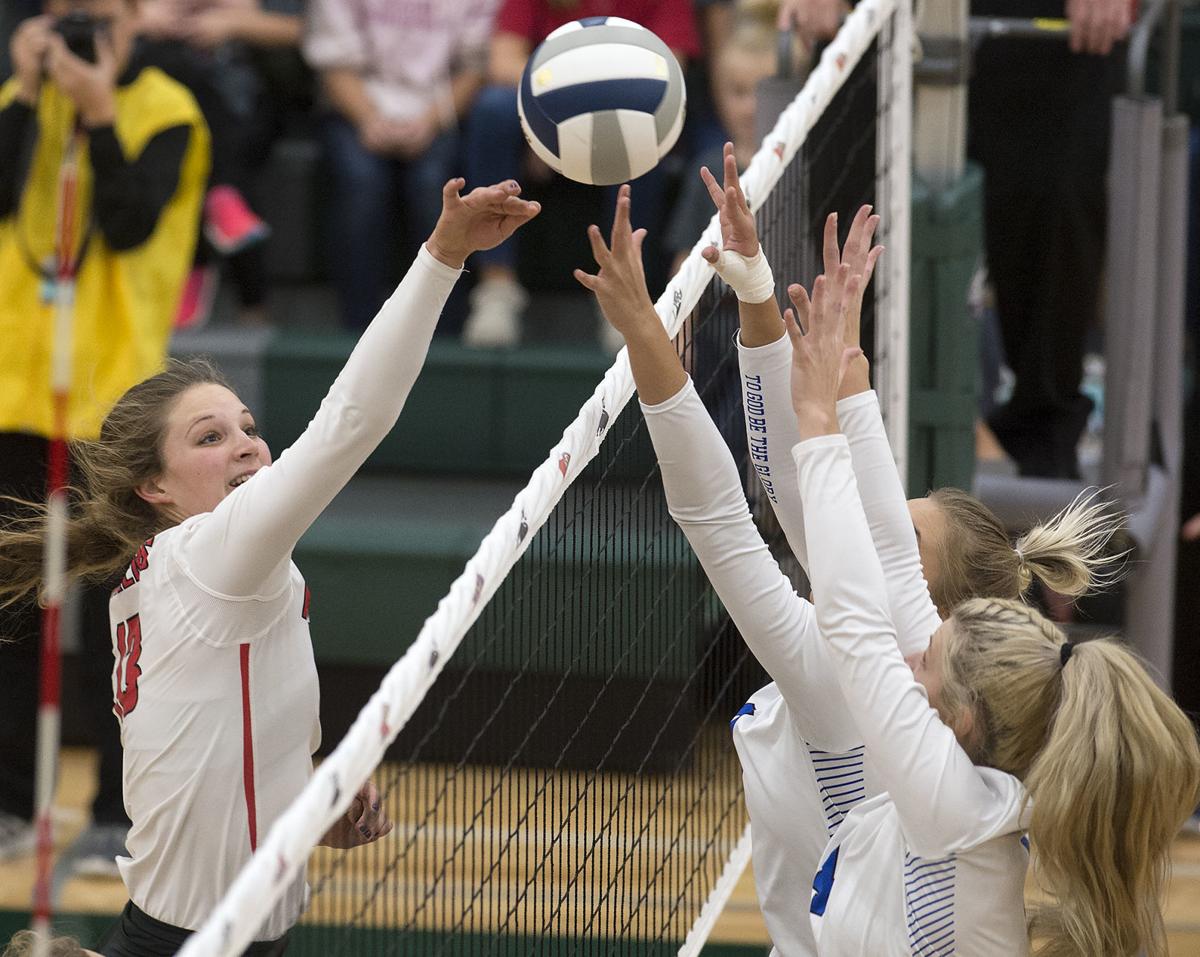 Every point was earned in Class C-2 No. 4 Lutheran Northeast's four-set, first-round victory over No. 5 Bishop Neumann in the state volleyball tournament Thursday at Lincoln Southwest.
"It was just a hard-fought battle," said Northeast coach Kathy Gebhardt after the Eagle's 25-17, 22-25, 25-20, 25-18 win.
"I thought our defense was playing great and we kind of struggled passing early on, but we buckled down on that third and fourth set, and it really helped us a lot," said Gebhardt.
Things started out like how most No. 4 vs No. 5 matches usually go, almost dead even. Then the offensive onslaught from the Eagles' Rebecca Gebhardt started. The junior outside hitter mustered eight kills in the first set alone and helped Lutheran put together a late 8-3 run to close out the set.
The second set was a little more feisty as the Bishop Neumann offense started to come alive. Led by Kali Jurgensmeier and Lindsey Thiele, the Cavaliers found themselves ahead 23-20. Two more kills by Thiele ended the set and tied it at 1-1.
However, Gebhardt's match-high 23 kills and the Lutheran attack, along with steady defensive play, proved to be too much for Bishop Neumann over the next two sets.
You have free articles remaining.
Northeast advanced to a semifinal at 1 p.m. Friday at Pinnacle Bank Arena against Hastings St. Cecilia.
It was only a year ago that the second-ranked Hawkettes suffered a sweep at the hands of eventual C-2 state champions Blue Hill in the opening round of the volleyball state tournament.
Fast forward to Thursday afternoon, and it was the complete opposite. Ranked No. 2 in Class C-2, St. Cecilia steamrolled its way to a sweep of its own, 25-10, 25-12, 25-20, over Arcadia-Loup City in the first round.
The Hawkettes looked dominant from the start, powered by 10 aces.
"There's certain people that we try and target with our servers, and they do a good job at," said St. Cecilia head coach Alan VanCura. "We got some kids that can serve a hard, deep ball, and it catches some teams off guard."
The Hawkettes had runs of 9-2 and 7-1 in the first set, and it wasn't much different in the next one. St. Cecilia built a 13-4 lead over the Rebels on its way to 2-0 lead in the match.
The third and final set was the most competitive, however, as Arcadia cut a seven-point deficit to 19-16 to force a Hawkette timeout. St. Cecilia eventually got a Chloe McCauley kill to end the match, sending the Hawkettes to the state semifinals against Lutheran Northeast.