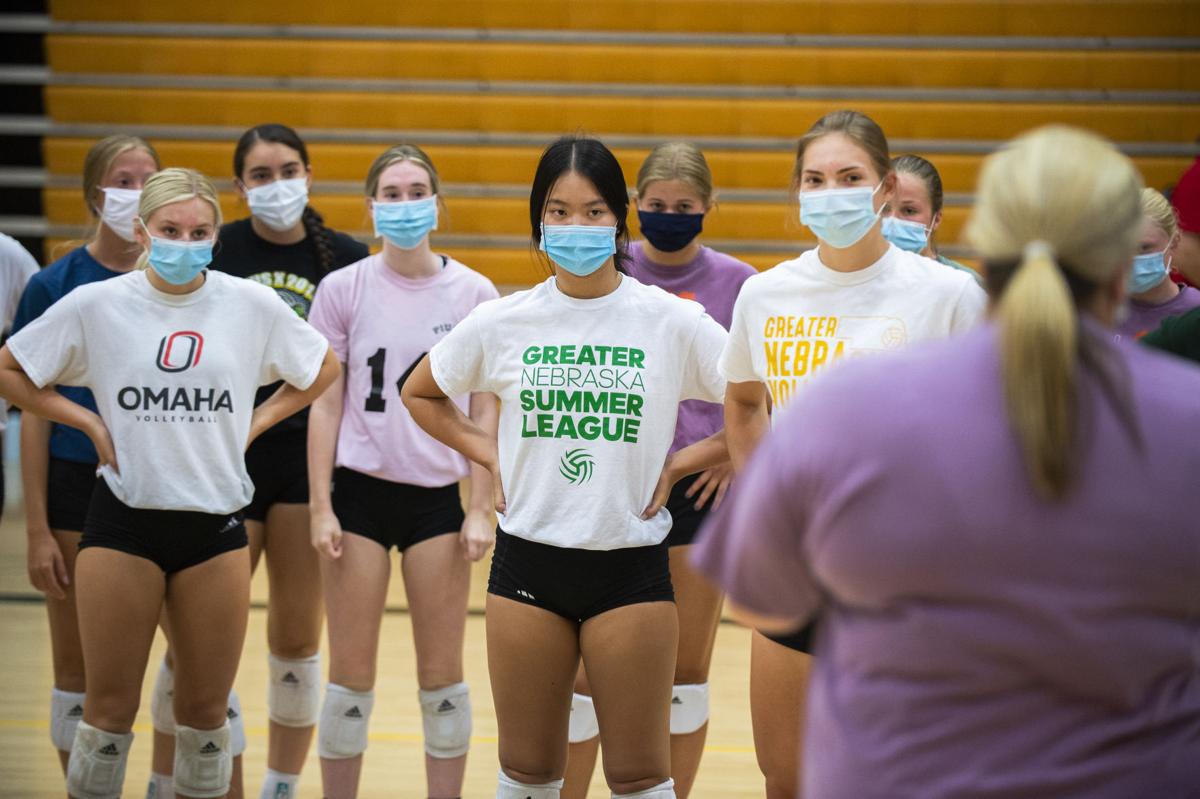 When Lincoln Pius X volleyball coach Katie Wenz's phone rang, she was afraid to answer.
A simple call from an athletic director or a player could signal the worst — a positive COVID-19 test that might derail the Thunderbolts' season. Similar fears played out across the state as playing a high school volleyball season during a pandemic offered unique challenges.
After the spring sports season was canceled in April, a state volleyball tournament was no guarantee. With that in mind, coaches and schools enacted protocols they hoped would keep players healthy, and on the court.
There have been cancellations, postponements and positive tests, but 48 teams will still be right where they hoped in the first week of November: Pinnacle Bank Arena.
"No matter how we finish or how we play at state, just the fact that we were able to play is something I'm appreciative of," Wenz said.
While the season has progressed on schedule, many teams have experienced the issues with COVID-19 firsthand. Alliance, Freeman, Fullerton, Lawrence-Nelson, Lincoln East, Northwest, Superior and Syracuse are just a few of the teams forced to cancel matches while quarantining.
In Class A, Bellevue East and Lincoln Southeast forfeited district matches to end their season, and seven teams never got a season at all (Omaha Benson, Omaha Bryan, Omaha Burke, Omaha Central, Omaha North, Omaha Northwest, Omaha South).
At Syracuse, coach Courtney VanGronigen emphasized the need for players to wear masks both at school and away from school, but five players and coaches still combined to test positive in early October. After three weeks without a match, the Rockets had just four practices to prepare for subdistricts, and VanGronigen was concerned their season could be cut short.
"After we did have to quarantine, the whole team, it sunk in that we really had to take this even more seriously to make it through the whole season," she said. "The seniors have done a nice job of keeping everyone together, and they've all come together and stuck with it through a challenging time."
The Superior Wildcats had an outbreak after participating in the Hastings St. Cecilia tournament, and most of the team couldn't return from quarantine until one day before their conference tournament. For players who tested negative or were finished with their quarantine, it just posed another challenge to overcome because they couldn't practice as a team.
"They were hungry to still be touching a ball, but we had to be very careful and monitor who was still in quarantine, because you better not be showing up to any informal workouts (on their own)," Superior coach Kelsea Blevins said.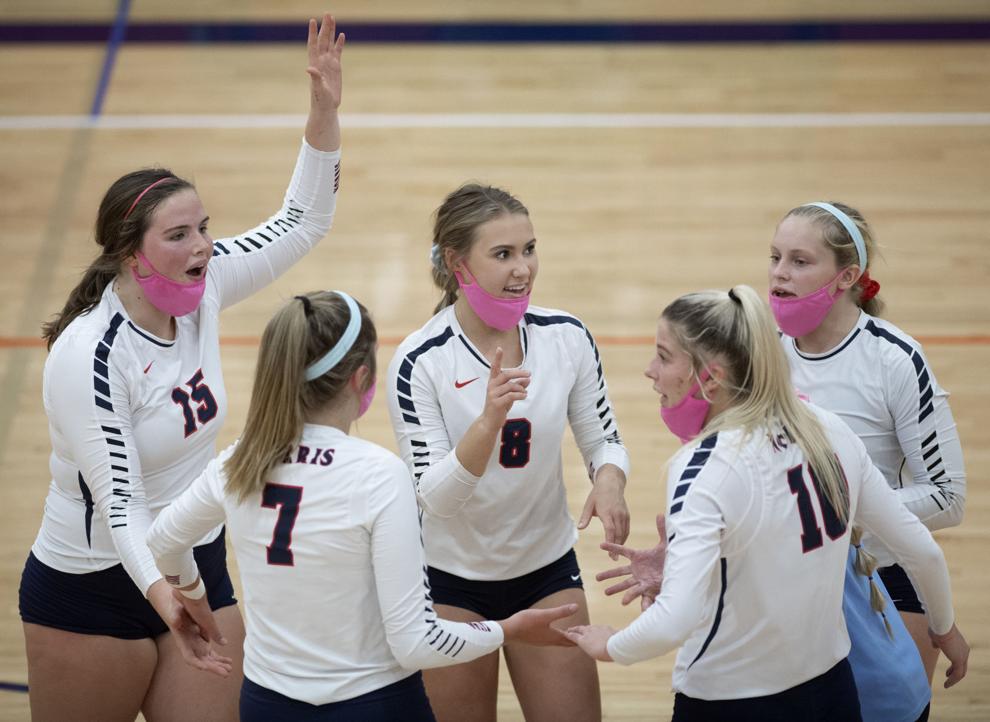 Keeping her players from contacting COVID-19 was a source of stress for Norris head coach Christina Boesiger, and the Titans enacted strict protocols to keep their season on track. Norris players sat far apart in chairs, used hand sanitizer when exiting the match and rotated five match balls that were constantly sanitized at home games.
All of these protocols, and a decision to wear masks during games, were embraced by the Norris players.
"They were definitely all for it and they just wanted a season," Boesiger said. "They are beyond excited with how the season has went, and there have been a lot of life lessons learned throughout this year."
Boesiger also worried about contacting COVID-19 herself, because her daughter Maisie is also the Titans' starting setter, and any positive contact could have cost Norris both its coach and a starter.
She never had to face that fear, but Wenz experienced it in a different way.
The night before Pius X was scheduled to face No. 1 Elkhorn South, Wenz learned a friend she had recently seen tested positive. The result was a two-week quarantine for Wenz, and while the Thunderbolts managed to knock off Elkhorn South the next day, she missed eight matches while sitting and waiting at home.
"It was torture, and I was yelling at them through my computer screen," she said.
While coaches have gone through a stressful season, so have the players. Norris normally has big team dinners and Monday meetings with the whole program, but those didn't happen in 2020. Matches haven't been played in front of packed gyms, and coaches haven't been able to give players a hug or flash a smile when they need it most.
There's also been pressure on players to stay healthy, avoid contacting COVID-19 and to put the team first.
"I feel bad for the kids because it's been a hard year for them, too," Wenz said. "Nobody ever plans to play in a mask every day or say they can't be with their friends, and there was just so much taken away from them."
The good news is that the state tournament is finally here, and all that effort has come to fruition. With winter sports beginning soon after the volleyball season ends, Norris and Lincoln Pius X are sticking to their protocols for another week.
It has been a unique season for volleyball teams across the state, and there are six champions to be crowned this week. Whoever wins state titles on Saturday, it will have been worth the journey to get there.
"We are just so thankful and blessed that we've gotten this far and been able to have a season," Boesiger said.
Wenz shared a similar sentiment. 
"If we win, it's great, and if we don't, it'll be heartache, but the biggest prize is that we got to have a season and not have to wonder what if," Wenz said.