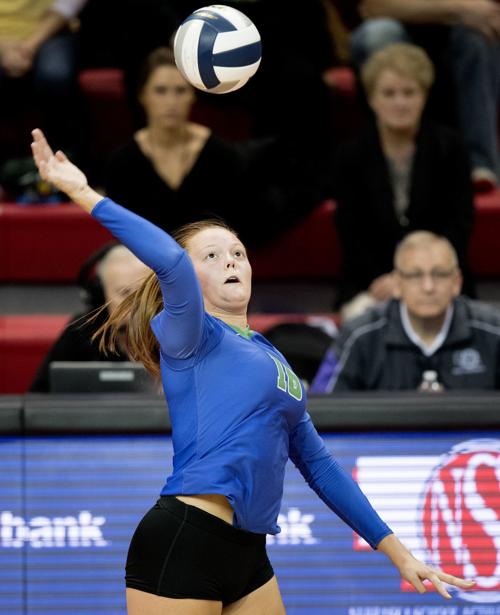 A closer look at Class A heading into the state tournament, which begins Thursday.
No. 1 Papillion-La Vista (36-1) vs. No. 5 Millard North (10-24)
About the Monarchs: Six players have at least 100 kills this season, and senior Brooklyn Schram has 980 assists.
About the Mustangs: They had to work their way through a difficult A-7 district bracket after forfeiting 14 wins.
No. 4 Gretna (26-10) vs. No. 7 Millard West (21-11)
About the Dragons: Outsides Skylar Janovich-McCune (362 kills) and Lydia Yost (338) lead the way; Dragons beat Millard West in lone regular-season meeting.
About the Wildcats: Millard West is seeking its first state tournament win since 2014; has reached state nine straight years.
No. 3 Elkhorn South (29-7) vs. No. 10 Papillion-LV South (20-17)
About the Storm: Elkhorn South (209 ace serves) is a very good serving team; it was the state runner-up to Omaha Skutt in Class B last season.
About the Titans: Papio South upset top-ranked Papillion-La Vista in the Metro Tournament semifinals and Millard South in the district finals.
No. 2 Lincoln Pius X (29-6) vs. No. 8 Millard South (24-12)
About the Thunderbolts: New-look Thunderbolts have won nine of their past 10 matches, which includes taking the HAC Tournament.
About the Patriots: Millard South earned the wild card after falling in district final to Papio South; didn't play Pius X during the regular season.
Players to watch
Norah Sis, Papillion-La Vista: The 6-foot-1 senior outside is one of the state's top attackers (431 kills). She also has 41 blocks.
Izzy Lukens, Millard North: The 2018 first-team Super-State setter has 1,033 assists this year, as well as 120 kills.
McKenna Ruch, Millard North: Her return from a hand injury has given the Mustangs a spark.
Lauren Anderson, Gretna: The 5-9 setter has 1,069 assists and 38 ace serves this year.
Sadie Millard, Millard West: The 5-9 sophomore middle blocker has 68 blocks and 143 kills.
Sophie Hendrix, Papillion-La Vista South: The 5-9 senior outside has racked up 326 kills and 449 digs.
Ibinye-Olivia Green, Elkhorn South: The 5-11 right-side hitter has 414 kills this season.
Madison Woodin, Elkhorn South: The 5-6 sophomore has emerged as one of the state's top setters (1,378 set assists).
Lauren Taubenheim, Lincoln Pius X: The 6-2 outside hitter has 307 kills and 362 digs, and is getting plenty of help from her teammates.
Paige Fixemer, Millard South: The 6-2 senior middle can do a bit of everything (395 kills, 151 digs, 59 blocks and 23 ace serves).
By the numbers
34: Consecutive matches won by Papillion-La Vista to start the season before losing to Papio South.
1998: The last time a team (Lincoln Northeast) from Lincoln won a Class A state championship.
Our take
Papillion-La Vista dominated Class A all season, but its unbeaten streak recently ended against rival Papillion-La Vista South in the Metro Conference Tournament. Its reward for such a stellar regular season? A first-round matchup against defending state champion Millard North, which had to forfeit 14 matches but remains one of Class A's best teams. Beyond that, Class A's depth means every team has a shot at glory. A stellar offense makes Lincoln Pius X one to keep an eye on, along with Elkhorn South and Gretna. — Luke Mullin