Saturday's Class C-2 state championship match seemed destined for a fifth set for the second consecutive year.
That's when Blue Hill had other ideas.
Trailing 19-10 in the fourth set, the No. 3 Bobcats mounted a furious rally, rattling off 16 of the final 21 points of the match to capture the set, and secure a 25-16, 25-21, 14-25, 26-24 win over fourth-ranked Hartington Cedar Catholic at the Devaney Sports Center.
The win gave Blue Hill (32-2) its first-ever state title in volleyball.
So, how were the Bobcats able turn the tide? Blue Hill coach Kristi Allen said it was nothing magical.
"It was firmly put in the timeout at 19-10, that we just needed to start playing volleyball," Allen said. "Quit worrying about technique, where you're supposed to be, and all these other little things. Forget about the last point, just get ready to play the next point and play volleyball."
The Bobcats played some of their best volleyball over that span.
Back-to-back kills by senior outside hitter, and Kristi Allen's daughter, Kacey, sliced the lead to 22-20.
Cedar Catholic responded to take a 24-22 lead after a pair of Bobcat attack errors, but Blue Hill kept the pressure on, forcing three Trojan hitting errors, before getting the game-winning kill from senior middle blocker Rylee Kohmetscher after a lengthy rally.
Kohmetscher, who led a balanced Blue Hill offense with a match-high 14 kills, said winning a state title is a dream come true.
"This is a moment we've dreamed about since we were little," she said. "Everybody dreams about it, but not many people get to act out their dreams. Right when we walked in (to Devaney) we said, 'Let's get used to it, but we're here to play ball; we're here to win.'"
The Bobcats, who upset top-ranked Stanton in Friday's semifinals, did not shy away from playing on the big stage of the Devaney Center.
Kohmetscher tallied five kills and senior middle blocker Emily Meyer added three in a dominating opening-set win.
The momentum carried over into the second set. Blue Hill broke from an 18-all tie to run four straight points. Kills by Allen and Kohmetscher and an ace serve by Allen highlighted the rally.
Cedar Catholic fell short in the championship match for the second straight year. After avenging last season's five-set loss in the finals to Superior in Friday's semifinals, the Trojans seemed to lack the same razor-sharp focus.
"There's nothing I'd take back," Trojans coach Denae Buss said. "We just needed to capitalize that fourth set. We were up and just let it slip away."
Kristi Allen was extra-thankful for the fourth-set rally, as she was unsure whether her team would have enough in the tank for a deciding set after needing a fifth-set rally on Friday to reach the finals.
"I was like, 'Oh no, it can't go five, we don't have the legs,'" she said.
Blue Hill vs. Hartington CC, Class C-2 State Volleyball Championship, 11.10.18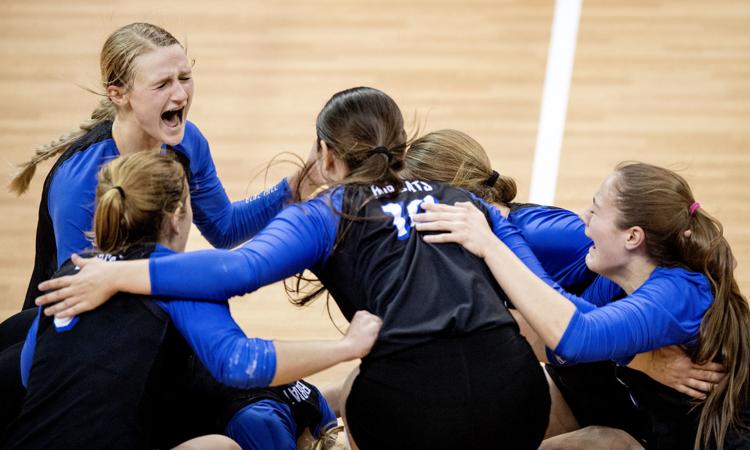 Blue Hill vs. Hartington CC, Class C-2 State Volleyball Championship, 11.10.18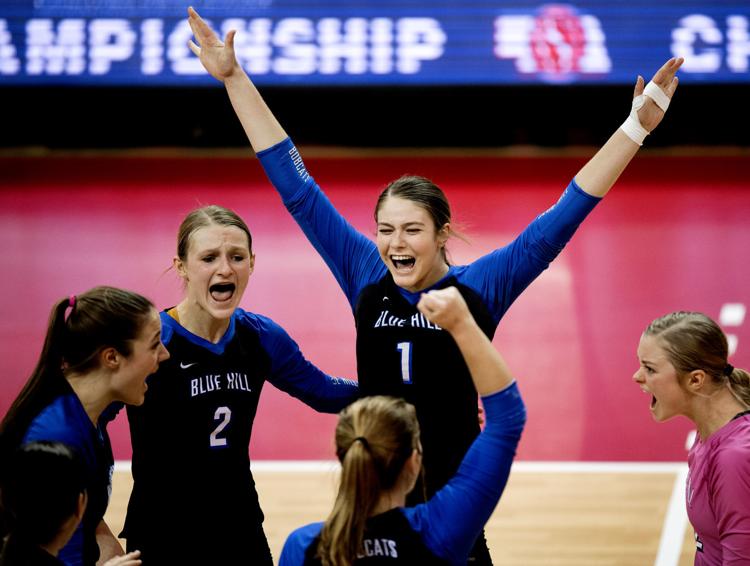 Blue Hill vs. Hartington CC, Class C-2 State Volleyball Championship, 11.10.18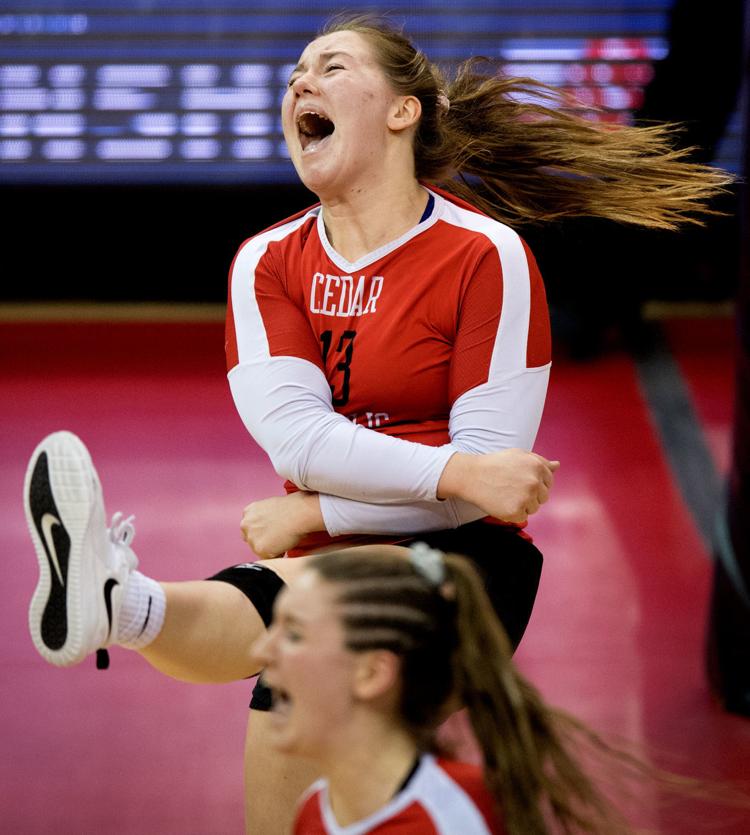 Blue Hill vs. Hartington CC, Class C-2 State Volleyball Championship, 11.10.18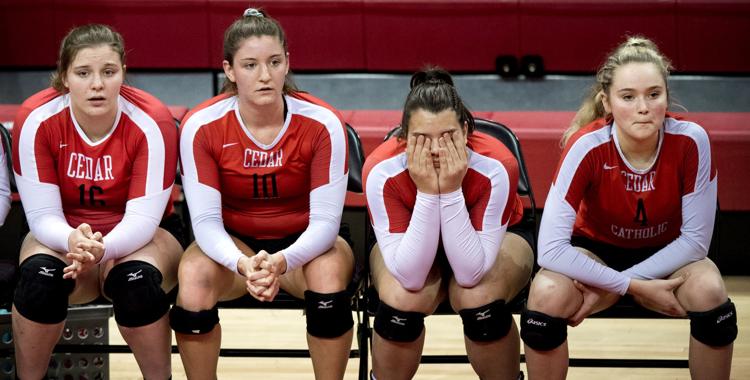 Blue Hill vs. Hartington CC, Class C-2 State Volleyball Championship, 11.10.18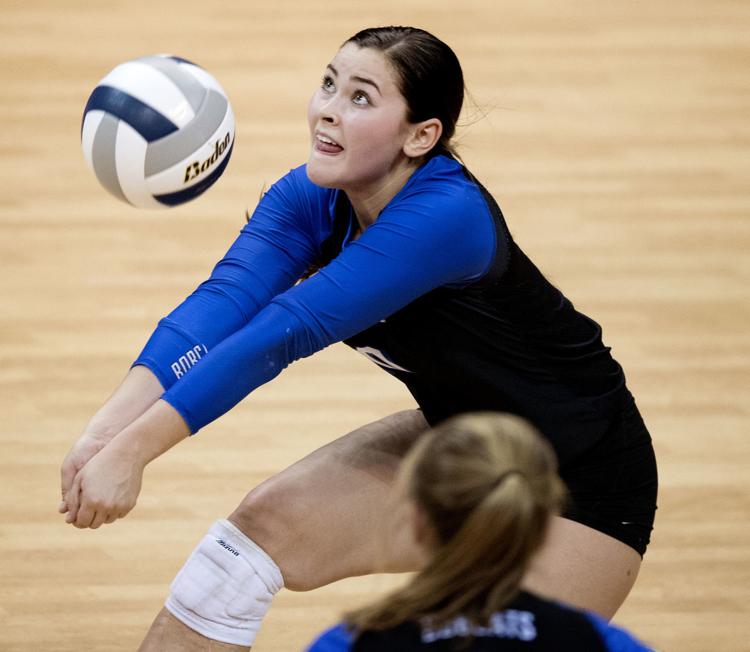 Blue Hill vs. Hartington CC, Class C-2 State Volleyball Championship, 11.10.18