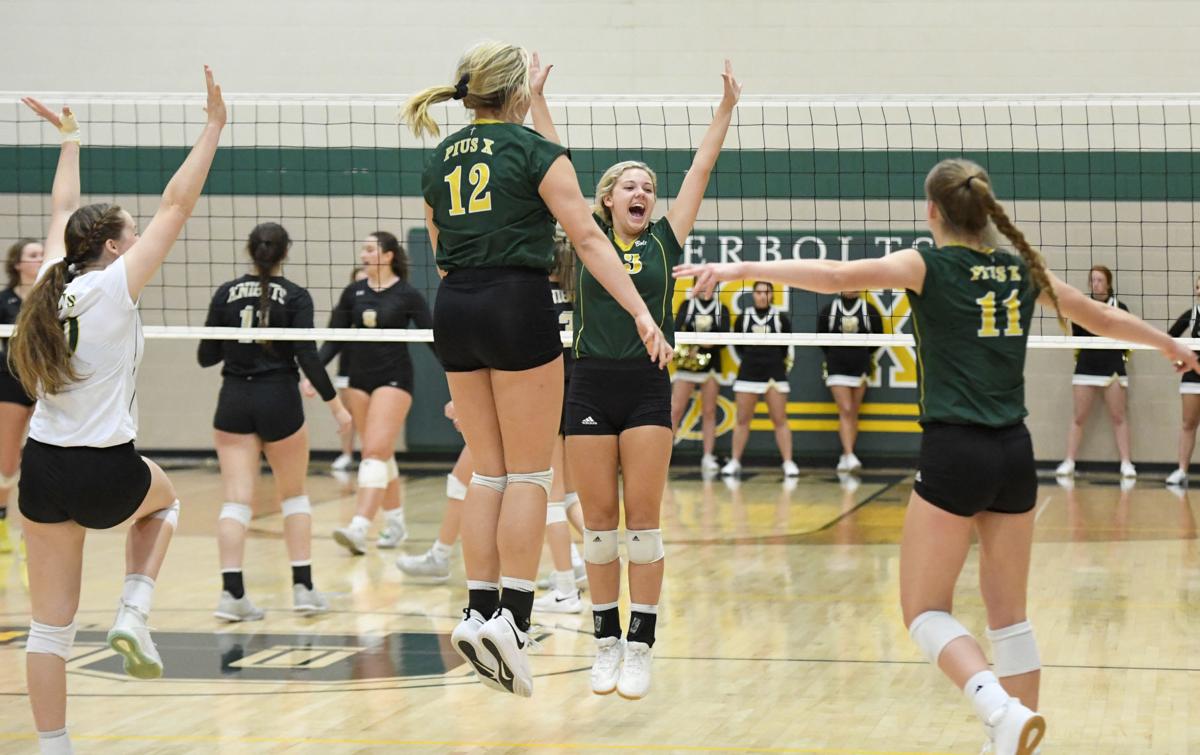 Naturally, the goal is to improve upon the previous season.
For the Lincoln Pius X volleyball team, that meant getting back to the Devaney Sports Center after last year's Class A state runner-up finish.
But a big challenge awaited in August. The Thunderbolts needed to overhaul their lineup after losing several starters to graduation.
Nearly start from scratch. Back to the basics. Learn a new system.
"Eighth grade volleyball," Pius X coach Katie Wenz called it. "We're starting from anew.
"There was a lot of learning, a lot of frustration because it hadn't come as natural as it did the past two years."
Learning and frustration turned to growth and wins. The No. 2 Thunderbolts (29-6) enter Thursday's opening round of the state volleyball tournament at Pinnacle Bank Arena rolling, and despite many new faces, they're just as confident as they were last year.
"This year's team is a lot different than last year, obviously," senior Lauren Taubenheim said. "There's a lot of new girls, (but) just how everyone stepped up, filling different roles is just really special to see."
Wenz said she didn't know how the season would play out.
"I was prepared for them to be very successful," she said. "I was also prepared for a lot of learning to happen."
Wenz also knew she had a lot of talent returning, including Taubenheim and Alexis Markowski, who were on the court last season with then-seniors Grace Gokie, Emma Gabel, Morgan Christiansen, Delaney Humm and Anna McLain.
"We started out at the beginning of the year and I said, 'You're a whole new team. You have the ability to have the same potential you had last year,'" Wenz said. "I was half-pleasantly surprised at how well the season's gone, but as it has developed through the year, I think this team is as talented if not more talented than last year, because we had the depth on the bench that could have stepped in at any time last year and be just as successful."
Pius X, which plays No. 8 Millard South at 7:30 p.m. Thursday, quickly showed it had many attack options to go with the 6-foot-2 Taubenheim and 6-3 Alexis Markowski, a South Dakota State basketball recruit. Junior Kylen Sealock, who missed her first two seasons while recovering from two ACL surgeries, stepped in and is leading the team in kills with 313.
"It's really exciting, and it feels really great to be able to be on the court with the girls rather than just cheer them on from the bench," Sealock said. "It was (hard last year watching from bench) but I was happy for my teammates and glad I got to experience it."
Senior Carly Rodaway and junior Cora Thomas have given the Bolts another pair of scoring options, and junior Miriam Miller has taken over at libero for Gabel. Miller's 497 digs rank second among Class A teams at state.
The Bolts' biggest adjustment came at setter. After having Gokie run the offense for two years, Pius X turned to two new varsity players in freshman Adison Markowski and junior Hannah Pham. It also installed a 6-2 offense.
"That really hasn't happened at Pius volleyball in a long time," Wenz said.
But Wenz liked what the Bolts had in size and connectionwise, and turned Adison Markowski and Pham loose, though it meant the team going through an adjustment period.
"Probably halfway through the season, we started getting used to it and our rotations started to flow more," Taubenheim said.
New, new, new, new. Yet, the Thunderbolts' drive — the program has seven Class B state championships — remains the same.
"Falling a little short (last year vs. Millard North) just gave us a lot of motivation coming into this year," Taubenheim said. "It's been our goal all season to get to that state championship again and hopefully have a different outcome this time."
Class A bracket preview
A closer look at Class A heading into the state tournament, which begins Thursday.
Get in the game with our Prep Sports Newsletter
Sent weekly directly to your inbox!