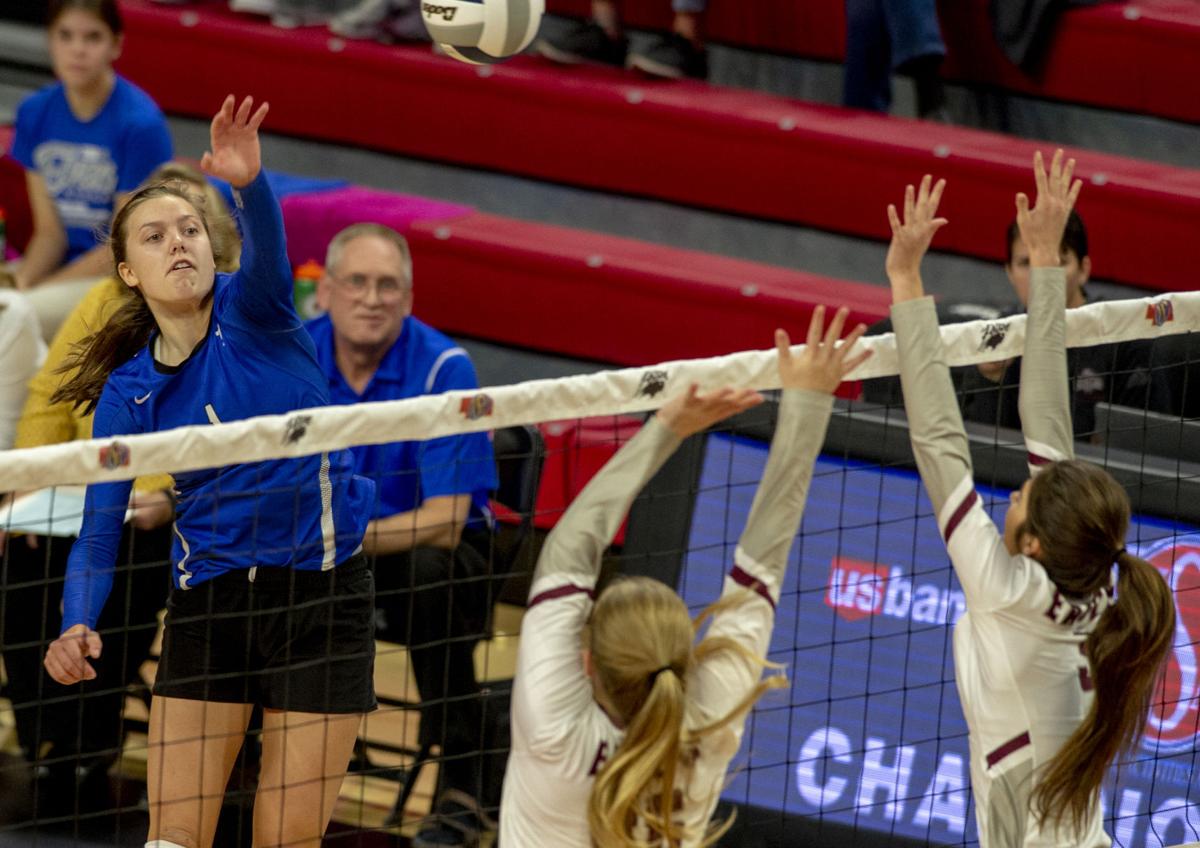 A closer look at Class D-2, which takes the court Thursday.
No. 1 Diller-Odell (30-1) vs. Nebraska Christian (18-8)
About the Griffins: Last year's Class D-1 state champion has dropped only two matches in two seasons. Senior Addison Heidemann is a standout setter.
About the Eagles: They're making their fourth state appearance, and have five hitters with 102 kills or more this season.
No. 5 Falls City SH (25-6) vs. No. 4 Humphrey SF (26-2)
About the Irish: They're the only team to beat Diller-Odell this season; there is only one senior (middle Danielle Bippes) on the roster.
About the Flyers: The 2019 Class D-2 state runners-up have standouts at hitter (Allison Weidner), setter (Peighton Eisenmenger) and libero (Alissa Kosch).
No. 2 CWC (31-1) vs. No. 8 Wynot (18-4)
About the Coyotes: Eight of the team's 11 varsity players are seniors, including 6-foot-1 hitter Morgan Ramsey (439 kills) and setter Ryann Haburchak.
About the Blue Devils: All four losses came against teams outside of Class D-2; setters Edyn Sudbeck and Chloe Heimes lead the way.
No. 3 Maywood-Hayes Center (28-0) vs. No. 7 Mullen (28-5)
About the Wolves: Making their first-ever appearance at the state tournament. Hayes Center last made it in 2006, and Maywood never reached state.
About the Broncos: They're making a third state appearance in four years, and finished in third place a year ago.
Players to watch
S, Addison Heidemann, Diller-Odell: The senior Iowa State recruit played a big role in the Griffins' state title run a year ago. She has 718 set assists as a senior.
OH, Karli Heidemann, Diller-Odell: Like her older sister, the 6-foot-2 sophomore is getting Division I attention. She leads the Griffins in kills (421) and digs (224).
RH, Allison Weidner, Humphrey SF: The Nebraska basketball recruit leads the Flyers in kills (218) and aces (38). She also has 267 digs.
MH, Samantha Moore, Mullen: The 6-foot senior had 308 kills, 300 digs and 72 blocks. She's also an all-state basketball player.
MH, Ericson Vonderschmidt, Falls City SH: The 6-foot junior and returning all-stater contributes in a lot of ways (350 kills, 187 digs, 81 blocks and 51 aces).
L, Alissa Kosch, Humphrey SF: The 5-7 senior and returning first-team all-stater is one of the top liberos in the lower classes (409 digs).
MH, Jaycee Widener, Maywood-Hayes Center: The 5-10 senior leads her team in kills (394), digs (319) and blocks (59).
By the numbers
2: Maywood-Hayes Center has dropped two sets all season, and they came in the same match (vs. Wauneta-Palisade).
47: Humphrey St. Francis has appeared in 47 state tournament matches. The next closest of the D-2 qualifiers is Sacred Heart (21).
Our take
No. 1 Diller-Odell swept all three state tournament opponents last year to win the D-1 title, but a similar feat seems unlikely this time. No. 5 Falls City Sacred Heart gave the Griffins their only loss of the year, and a semifinal rematch could happen if it gets past No. 4 Humphrey St. Francis. No. 2 CWC and No. 3 Maywood-Hayes Center combined for one loss and also have a strong chance at a state title.