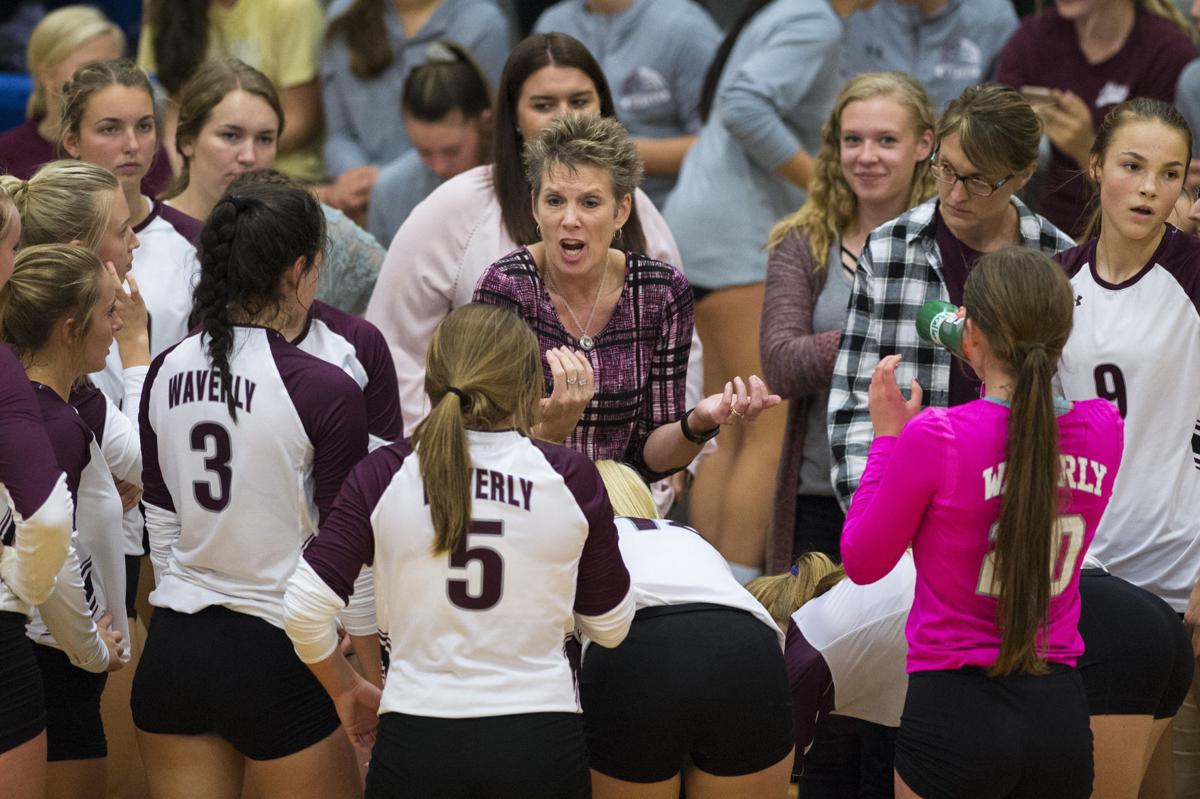 The Golden State Warriors have more in common with the Fillmore Central Panthers volleyball team than you'd think.
Every time the Warriors step on the court, they do so with four core values in mind: joy, mindfulness, compassion and competition. The Panthers (18-8) have their own set of values: composure, commitment, confidence and spirituality -- all of which help them stay mentally focused during matches.
"The girls always go around and they talk about how we're going to use those four core values as a team during the game," Fillmore Central coach Dawn Temme said. "If we get flustered or something, the girls bring it up about how we talked about how we were going to make it work for us."
The Panthers established their values with the help of Dr. Larry Widman, a psychiatrist who works with teams on mindset coaching. When establishing core values, Widman asks the team to identify which characteristics they want to be known for. The team narrows the list down to four values, identifying specific steps they need to take to live out each value.
For Widman, establishing values helps teams remain mindful of their long-term goals instead of letting small issues become sources of stress.
"It gives teams another way to measure themselves week to week so they don't get caught up in the highs of winning and the lows of losing and miss the bigger picture of how you get better every week," Widman said.
When Widman works with teams, he practices a form of sports psychology, a discipline which began in the 1920s but wasn't popularized until much later. Phil Jackson's Chicago Bulls teams used mindfulness strategies in the 1980s, and Nebraska football adopted similar strategies in the 1990s via the work of Dr. Jack Stark.
Since moving to Lincoln in 2007, Widman has worked with a variety of sports teams, including national title-winning teams in volleyball, bowling and women's gymnastics at Nebraska between 2008-2017. Now, he's begun helping high school volleyball teams work on the mental side of athletics.
"It's completely about helping teams and athletes develop an elite mindset and maxing out the team chemistry and culture," Widman said. "I hyperdrive the existing culture and try to improve what's already there."
Widman currently works with four high school volleyball teams: Waverly, Omaha Skutt, Fillmore Central and Papillion-La Vista. He focuses on helping each team improve their four mental skills: goal-setting, self-talk, arousal control (the ability to manage one's nervous system under pressure) and visualization. Self-talk refers to the way athletes keep inner dialogues in their heads and how they react to events, with the goal being to keep these inner thoughts positive, rather than focused on the negative. The most important skill to master is arousal control, according to Widman.
"They all have the physical gifts of the sport, it's up to how they cope with failure and setback and get on to the next point, how they stay present and how they relax the nervous system," Widman said.
The ability to move past mistakes quickly and stay mentally focused for each point is a difficult skill to master, and it needs development. Waverly head coach Terri Neujahr was the first high school coach to have Widman teach sports psychology skills in 2018, and she has seen its positive effects over the past two seasons.
"He's helped all the kids individually because everyone struggles with something mentally, whether it's self-confidence or self-esteem or whatever it is," Neujahr said. "Letting go of mistakes quickly, he has helped so many of us do that and just relax, breathe and enjoy the moment, even when it's stressful."
In addition to developing mentalities that help teams, Widman also tries to help players develop deeper relationships with each other, because he believes teams that are connected off the court have the most success on the court.
One activity which fosters empathy is called "Let it shine." Players pick one person in the school system and in their life that they are grateful for and are going to work hard for this season. They write personal letters to those people and then go around the room with their teammates and tell each other who they picked and why.
"It helps them stay committed and all-in so that when they're tired or sore, or maybe they didn't get the role they wanted, they made a promise to maybe a grandmother who is sick or a special teacher that I'm going to dedicate this season to you, I'm going to let it shine for you," Widman said.
In total, Widman's work focuses on the mental aspect of sports, which he believes are the great separator between teams. While the principles of sports psychology Widman applies to teams have been around for nearly a century, they are only just beginning to emerge at the high school level.
As teams focus on remaining calm, communicating effectively and developing deeper relationships, Widman is proud of how teams can implement these tactics on the court. Even more important, though, is the fact that these skills can be used outside of sports, a key reason for the implementation of sports psychology at local high schools.
"The mission to me is developing them into people and empowering them as women," Widman said. "We're doing it through the avenue of sport but we're doing it because it translates into life skills that will make them high-functioning, happy adults."
Get in the game with our Prep Sports Newsletter
Sent weekly directly to your inbox!