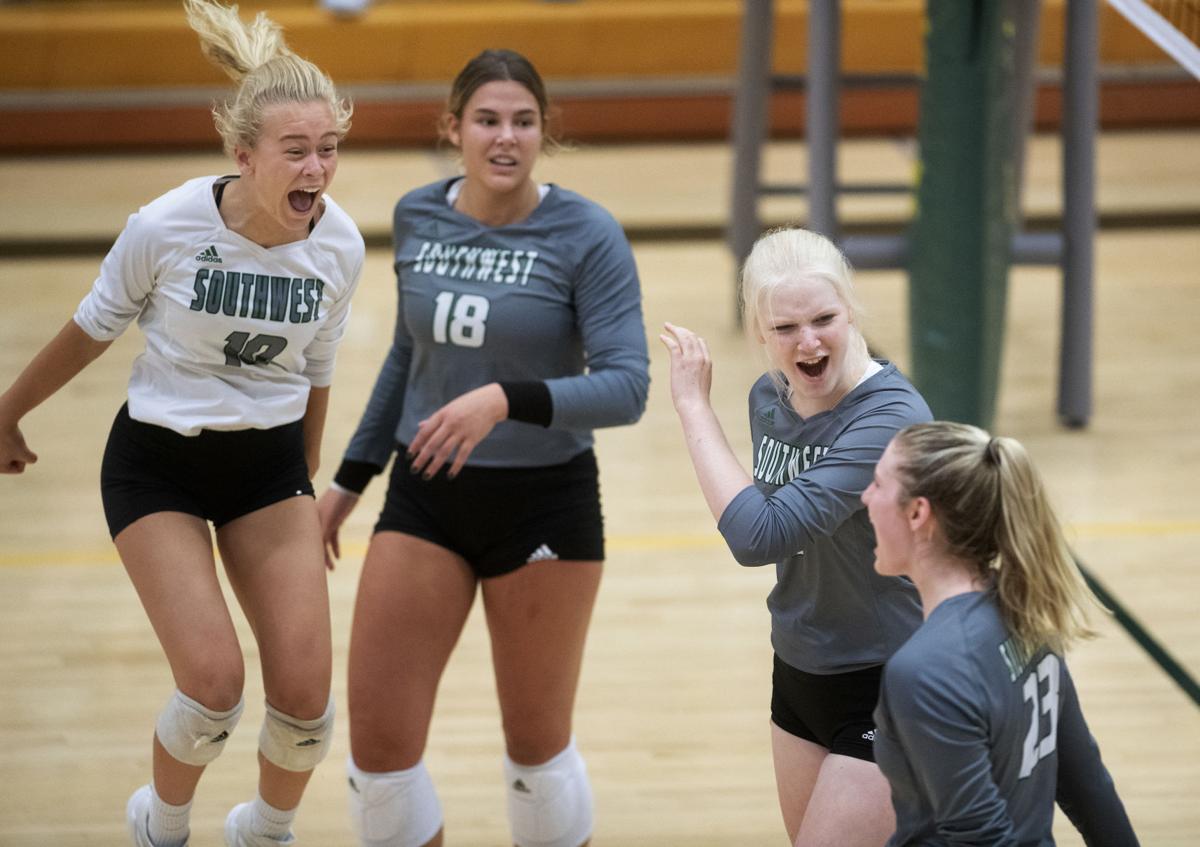 Here's a look at where things stand a couple of weeks into the prep volleyball season:
1. Papillion-La Vista South (7-0) | 2
2. Millard West (9-1) | 3
3. Elkhorn South (4-1) | 1
4. Millard South (5-3) | 4
5. Lincoln Southwest (4-0) | 6
6. Papillion-La Vista (4-4) | 7
7. Omaha Westside (5-3) | 5
8. Lincoln Pius X (3-1) | 8
10. Bellevue West (6-2) | -
Contenders: Omaha Marian, Lincoln High, Millard North, Norfolk.
Comments: The Titans rise to the top of Class A because they are unbeaten and have beat two other heavyweights in Millard West and Millard South. Elkhorn South slides down to third its loss to Millard West, and Lincoln Southwest moves into the top five with Shaylee Myers leading the charge.
Key matches: Tuesday—Norris at Elkhorn South, Omaha Westside at Gretna, Lincoln Pius X at Papillion La Vista South. Thursday—Elkhorn South at Papillion-La Vista, Papillion La Vista South at Gretna, Omaha Westside at Lincoln Southwest, Millard West at Millard South. Saturday—Millard North Invite (Elkhorn South, Millard North, Millard West, Millard South).
4. Elkhorn North (4-0) | 6
6. Omaha Duchesne (2-6) | 7
8. Adams Central (5-0) | 10
Contenders: Beatrice, Bennington, Northwest, Seward.
Comments: Even though Norris is undefeated and Skutt isn't, the SkyHawks have faced tougher competition so far which means they stay put at the top. Elkhorn North moves from sixth after two wins against rival Elkhorn. Omaha Duchesne's losing record doesn't resemble how good this team can be as five of its eight matches have been against Class A teams.
Key matches: Tuesday—York at Columbus Lakeview. Thursday—Kearney Catholic at Adams Central, Blue Hill, Elkhorn North at Waverly. Saturday—Bishop Neumann Invite (Battle Creek, Beatrice, Bennington, Bishop Neumann, Logan View/SS, York).
1. Columbus Lakeview (4-0) | 1
2. Lincoln Lutheran (3-1) | 2
4. Grand Island CC (5-0) | 4
5. Kearney Catholic (4-0) | 5
6. Bishop Neumann (4-3) | 7
Contenders: Battle Creek, Chase County, Columbus Scotus, DC West, Minden, North Bend Central, St. Paul.
Comments: Not a lot of movement happening in C-1 as the top five teams stay put. Columbus Lakeview has done nothing to make it lose the top spot, and Lincoln Lutheran's only loss is to Class B No. 3 Waverly. St. Paul falls out of the top 10 with two losses, and Broken Bow makes a jump after a strong start.
Key matches: Thursday—Battle Creek at Norfolk Catholic, Grand Island CC triangular (GICC, Doniphan-Trumbull, Sutton), Malcolm Invite (Ashland-Greenwood, Centennial, Columbus Scotus, Elmwood-Murdock, Fairbury, Fort Calhoun, Lincoln Lutheran, Louisville, Malcolm, Milford).
1. Clarkson/Leigh (5-0) | 1
2. Thayer Central (5-0) | 2
3. Wisner-Pilger (6-0) | -
4. Guardian Angels CC (6-1) | 3
5. Norfolk Catholic (2-2) | 4
7. Lutheran High Northeast (4-2) | 8
9. Oakland-Craig (2-2) | 6
10. Hastings SC (1-2) | 9
Contenders: Amherst, Bridgeport, Burwell, Elkhorn Valley, Palmyra, Ponca.
Comments: Clarkson/Leigh remains No. 1, but the big story here is their East Husker Conference foe Wisner-Pilger goes from being unranked to third. The Gators have two impressive wins on the season — against Lutheran High Northeast and Guardian Angels CC. Oakland-Craig falls from sixth to ninth with two losses early this season.
Key matches: Tuesday—Bridgeport triangular (Bridgeport, Garden County, Kimball), Burwell triangular (Burwell, Humphrey SF, St. Edward), Guardian Angels CC at Humphrey/LHF, Palmyra triangular (Conestoga, Mead, Palmyra). Thursday—Oakland-Craig at Wisner-Pilger, Superior at BDS.
1. Archbishop Bergan (3-3) | 1
2. Howells-Dodge (4-1) | 2
4. Nebraska Christian (4-0) | 4
8. Hartington CC (2-4) | 8
9. Humphrey/LHF (1-0) | 9
Contenders: Alma, Central Valley, Elmwood-Murdock, HTRS, Johnson-Brock, Shelton.
Comments: Class D-1 remains the same with the exception of Overton and Pleasanton switching places after the Eagles swept the Bulldogs. North Platte St. Patrick's and Southern drop from the contenders list, making room for Alma and Central Valley.
Key matches: Thursday—Central Valley at Pleasanton. Saturday—Archbishop Bergan Invite (Archbishop Bergan, Boys Town, Humphrey SF, Lourdes Central Catholic, Mead, Schuyler); Wakefield Invite (BRLD, Cedar Bluffs, Hartington CC, Laurel-Concord-Coleridge, Lutheran High Northeast, Pierce, Ponca, Wakefield); HTRS Invite (Falls City SH, Lewiston, HTRS, Johnson-Brock, Pawnee City, Southern).
1. Falls City SH (6-0) | 1
3. Diller-Odell (3-2) | 3
4. Maywood-Hayes Center (3-1) | 4
6. South Platte (5-1) | -
7. Garden County (4-2) | 9
10. Exeter-Milligan (1-2) | 8
Contenders: Anselmo-Merna, Arthur County, CWC, Lawrence-Nelson, Silver Lake, Sterling, Wauneta-Palisade.
Comments: A big match on Tuesday will help things shake out at the top of Class D-2 where No. 1 Falls City SH goes on the road to try and keep its perfect record against Diller-Odell. Anselmo-Merna has a chance to jump into the top 10 if it can win on the road against Stuart on Thursday.
Key matches: Tuesday—Falls City SH at Diller-Odell. Thursday—Anselmo-Merna at Stuart.