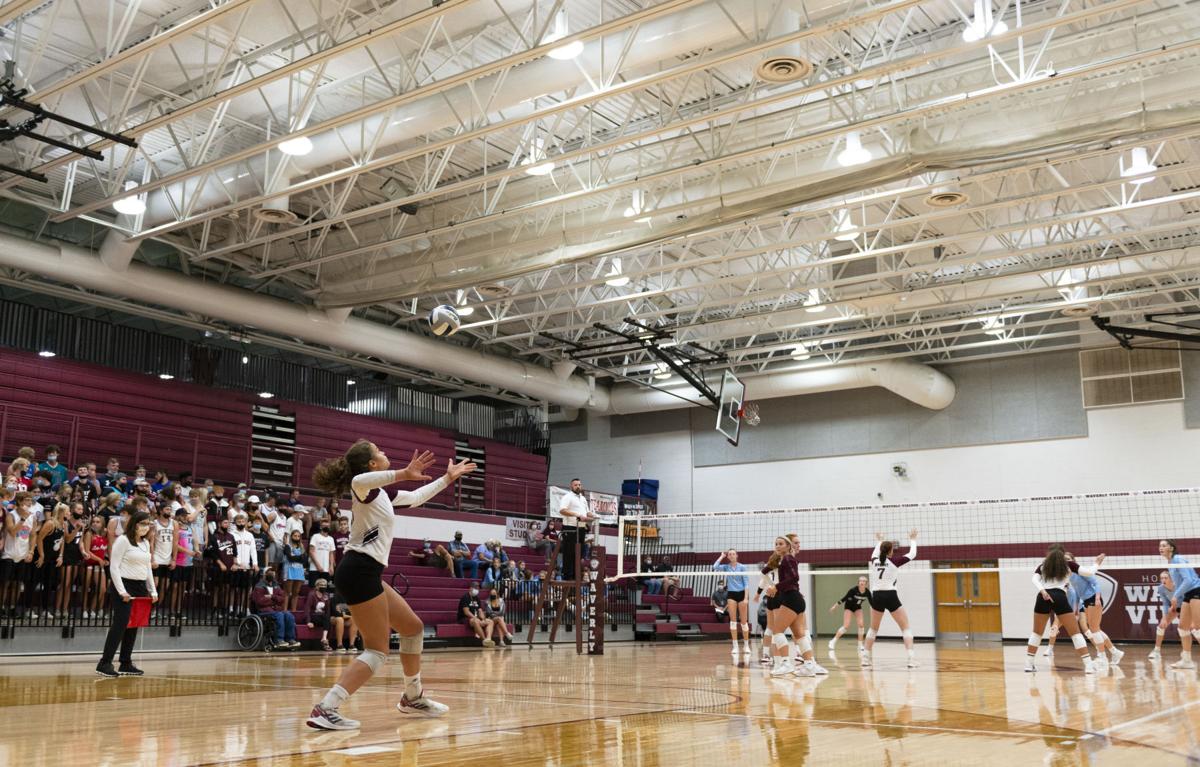 Some teams at the top of certain classes are starting to separate from the pack. Other classes still haven't sorted themselves out. Take a look at this week's prep volleyball ratings:
(Records through Saturday)
1. Papillion-La Vista South (9-0); 1
2. Millard West (14-2); 2
3. Lincoln Southwest (5-0); 5
4. Elkhorn South (7-4); 3
5. Bellevue West (12-2); 10
6. Millard South (6-7); 4
8. Papillon-La Vista (5-4); 6
9. Omaha Westside (5-5); 7
10. Lincoln Pius X (4-2); 8
Contenders: Fremont, Lincoln High, Lincoln East, Millard North, Norfolk, Omaha Marian.
Comments: The Titans stay at the top with their undefeated record while Lincoln Southwest is rewarded for staying undefeated after a five-set win against Omaha Westside. Elkhorn South slides down a spot after losing to Class B's Norris and Millard South moves down two places after four straight matches without winning a set.
Key matches: Tuesday—Lincoln High at Fremont, Gretna at Millard South, Millard North at Papillion-La Vista. Thursday—Millard South at Elkhorn North, Millard West at Papillion-La Vista. Friday-Saturday—Lincoln Public Schools Invite (Bellevue West, Elkhorn, Elkhorn South, Gretna, Lincoln East, Lincoln Pius X, Lincoln Southwest, Norris, Omaha Marian, Papillion-La Vista, Papillion-La Vista South).
4. Elkhorn North (6-2); 4
6. Omaha Duchesne (5-6); 6
8. Adams Central (6-2); 8
Contenders: Bennington, Seward, York.
Comments: Norris jumps Omaha Skutt for the time being after its win against Class A Elkhorn South. The rest of the top 10 stays nearly the same with Northwest finding its way back in after facing heavy competition so far. Tuesday will likely provide one of the best matches of the year when Norris goes on the road to Waverly.
Key matches: Tuesday—Adams Central triangular (Adams Central, Aurora, Minden), Norris at Waverly. Thursday—Northwest at Waverly. Friday-Saturday—Gothenburg Invite (Aurora, Kearney Catholic, Minden, Ogallala, St. Paul, York). Saturday—Seward Invite (Broken Bow, Lincoln Lutheran, Oakland-Craig, Seward, Wahoo).
1. Columbus Lakeview (9-0); 1
2. Lincoln Lutheran (9-1); 2
4. Grand Island CC (10-0); 4
5. Kearney Catholic (7-0); 5
7. Bishop Neumann (6-4); 6
Contenders: Battle Creek, Chase County, Columbus Scotus, Fairbury, Ogallala, St. Paul.
Comments: The top five teams each stay in their spots and look dominant. The bottom five, however, features some shuffling. Syracuse and Bishop Neumann switch spots after Neumann's loss to York. Ogallala moves into the group of contenders after dropping a match to Class B Scottsbluff.
Key matches: Thursday—Columbus Lakeview at Battle Creek, Oakland-Craig at Wahoo. Saturday— Ord Invite (Amherst, Grand Island CC, O'Neill, Ord, Pleasanton, Stuart), Seward Invite.
1. Clarkson/Leigh (7-0); 1
2. Thayer Central (6-1); 2
3. Wisner-Pilger (7-1); 3
4. Guardian Angels CC (8-1); 4
5. Norfolk Catholic (6-2); 5
7. Lutheran High NE (8-5); 7
8. Oakland-Craig (6-4); 9
10. Hastings SC (4-4); 10
Contenders: Amherst, Bridgeport, Fullerton, Palmyra, Ponca.
Comments: As in C-1, the top group is really starting to solidify itself. Oakland-Craig and Sutton switch spots as the Knights get rewarded for handing Wisner-Pilger its first loss of the season. The MUDECAS tournament happens this week in Beatrice and features several teams from the top 10 in Classes C and D.
Key matches: Monday-Thursday—MUDECAS (BDS, Diller-Odell, Exeter Milligan, Falls City SH, HTRS, Johnson-Brock, Meridian, Palmyra). Tuesday—Humphrey SF at Fullerton, Humphrey/LHF at Oakland-Craig, Sutton at Superior. Thursday—Alma at Amherst. Saturday—Stanton Invite (Battle Creek, Clarkson/Leigh, Hartington CC). Superior triangular (Alma, Blue Hill, Superior).
2. Howells-Dodge (9-1); 2
3. Archbishop Bergan (8-4); 1
4. Nebraska Christian (6-0); 4
8. Central Valley (8-1); -
9. Johnson-Brock (8-5); -
Contenders: Cambridge, Elmwood-Murdock, Hartington CC, HTRS, Overton, Pleasanton, S-E-M.
Comments: Mead picked up a huge win against Archbishop Bergan at the Knights' home invite, which catapults the Raiders over Howells-Dodge into the No. 1 spot. BDS and Humphrey/LHF move two and three spots, respectively, and the bottom four features teams that were unranked last week.
Key matches: Monday-Thursday—MUDECAS. Thursday—Nebraska Christian Triangular (Burwell, Central Valley, Nebraska Christian).
1. Falls City SH (11-0); 1
4. Maywood-Hayes Center (9-1); 4
7. Garden County (10-4); 7
9. Lawrence-Nelson (6-4); -
Contenders: Anselmo-Merna, Arthur County, Exeter-Milligan, Loomis, Riverside, Sterling, Wauneta-Palisade.
Comments: Class D-2's top 10 remains mostly intact from last week. South Platte and Wynot trading spots after the Blue Devils lost to Class D-1's Creighton. Falls City Sacred Heart and Diller-Odell could meet for Round 2 in this week's MUDECAS Tournament in Beatrice.
Key matches: Monday-Thursday—MUDECAS. Tuesday—Arthur County triangular (Arthur County, Garden County, Mullen).