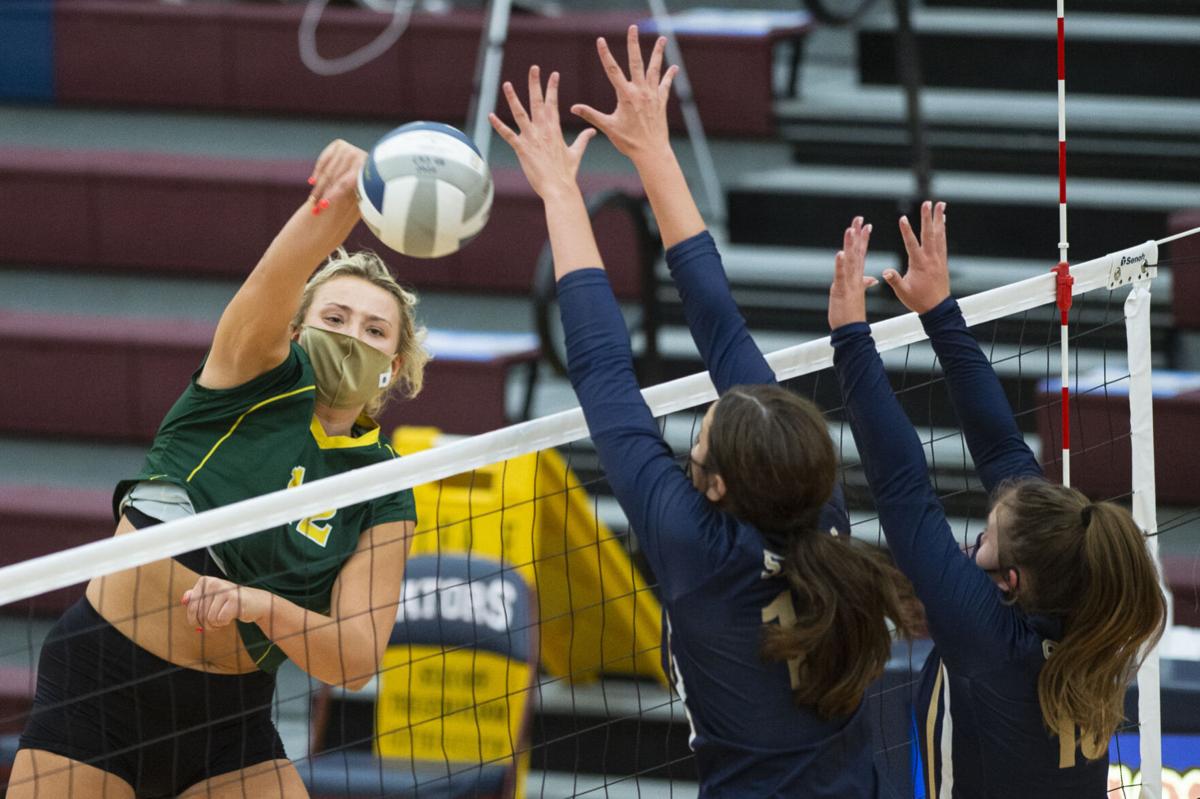 A look at the latest volleyball ratings from Luke Mullin.
1. Elkhorn South (21-1);1
2. Papillion-La Vista South (19-3);2
3. Lincoln Pius X (16-3);3
4. Papillion-La Vista (12-7);5
5. Lincoln Southwest (11-6);6
8. Bellevue West (12-9);8
10. North Platte (18-8);-
Contenders: Fremont, Lincoln High, Millard South, Omaha Westside.
Key matches: Monday—Millard West at Papillion-La Vista South. Tuesday—Bellevue East at Elkhorn South. Thursday—Lincoln Pius X vs. Papillion-La Vista, Lincoln High at Lincoln Southwest.
6. Omaha Duchesne (9-9);6
7. Ashland-Greenwood (15-5);8
Contenders: Bennington, Hastings, Seward.
Comments: A three-set sweep of Elkhorn removed any doubt that Omaha Skutt is still the team to beat in Class B, but Waverly showed it can keep up against Class A competition this weekend. York is surging amid a nine-match winning streak while Beatrice has lost four of its last five matches.
Key matches: Tuesday—Waverly at Wahoo, Lexington at York. Thursday—Norris at Elkhorn. Saturday—Trailblazer Conference Tournament (Beatrice, Nebraska City, Platteview, Plattsmouth), Eastern Midlands Conference Tournament (Bennington, Elkhorn, Norris, Waverly).
3. Grand Island CC (17-1);4
4. Kearney Catholic (20-3);3
5. Lincoln Lutheran (18-3);5
6. Columbus Lakeview (16-3);6
10. Oakland-Craig (15-4);-
Contenders: Battle Creek, Hastings SC, Malcolm, Ord, Wayne.
Comments: Wahoo and St. Paul have been neck-and-neck all season long, but a win over Lincoln Lutheran pushes the Warriors into the top spot for the first time. Both teams have difficult matches Tuesday, and the Centennial Conference Tournament could shake things up for next week.
Key matches: Tuesday—Columbus Lakeview at St. Paul, Waverly at Wahoo, West Point-Beemer at Oakland-Craig. Thursday—Centennial Conference Tournament (Grand Island CC, Hastings SC, Kearney Catholic, Lincoln Lutheran).
1. Lutheran Northeast (23-0);1
3. Norfolk Catholic (12-4);3
4. Thayer Central (17-2);4
5. Clarkson/Leigh (15-2);5
6. Howells-Dodge (15-4);6
Contenders: Burwell, Cross County, Elm Creek, Guardian Angels CC, South Loup.
Comments: Howells-Dodge and Superior had successful weeks but most of the top 10 remains unchanged as Lutheran Northeast is showing no signs of slowing down. Palmyra has fared well against tough competition, and there are a few teams knocking on the door if BRLD falls out.
Key matches: Tuesday—Centennial at Cross County, Clarkson/Leigh at Lutheran High Northeast. Thursday—Norfolk Catholic at Battle Creek, Sutton at Thayer Central.
4. Johnson-Brock (11-7);3
6. Archbishop Bergan (14-7);5
10. Hartington CC (11-11);-
Contenders: Alma, Axtell, Kenesaw, North Platte St. Pat's, Wausa.
Comments: Tough schedules are resulting in a number of losses for Johnson-Brock and Archbishop Bergan, leaving Mead to claim its highest ranking of the season. Hartington CC rejoins the top 10 after a slow start to the year, while Axtell drops out.
Key matches: Tuesday—Yutan at Ashland-Greenwood. Thursday—Axtell at Pleasanton, Diller-Odell at HTRS, Palmyra at Johnson-Brock.
2. Maywood-Hayes Center (19-0);2
6. Falls City SH (17-4);6
8. Garden County (17-3);10
10. Exeter-Milligan (13-6);8
Contenders: Franklin, Hay Springs, Nebraska Christian, Sioux County.
Comments: Competition remains strong in Class D-2, and there's little room for error at the top. Diller-Odell continues to shrug off every challenge it faces, as does Maywood-Hayes Center, which surviving a five-set thriller against Wauneta-Palisade last week.
Key matches: Tuesday—Garden County at Wauneta-Palisade. Thursday—CWC at Wausa, Diller-Odell at HTRS, Humphrey SF at Clarkson/Leigh.