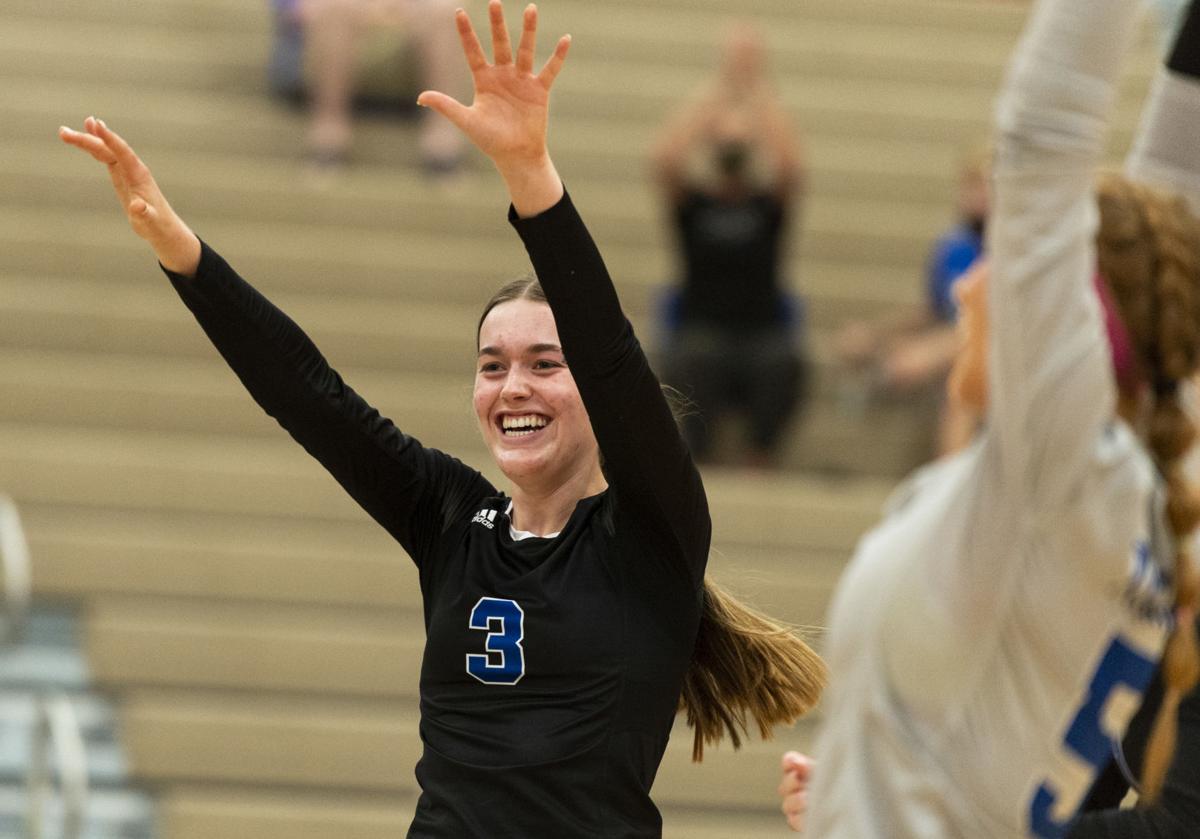 It's conference tournament season, and that means we are getting close to the sweet spot of the postseason. Some classes held sturdy while others saw big movement in this week's ratings.
(Records through Saturday)
1. Papillion-La Vista South (30-0); 1
2. Millard West (22-5); 2
3. Lincoln Southwest (18-4); 3
4. Elkhorn South (23-6); 4
6. Bellevue West (17-8); 6
7. Omaha Westside (14-9); 7
8. Papillion-La Vista (18-11); 8
10. Grand Island (14-11); -
Contenders: Lincoln East, Lincoln High, Lincoln Pius X, Millard South, Omaha Marian
Comments: Papillion-La Vista South was ranked No. 3 team in the country last week. At the top of Class A, there weren't any major upsets last week. Fremont enters the top 10 at No. 9 with a win over Lincoln Pius X last week. Grand Island has won nine matches in a row, which earns it the No. 10 spot. The Omaha Westside Invite is the big tournament this weekend with Lincoln Southwest entering as the top team in that tournament. The HAC and Metro Tournaments are next week and are packed with rated teams.
Key matches: Tuesday—Bellevue West at Omaha Marian, Elkhorn South at Gretna, Fremont at Lincoln Southwest. Thursday—Lincoln High at Lincoln Pius X, Waverly at Omaha Westside. Friday-Saturday—Omaha Westside Invite (Bellevue West, Elkhorn, Elkhorn North, Lincoln Southwest, Omaha Duchesne, Omaha Marian, Omaha Westside).
4. Elkhorn North (14-7); 4
6. Omaha Duchesne (11-8); 6
Contenders: Adams Central, Alliance, Seward, Sidney, York.
Comments: Not much movement in Class B this week. Norris won the Eastern Midlands Conference Tournament and Omaha Skutt almost took a set off of Papillion-La Vista South last week. Lexington joins the top 10 after winning head-to-head against Aurora.
Key matches: Tuesday—Norris at Elkhorn North, Omaha Duchesne at Waverly. Thursday—Omaha Skutt at Omaha Duchesne. Thursday-Saturday—Central Conference Tournament (Adams Central, Aurora, Columbus Lakeview, Lexington, Northwest, Seward, York).
1. Lincoln Lutheran (27-1); 1
2. Bishop Neumann (17-6); 7
3. Grand Island CC (24-1); 2
6. Kearney Catholic (26-4); 3
8. Columbus Lakeview (19-3); 4
10. Columbus Scotus (19-8); -
Contenders: Chase County, Gothenburg, Hershey, Malcolm, Minden, Ogallala, Pierce.
Comments: Last week, Class C-1 looked to be settled. This week, if it was "March Madness," my bracket would have been busted. Bishop Neumann rises five spots to No. 2 after a win against Grand Island CC in the Centennial Conference Tournament. Kearney Catholic drops three spots with a loss to Columbus Scotus in the same tournament and St. Paul re-enters the top 10 with a win over Columbus Lakeview. C-1 is loaded with great teams, and any of the teams in the top 10 have the potential to win state given the right conditions.
Key matches: Monday-Thursday—East Central Nebraska Conference Tournament (Elmwood-Murdock, Malcolm, Mead). Tuesday—Bishop Neumann at Norfolk Catholic, Lutheran High Northeast at Columbus Lakeview, Columbus Scotus at Grand Island CC. Tuesday-Saturday—Nebraska Capital Conference Tournament (Syracuse, Yutan). Thursday—Columbus Scotus at Bishop Neumann, Kearney Catholic at Broken Bow. Saturday—Centennial Invite (Bishop Neumann, Sutton), Lincoln Christian Invite—(Lincoln Lutheran, Wahoo).
1. Clarkson/Leigh (21-3); 1
2. Oakland-Craig (21-6); 3
3. Wisner-Pilger (18-5); 4
4. Guardian Angels CC (13-5); 5
5. Norfolk Catholic (15-8); 6
7. Thayer Central (23-4); 2
9. Hastings SC (19-10); 9
Contenders: Amherst, Bridgeport, Crofton, Perkins County, Yutan.
Comments: Thayer Central falls five spots to No. 7 with a five-set loss to Sutton last week. The key matches are at the East Husker Conference Tournament, which includes the three top teams in C-2 as well as the No. 1 team in D-1. It will be extremely competitive, and it should tell us a lot about what the state tournament will look like.
Key matches: Monday-Thursday—Fort Kearney Conference Tournament (Amherst, Overton, S-E-M). Thursday—Crofton at Guardian Angels CC, Superior at Thayer Central. Thursday-Saturday—East Husker Conference Tournament (Clarkson/Leigh, Howells-Dodge, Humphrey/LHF, Oakland-Craig, Wisner-Pilger).
1. Howells-Dodge (21-2); 1
3. Archbishop Bergan (19-10); 3
4. Nebraska Christian (21-2); 4
5. Humphrey/LHF (16-6); 5
10. North Platte St. Pat's (13-10); -
Contenders: Central Valley, Elmwood-Murdock, Johnson-Brock, Shelton, Southwest, S-E-M.
Comments: Class D-1 remains identical to last week with the exception that North Platte St. Pat's avenged its loss to Southwest. Three conference tournaments (Goldenrod Conference, Minutemen Activities Conference, Crossroads Conference) will likely shake up next week's ratings.
Key matches: Tuesday—Hitchcock County triangular (Cambridge, Southwest). Thursday—Kenesaw at Bertrand. Thursday-Saturday—Goldenrod Conference Tournament (Central Valley, Humphrey SF, Nebraska Christian). Saturday—Minutemen Activities Conference Tournament (Garden County, South Platte). Saturday-Tuesday—Crossroads Conference Tournament (BDS, Exeter-Milligan).
1. Falls City SH (24-2); 1
2. Diller-Odell (18-7); 2
4. Maywood-Hayes Center (19-2); 4
8. Anselmo-Merna (17-7); 9
10. Garden County (18-6); -
Contenders: Arthur County, Exeter-Milligan, Sterling, Wauneta-Palisade.
Comments: The top of Class D-2 stays identical. as well. Bertrand falls two spots with its loss last week to Ansley-Litchfield, and Garden County gets back in the top 10 with a win over Wauneta-Palisade. Again, conference tournaments have the potential to really change the ratings for next week.