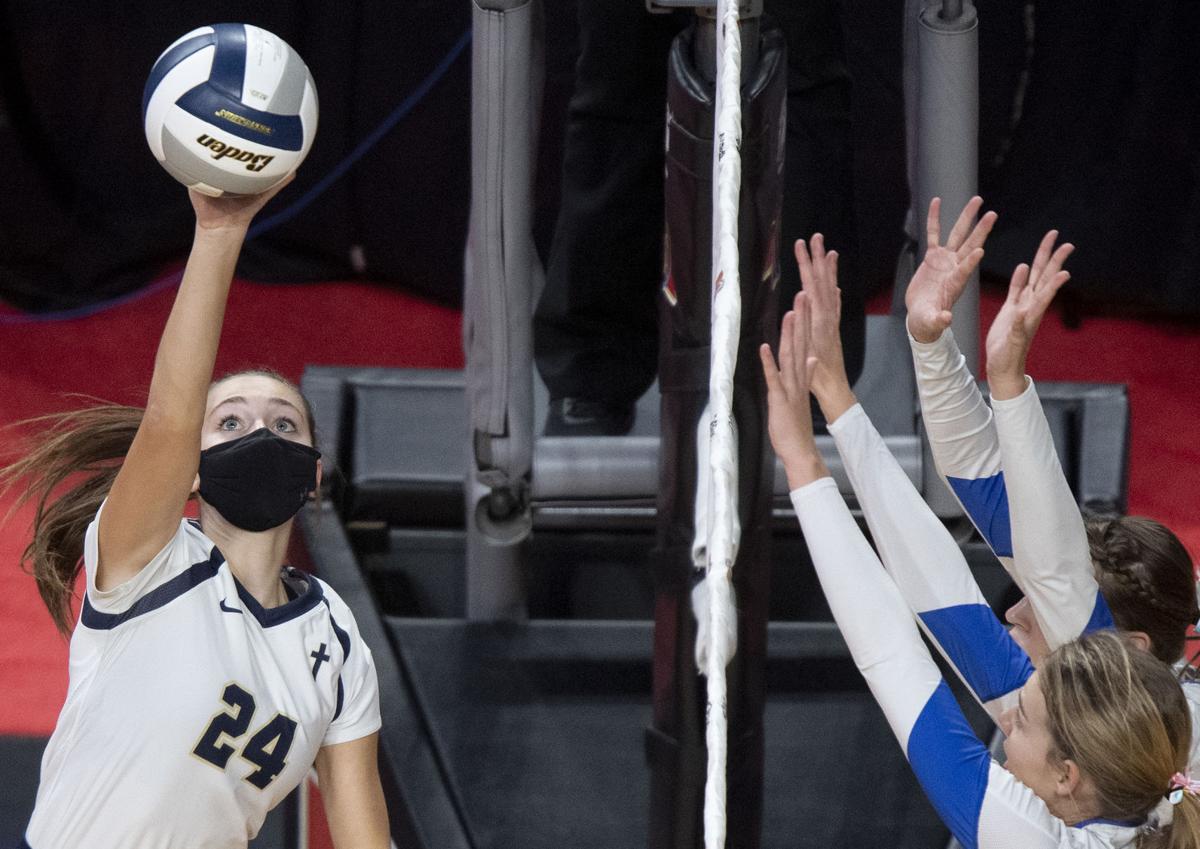 The city schools are set to take the court beginning Thursday.
Christian
Returning starters: Brielle Power, sr.; Addie Ehlers, sr.; Jenna Wiltfong, sr.; Paisley Darst, jr.; Sarah Cunningham, sr.
Season outlook: The Crusaders return five starters, including four players with over 100 kills each last season. With its core group back and a balanced offensive attack, the team should improve from last season.
East
Returning starters: Brooklyn Fuchs, jr; Aaliyah Bradford, so.
Season outlook: As Gingery enters her second year with the program, she'll have to rely on her two returning starters, including 6-foot-1 Fuchs at middle blocker.
Lincoln High
Returning starters: Harper Case, sr.; Paige Christopherson, sr.; Ariana Hoagland, sr.; Tyrah Woods, sr.; Faith Van Eck, jr.; Holly Stoebner, jr.; Nicole Haywood, jr.; Ivy Fox-Hays, jr.
Season outlook: The Links return nearly everyone from last season, including four seniors. Led by Woods, who has more than 500 career kills, and junior Van Eck, the Links look to finish above .500 again.
Lutheran
2020: 30-8 (Class C-1 state qualifier).
Returning letterwinners: Abby Wachal, jr.; Raegan Holle, sr.; Ashlyn Deboer, sr.; Molli Martin, sr.; Katelynn Oxley, sr.; Shanae Bergt, sr.; Erika Young, jr.
Season outlook: The Warriors return nearly everyone, making them a viable contender for the state title again this year in Class C-1. Junior Abby Wachal is one of the best players in the city and state. The team looks to make its fifth state tournament appearance in a row.
Northeast
Returning starters: Samantha Pryce, sr.; Andrea Pryce, sr.; Maleaka Boedhram, sr.; Tasia Sader, so.
Season outlook: The Rockets will be led by three seniors and a lot of sophomores. With a mix of veteran leadership and youth, the team looks to improve specifically on the offensive end with their passing and serving. Senior twins Samantha and Andrea Pryce aim to lead in those categories.
North Star
Coach: Kristi Nelson-Hitz.
Returning starters: Abby Lottman, so.; Kinsley Ragland, sr.; Macy Roth, so.
Season outlook: With only one senior returning as a starter from last season, the Gators will be a young team. Ragland and Roth will lead the charge as both finished last season with over 160 kills apiece. Nelson-Hitz returns for her second stint with the program.
Parkview Christian
Returning starters: Anessa Anderson, sr.; Veda Stoll, sr.; Alexiah Anderson, sr.; Aleziah Anderson, so.; Priscila Cabrales, so.; Sienna Ulrich, so.
Season outlook: The Patriots return all of their starters from last season. A team that has doubled in size since last season, the Patriots will look to use their depth to their advantage. Sophomore Jada Smith will be sidelined for the season with an injury.
Pius X
2020: 23-5 (Class A state qualifier).
Returning starters: Adison Markowski, jr.
Season outlook: With only one returning starter, the Thunderbolts look to reload. They have shown they consistently have the talent and depth to compete near the top of Class A. Markowski, the team's setter, will take on a lead role.
Southeast
Returning starters: Hannah Fleming, sr.; Lucy Cogan, so.;
Season outlook: The Knights return only two starters from last year's team. Led by Fleming, the team will rely on youth as it looks to finish with a winning record.
Southwest
2020: 21-10 (Class A state qualifier).
Returning starters: Shaylee Myers, sr.; Courtney Holsteen, sr.; Karli Symonsbergen, sr.; Brinly Christensen, jr.
Season outlook: With some strong offensive starters returning mixed in with some youth talent, the Silver Hawks look to be one of the best teams in Class A. Myers, a Fresno State commit, had nearly 400 kills again last season, bringing her career total over 1,000. This team looks poised for a deep run.