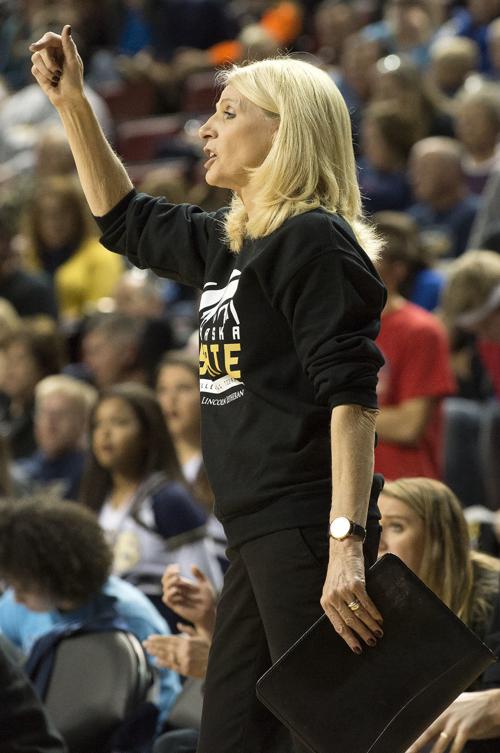 Lincoln Lutheran went 2-0 in pool play Thursday at the Centennial Conference Tournament in Hastings, and coach Sue Ziegler picked up her 400th career victory.
After a 28-26, 25-9 victory over Omaha Concordia, the Warriors gave Ziegler win number 400 with a 25-18, 25-11 victory over Kearney Catholic.
"I'm inspired every day by the players and my assistant coaches. I feel very blessed to be a part of that culture on a daily basis," Ziegler said. "It keeps me going every day. I've had some great student-athletes throughout the years that I feel very fortunate to be a part of whether it be through teaching or coach. Many (coaching) assistants that have turned into long-term relationships. Relationships over the years that have left many memories for many years to come."
You have free articles remaining.
Ziegler stayed calm throughout the Omaha Concordia match, during which Marriah Buss led the Warriors to a come-from-behind win in the first set against Omaha Concordia with five ace serves that led to Ziegler's 399th career win. Buss totaled 26 kills in the two matches, including 14 against Kearney Catholic in the historic win.
"Our word for the day was smart. To play smart and stay in the moment and do our best," Ziegler said. "I kept reminding of them of that when we were down. Don't worry about win or loss, stay in the moment and stay focused."
Hannah Kile had three ace serves against Kearney Catholic, and Paige Trutna (14) and Ashlyn DeBoer (11) combined for 25 set assists. Lexie Kreizel led the Warriors with a combined 17-dig performance in the two matches.
Lincoln Northeast 3, Lincoln North Star 0: The Rockets had nine ace serves, led by Maleaka Boedhram with four, in beating North Star 25-20, 25-23, 26-24. Maddie Bahm added 17 kills and Logan Gronewold had four solo blocks in the sweep.
Lincoln Southwest 3, Lincoln High 1: Shaylee Meyers led the Silver Hawks with 21 kills and Nikki Dirks added 10 as Lincoln Southwest defeated Lincoln High 25-15, 21-25, 26-24, 25-19. Paige Christophersen had 26 set assists for the Links. Faith Van Eck added 14 digs and Parker Johnson led Lincoln High with 12 kills.